Peacemakers is Moana's fifth friendship quest in Disney Dreamlight Valley and the one you'll need to complete if you want Maui to forgive her because she left him behind.
Disney Dreamlight Valley Peacemakers is a quest focused on cooking because, as you may remember, the demigod's weak spot is food. So, to reunite the two friends, you'll have to cook not one but three meals.
Furthermore, you'll also need to craft an Oar, which means that you'll need a lot of cooking ingredients and crafting materials.
Don't worry, though, because throughout the follow Peacemakers quest guide; we'll go over all materials you need and all ingredients you have to get for Maui's meals.
How To Start Peacemakers In Disney Dreamlight Valley
Like all other quests we've covered as part of our Disney Dreamlight Valley wiki, Peacemakers comes with a series of requirements you'll need to be aware of; otherwise, you won't be able to unlock it.
First, since this quest is part of Moana's story, you'll have to finish the previous quest in line, named Fixing The Boat.
Next, you'll want to unlock Maui by bringing him to the Valley, which means that you also have to complete the A Feast Worthy Of A Demigod quest explained here.
Furthermore, you'll want to reach Moana's Friendship Level 4 following the tips and tricks outlined in our Fast Leveling guide.
And finally, you'll want to unlock the Forest of Valor Biome, which is accomplished by finishing the story quest named With Great Power and by spending 3000 Dreamlight.
After you meet all these requirements, open your map and look for Moana's icon. She likes spending a lot of time in Scrooge's Shop, so start there.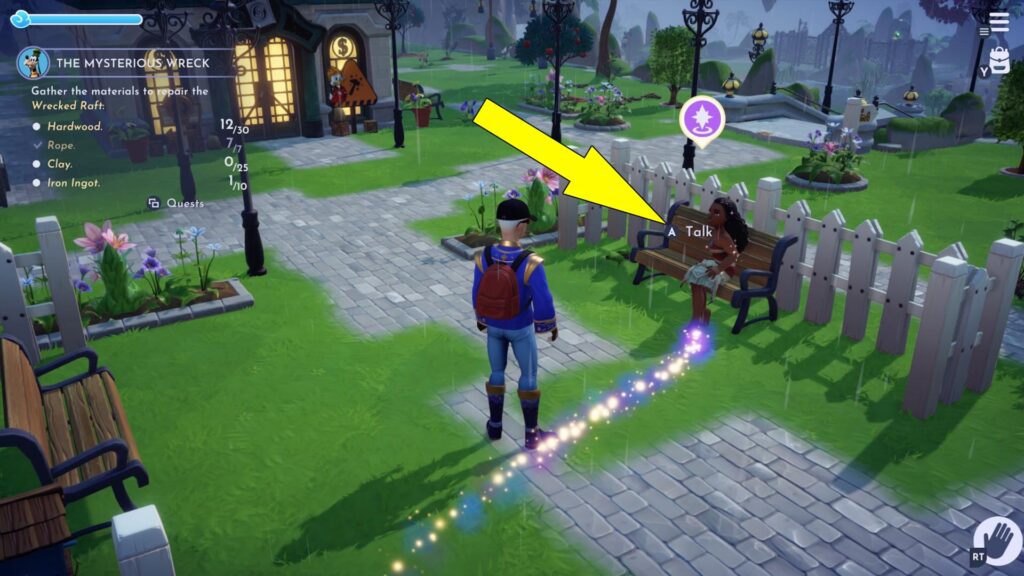 Once you find Moana talk to her, and she'll tell you the only way to find out what's with the shiny thing you found in the previous quest is by asking Maui. Except that he's still grumpy, and to cheer him up, Moana wants to bring him some gifts. Specifically, the following recipes:
Fruit Salad
Seafood Salad
Seafood Platter
How To Cook A Fruit Salad For Maui
The Fruit Salad is the most accessible meal you can cook for Maui because you only need one fruit.
It can be any fruit, starting with the Apples in the Plaza area and ending with the Blueberries in the Forest of Valor Biome. Bananas, Raspberries, and Coconuts are all valid options and very common.
After you get a fruit, head to the stove in your house or inside Chez Remy's Restaurant if you unlocked it by completing the Restaurant Makeover quest.
Approach the stove, then on Xbox, press A. From the list of ingredients, select one fruit, and add it to your pot.
Now, select Start Cooking from the bottom of the screen, and you'll cook a Fruit Salad using one Coal Ore found by mining Rock Spots.
Seafood Platter Ingredients
The Seafood Platter is also a very accessible Recipe in Disney Dreamlight Valley because it requires two Seafood. Again any seafood will do, so you'll want to head to the Dazzle Beach Biome and look for Scallops, Oysters, or Clams.
You can see three of them in the following screenshot.
To save time, although you only need two Seafood, you should get three because the next Peacemakers recipe also requires one Seafood.
Once you get the ingredients, head back to a Cooking Station, add them to your pot, then hit the Start Cooking button. Maui's Seafood Platter is ready to be served!
How To Cook A Seafood Salad In Peacemakers Quest
Great job! Now let's cook a Seafood Salad in Disney Dreamlight Valley, and for this one, as you can see on our complete Recipes & Ingredients list here, you'll need one Seafood (obtained like the previous two above) and a Lettuce.
Lettuce is a common vegetable that must be cultivated, although you can also buy it. So start by checking your inventory and if you don't have any Lettuce or Lettuce Seeds, go to Goofy's Stall in Peaceful Meadow.
Here you can buy Seeds to plant your own Lettuce or directly the ingredient you want.
If you go with the seeds, you'll need to wait three minutes in real time after you plant the Lettuce in your garden.
Now that you have Lettuce, go back to your oven and add it to the pot alongside one Seafood (Clam, Oyster, or Scallop). Voila! Your Seafood Salad!
Awesome! Now that you have all Maui's Meals open your map and find him, then talk to the demigod and hand over those delicious dishes.
Maui is impressed, but not enough, so you'll have to work a bit harder. But it's a good start, as he says.
Now, you'll want to find Moana's icon on your map and talk to her. Inform Moana that you are one step closer to making Maui forgive her, and she'll come up with another gift. Specifically an Oar.
How To Craft An Oar For Maui
To craft Maui's Oar, you only need 10 Softwood which is found in most areas, including Plaza and Peaceful Meadow.
As you can notice below, this Crafting Material looks like a pile of pale-brown sticks.
It's very common and has a high respawn rate. Once you get ten units, you'll want to visit Scrooge's Shop and use the Crafting Table on the right side of the large vault.
After you access the Table, go to the Functional Items tab and craft the Oar for Maui.
Now, it's time to bring Moana the Oar, so find her on the map; then, when you talk to her, hand over the paddle.
Last but not least, stay close to Moana as she has a chat with Maui about leaving him behind on the island. Eventually, Maui forgives Moana, and he'll tell you about the Leader Shards.
To complete the Disney Dreamlight Valley Peacemakers quest, all that's left to do is pick up the Leader Shard on the ground and give it to Moana, thus unlocking the next quest named The Remembering.