Disney Dreamlight Valley The Remembering, or Moana's 6th storyline quest, is probably the most accessible you'll have to complete while working on helping Moana retrieve her Memories in the video game developed by Gameloft.
The Remembering is a Disney Dreamlight Valley quest focused on Foraging because it requires you to find a large number of resources, primarily fruits.
Luckily these resources can be of any type, as you'll see, so this quest can be completed relatively fast.
As part of our Disney Dreamlight Valley Wiki, we'll discuss The Remembering friendship quest below if you need help progressing through Moana's story.
How To Start The Remembering In Disney Dreamlight Valley
To start Moana's The Remembering quest, there are three requirements you'll need to meet.
First, since this quest is part of a longer questline, you'll need to finish the Peacemakers or Moana's fifth quest covered here.
Then you'll have to unlock the Forest of Valor because most resources you'll need to gather for The Remembering are found in this Biome.
Unlocking the Forest of Valor requires 3.000 Dreamlight if this is the second Biome you decide to visit. Furthermore, for the Forest of Valor Biome, you also have to finish the story quest named With Great Power.
Finally, you must increase Moana's Friendship Level to 6 simply by following the steps outlined in this guide.
Once you fulfill all these requirements, look for Moana's icon on your map and visit her.
Upon talking to Moana, the first objective you'll receive is to help her clean her house, which was invaded by Night Thorns.
Removing Moana's House Night Thorns
Tell Moana that you can handle them, then visit her house in your village. Moana's house is the one with straws on the roof.
Get inside and start dealing with the Night Thorns by approaching them and pressing A on Xbox to cast your magic.
Since one of the Night Thorns contains a Memory, it is recommended to remove all of them.
Eventually, you'll see a yellow orb dropping from one of the Night Thorns.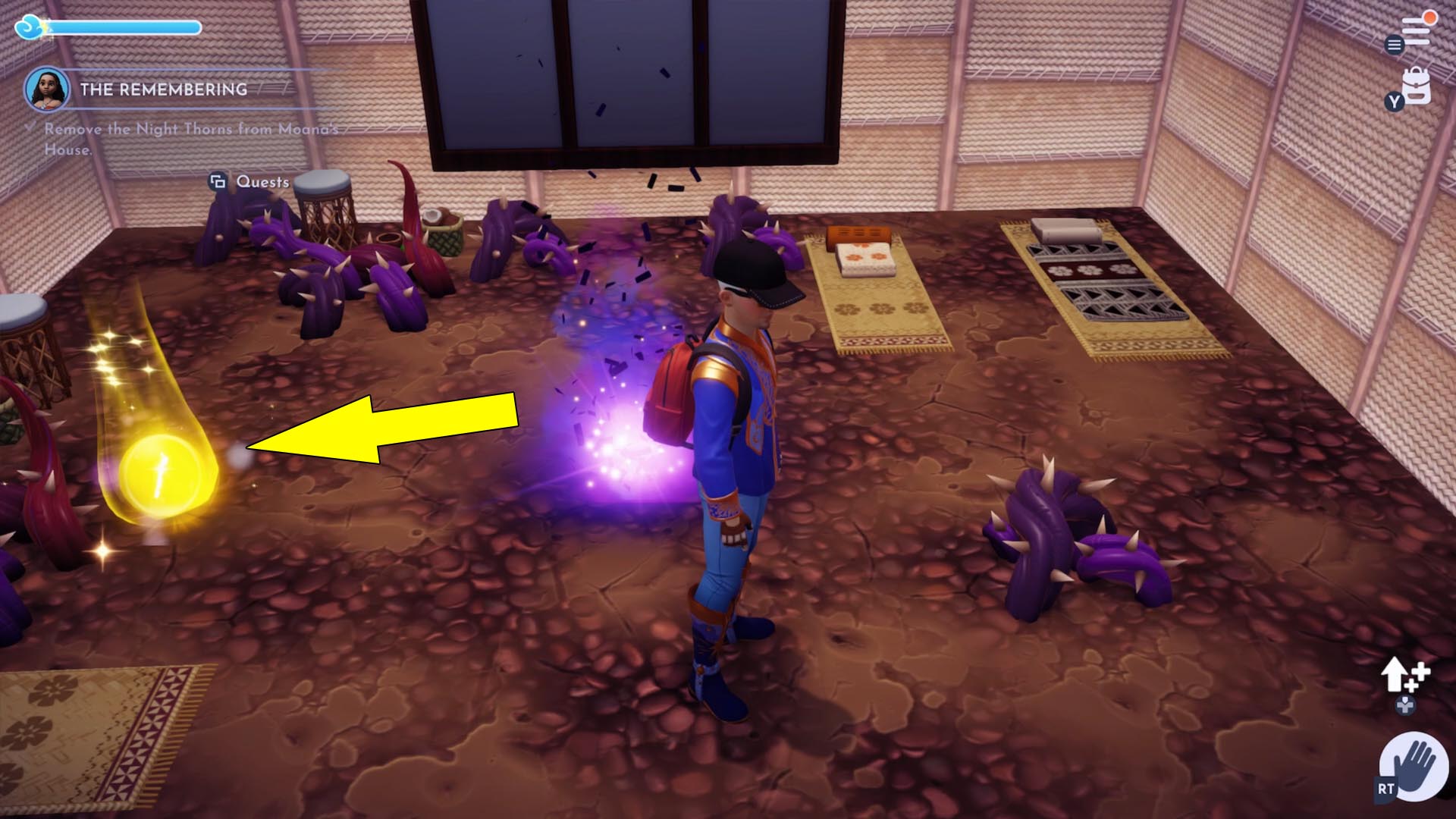 Approach the Orb and pick it up as it reveals a small part of Moana's Memory. The picture shows her trying to reach something.
Great job! Now, using your map, find Moana's current location and talk to her. If you want to save time, consider asking her to be your companion.
Once you talk to her, she tells you that she remembers something about some flowers. Agree to her, then head outside and travel to the Forest of Valor Biome.
Moana's Memory Flowers
The next objective you have to complete in The Remembering quest requires you to gather ten flowers in the Forest of Valor.
It is an accessible objective because you can pick any flower you want. Or simply put, you don't have to look for a specific type.
To name just a few, you can collect Blue Star Lily, Orange Star Lily, Purple Bell Flower, Red Bell Flower, or White Bell Flower. Any flower in Fores of Valor is accepted for this objective, so explore the area and pick 10 of them.
When you get the last Forest of Valor flower, you'll see another yellow orb dropping.
Pick it up to unlock a new section in Moana's Memory showing Maui mining a Rock Spot. So, now it's time to talk to the demigod.
Open your map, find Maui's icon, and then travel to his location. The funny demigod tells you that he remembers Moana was picking up some fruits for him because, obviously, he was hungry.
Now, pick the yellow globe that drops near Maui, and a new part of Moana's Memory is revealed, showing her picking up some blueberries. Talk to Moana, and she'll tell you that maybe if you pick some fruits in the Forest of Valor, she'll remember more.
Forest Of Valor Fruits Locations
The Forest of Valor fruits follows the same logic as the flowers, meaning you can pick any fruits; however, you'll only get blueberries.
As you enter the forest from the Plaza, on the right side, there are two bushes you'll want to harvest (pictured below).
Once you harvest these two bushes, you should have enough fruits and another yellow orb to pick.
Pick it up, and you'll reveal the last piece of Moana's Memory showing her friend Pua. Talk to Moana and comfort her because she's pretty upset she forgot about her friend. Tell her you'll help her find Pua because she is your friend, and you'll receive a new objective.
Where To Find Coconuts In The Remembering
The new objective requires you to find 3 Coconuts that will eventually help you track Pua. Disney Dreamlight Valley Coconuts can be found exclusively in Dazzle Beach.
As such, head south from your current location, and you'll see a Coconut Tree near the pillar on the beach.
Harvest the tree to get 3 Coconuts, then head back to Moana and talk to her. Pick up the Leader Shard she drops, then talk to her again to complete the Disney Dreamlight Valley The Remembering and unlock the next one named The Search For Pua.