After bringing Moana to your village in Disney Dreamlight Valley, besides having a new resident, you'll also continue her storyline, and the next quest you'll receive from her is named Fixing The Boat.
Disney Dreamlight Valley Fixing The Boat is a quest that requires a lot of resources, especially Softwood, but the reward you'll get at the end, is pretty important because it is an excellent source of free fish.
While you can't use it to sail around, Moana's Boat is an essential building that provides fish periodically, just like Wall-E's garden we unlocked here.
But to obtain the fish, Moana needs her boat fixed, so she can start fishing. As such, throughout the guide below, we'll discuss the locations of all items you must gather to repair her canoe.
How To Start Fixing The Boat In Disney Dreamlight Valley
In the video game developed by Gameloft, Fixing the Boat has multiple requirements, which means that you won't be able to start it immediately.
First, you'll have to travel to Moana's realm and bring her to your village by completing the following quests:
After placing Moana's house in your village, you also have to unlock the Dazzle Beach Biome by finishing the Friendship Is Everything main quest and spending 1000 Dreamlight.
Finally, you'll want to improve your relationship with Moana and get her to Friendship Level 2. Refer to this guide if you want to learn how to increase your Friendship Levels in Disney Dreamlight Valley.
After all these requirements have been met, Moana's Fixing The Boat quest becomes available, so open your map and look for an icon in your village.
Travel to her location, and talk to Moana to trigger the quest.
When talking to Moana, accept her request to visit the wreck in Dazzle Beach, then stay close to her, and she'll take you to it.
Moana's Broken Boat, as you'll find out, needs a lot of Crafting Materials, and once you talk to her by the beach, she'll ask you to find the following:
50 Softwood
70 Fiber
3 Pink Hydrangea
Let's see where you can find all items to fix the Broken Boat.
Softwood Locations
To save as much time as possible in this quest, you should focus on Softwood first. Early in the game, this Crafting Material is found in Plaza and Peaceful Meadow.
It is also worth knowing that, starting this quest, you'll want to save all Crafting Materials and store them in Chests because the quantities you need for all further quests grow exponentially.
So, for Softwood, you'll want to start exploring both Plaza and Peaceful Meadow. Look for piles of sticks on the ground, like the ones pictured below.
Upon collecting all Softwood available in Peaceful Meadow and Plaza, you'll have to wait a bit if you need more. They respawn pretty fast, but in the meantime, focus on getting the Fiber.
How To Get Fiber
Unlike Softwood, Disney Dreamlight Valley Fiber must be crafted, and for this, you'll need a Crafting Table and Seaweed.
Although some Seaweed is found on the ground in Dazzle Beach Biome, you'll most likely need more. This means that you'll want to fish it out of the ocean.
You can also get Seaweed from the Ponds in Peaceful Meadow, but it seems that the ocean has a better drop rate.
So, head to Dazzle Beach and start fishing, avoiding the fish schools or the water ripples on the surface.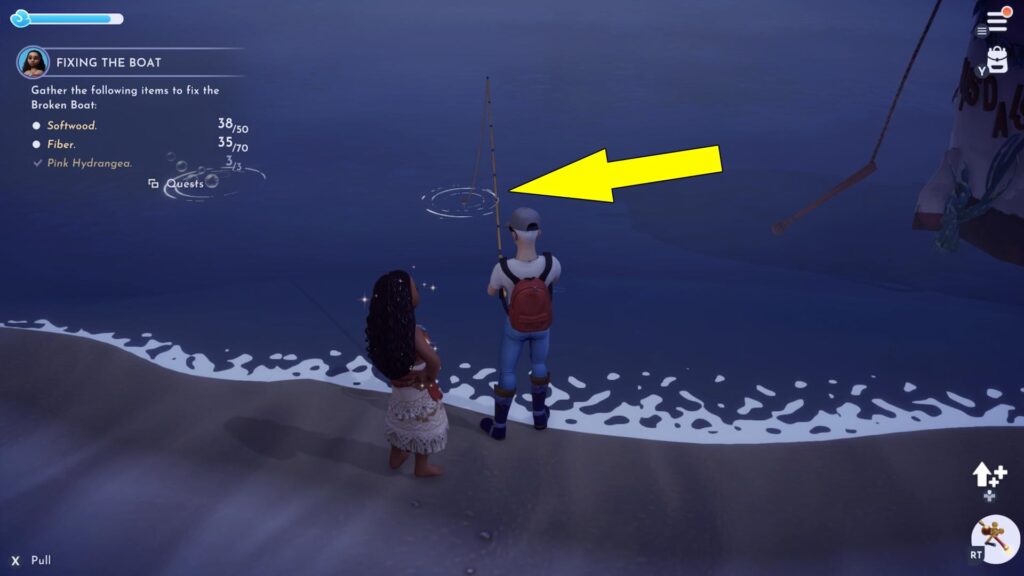 If you fish in a ripple, you'll only get fish, never Seaweed. Also, consider taking a friend who is specialized in fishing with you.
While fishing, from time to time, travel to both Plaza and Peaceful Meadow and look for Softwood, then return to the Beach. To craft 70 Fibers, you'll need 14 Seaweeds.
Once you have 14 Seaweeds, head to a Crafting Table such as the one next to Goofy's House in Peaceful Meadow or the one inside Scrooge McDuck's Shop.
Interact with it, then in the Refined Material tab, pick Fiber and craft 70 units using Seaweeds.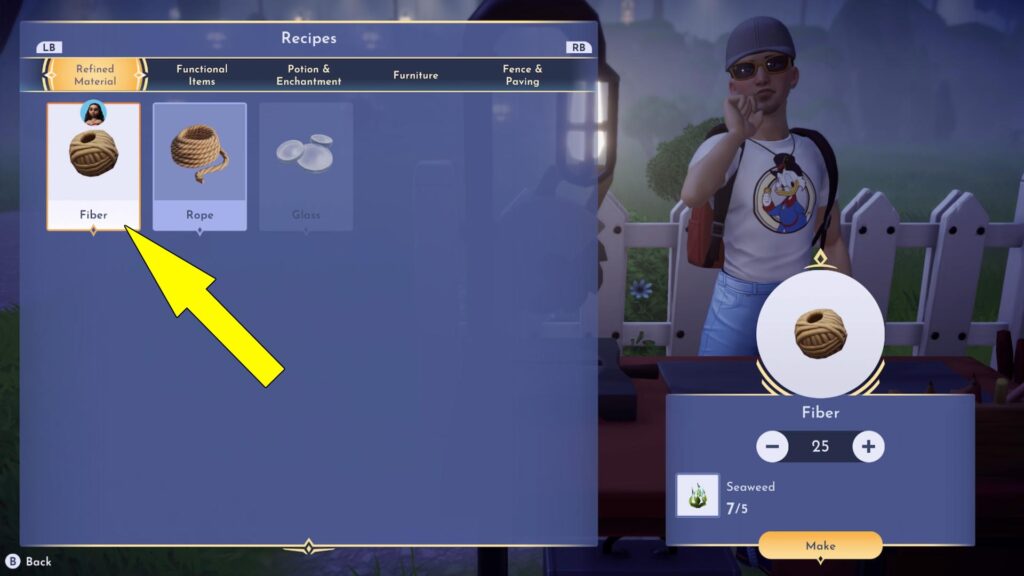 Where To Find Pink Hydrangea
Now that you know how to get Softwood and Fiber, let's focus on the third item Moana needs in Fixing The Boat quest.
This item is named Pink Hydrangea, and it is a common flower that grows exclusively in Dazzle Beach.
As the name implies, it has pink flowers, and you can see what it looks like below.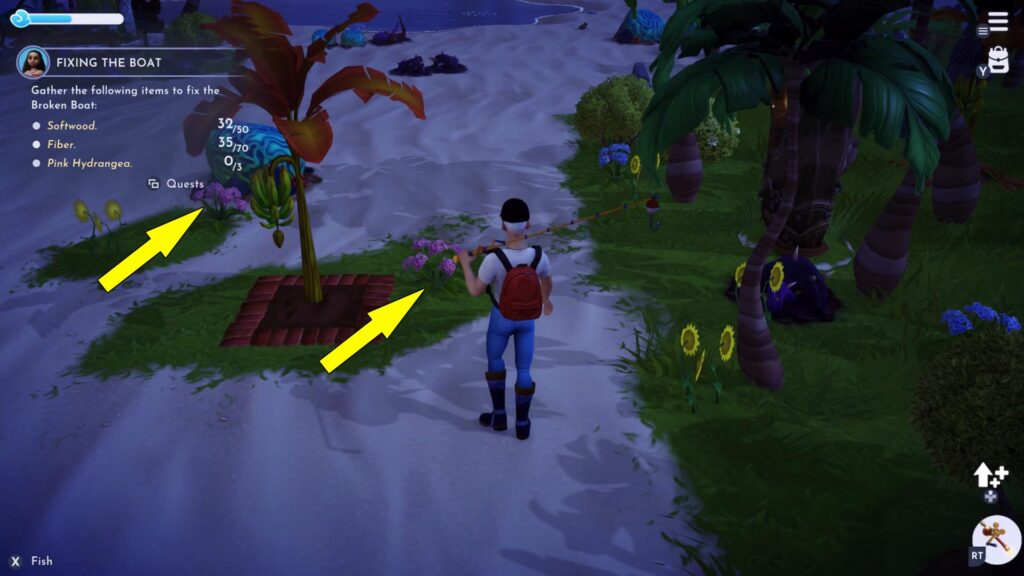 Since you only need 3 Pink Hydrangea and because it's so common, this objective is the most accessible.
Now, assuming you managed to get the Softwood and craft the Fiber, head back to Moana's Broken Boat. At this point, she'll ask you to craft several items for her.
How To Craft Rustic Wooden Cases, Baskets, And Ropes
To Craft the Rustic Wooden Cases, Baskets, and Ropes, you'll need the materials you gathered earlier.
As such, head back to a Crafting Table (Scrooge McDuck's Shop or Goofy's House) and interact with it:
Rope is crafted in the Refined Material tab using Fiber. Make sure you craft only four units and save the remaining Fiber
Baskets are crafted in the Furniture tab using Fiber and Pink Hydrangea. Craft only three Baskets
Rustic Wooden Cases are crafted in the Furniture tab using Softwood. Craft only three
Great job! Now head back to Dazzle Beach and give Moana all items she asked for. You'll see her quite happy that you fixed her boat.
However, after completing Disney Dreamlight Valley Fixing The Boat quest, make sure that you use Scrooge McDuck's sign to level up Moana's boat, then, from time to time, visit her to collect the fish she catches for you. Now the Peacemakers quest becomes available.