Now that you have gathered the two Yellow Daisies and the powerful adhesive Buzz Lightyear gave you in Disney Dreamlight Valley, You're My Favorite Deputy Realm quest; the next objective is to find the five Origami Animals which are scattered through the Toy Stoy Realm.
Woody is happy that the Yellow Daisies are giving a nice touch to Bonnie's farm, but the farm still seems empty without the five missing Origami Animals.
The small paper animals are pretty easy to find, but if you don't want to waste time, check our guide below, and we'll help you locate all five of them.
Where To Find The Two Origami Animals
These quest items are small folded paper animals scattered around Disney Dreamlight Valley Toy Stoy Realm.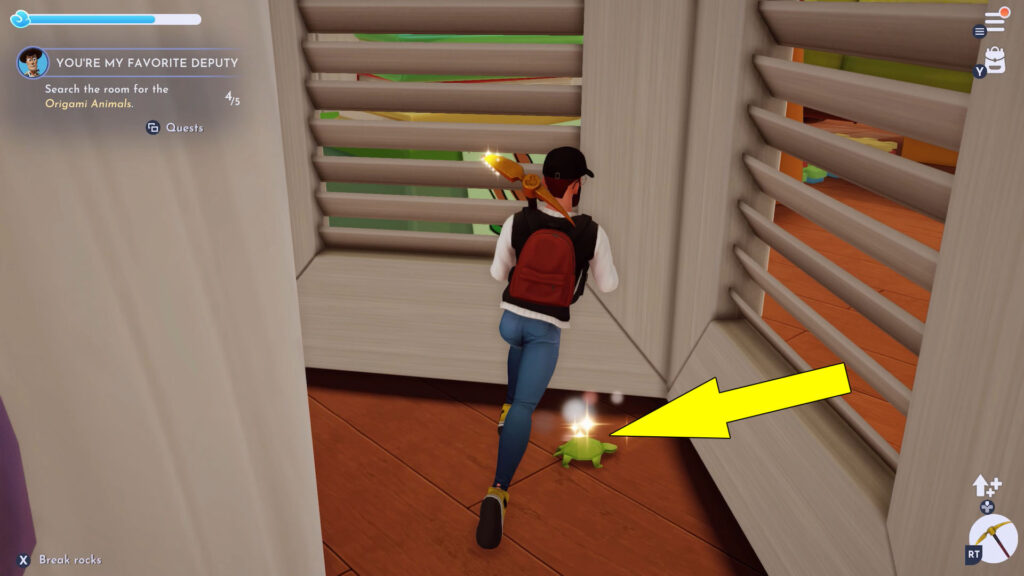 Just be aware that there are five different animals in all colors.
Origami Animal #1: Next To A Red Book
To find the first of the Disney Dreamlight Valley Origami Animals, go to the right after speaking to Woody.
More precisely, in the corner, you should see a purple butterfly near a red book with an egg on the cover. You can pick it up by interacting with it.
Origami Animal #2: Behind A Pile Of Books
After you collect the first Origami, continue to the right, and after you pass the two cactuses, you should see a pile of books under the car race track.
The second item is located behind the books and looks like a penguin.
Origami Animal #3: Between The Race Car Track And The Carpet
From the second paper animal location, go back a few steps and make a left turn.
You should see a blue elephant between the race car track and the carpet, as in the following screenshot.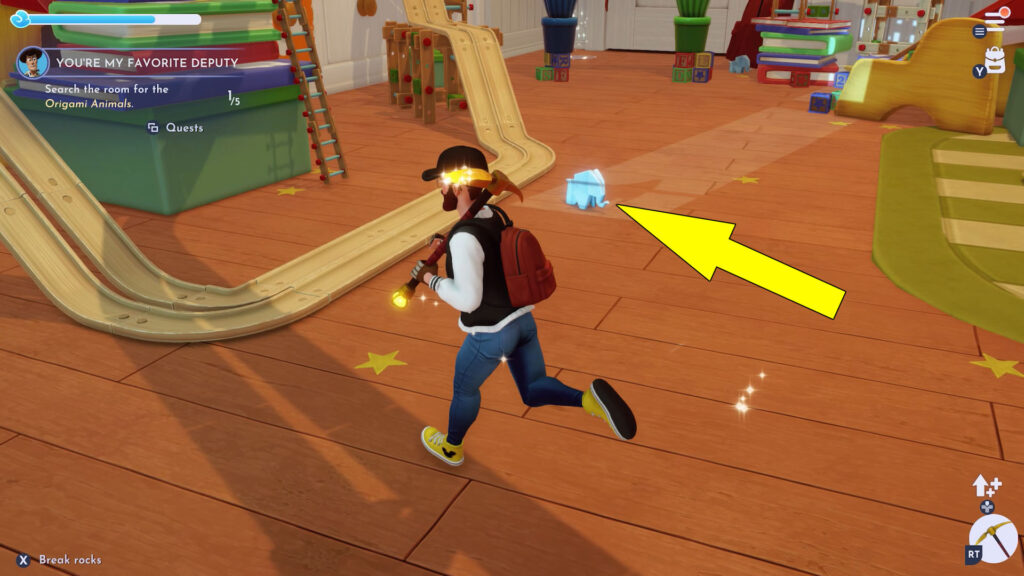 Origami Animal #4: Near The Realm's Exit
Continue forward, and you should find the Realm's exit in the corner.
The fourth Origami Animal is to the right of a red backpack.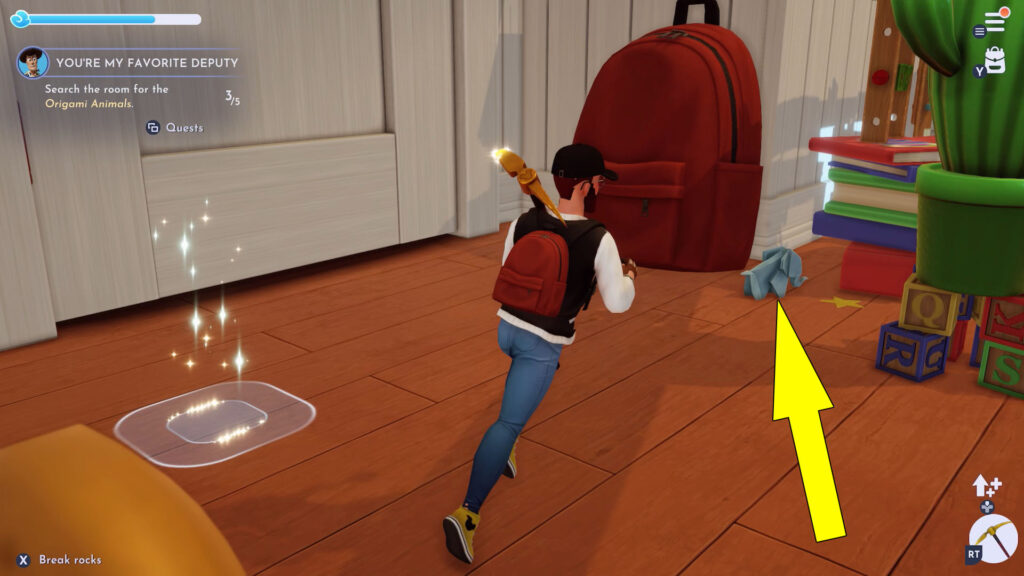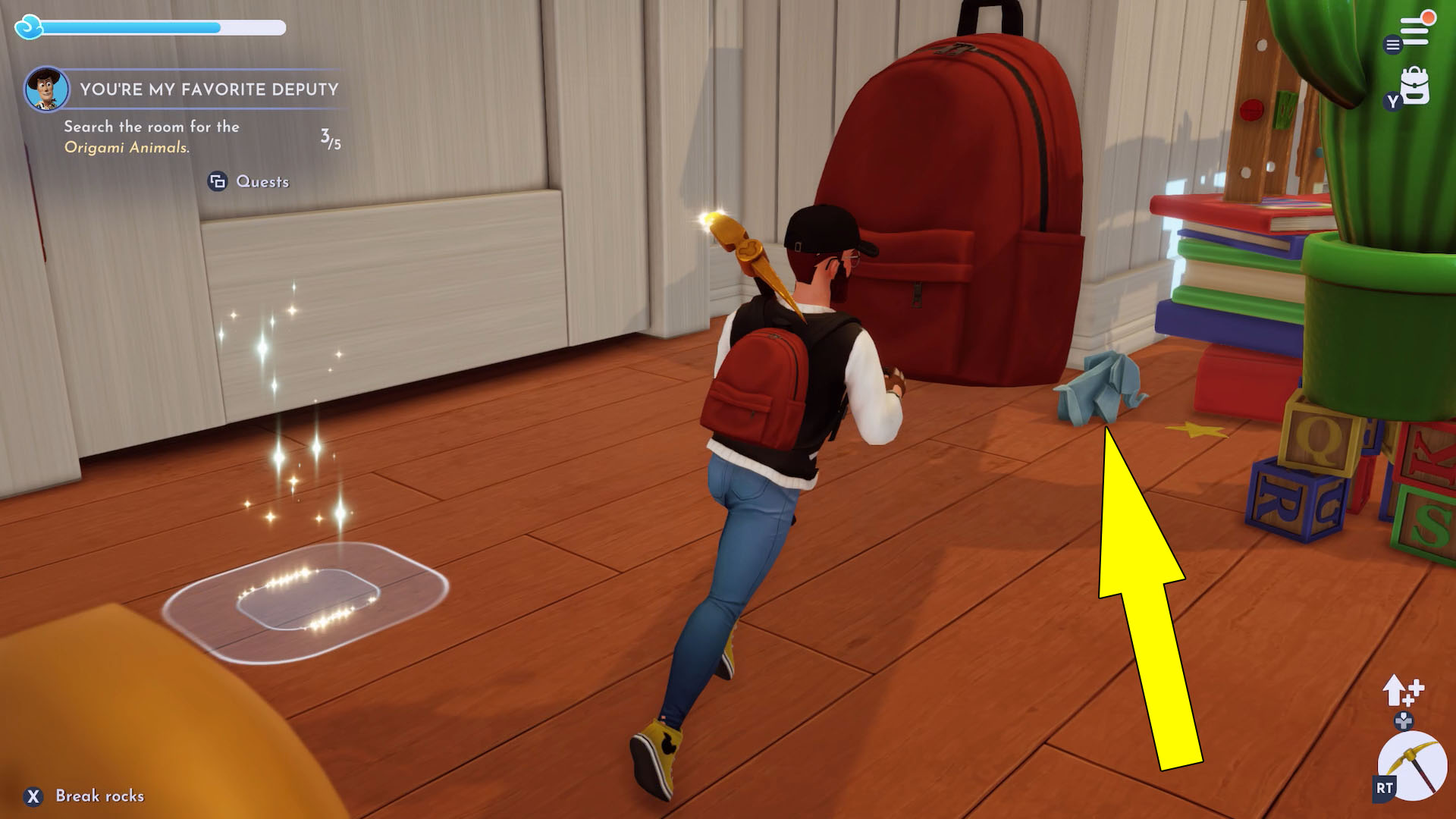 Origami Animal #5: In The Dresser
To find the last paper animal, you must go left and enter the huge dresser.
Now that you're in the dresser, look to the right, and you should see a tiny green turtle hiding behind the dresser's door.
Great job! You gathered the five Disney Dreamlight Valley Origami Animals. Now, you can go back to Woody in the other corner of the room and give him the quest items. Bonnie's farm is now complete.
Now place Woody's Carousel in your Village, and You're My Favorite Deputy quest is finished.