Starfield On The Run is one of two faction missions you'll receive after you finish the Shadows in Neon mission.
During your interrogation of the HopeTech starship thief, you discovered that the First Cavalry's plans are being funded by the head of a smuggling cartel named Marco Graziani.
So, your next task as a Freestar Deputy during the On The Run mission is to track down Marco Graziani and confront him.
This Starfield guide will provide step-by-step instructions to help you complete the On the Run mission for the Freestar Collective faction.
How To Complete the On The Run Mission in Starfield
Once you have finished the Shadows in Neon mission, set the course to the Red Mile on the planet Porrima III in the Porrima system.
Land your ship and quickly rush toward the entrance straight in front of your spaceship to avoid suffering from Frostbite Affliction due to low temperatures.
Upon entering the Red Mile, turn left at the Ship Services desk and head towards the bar.
You will find Ranger Autumn MacMillan seated on the right-hand side. Engage in a conversation with her, even if her initial greeting may not be the friendliest.
Then, she will reveal that she is about to meet someone who might help you track down Marco Graziani.
After you agree to meet with her contact, follow her to the contact's table and take a seat.
From this conversation, you'll learn that Jade MacMillan is the head of a small smuggling cartel based outside of Freestar Collective space and wants Marco out of the picture as well.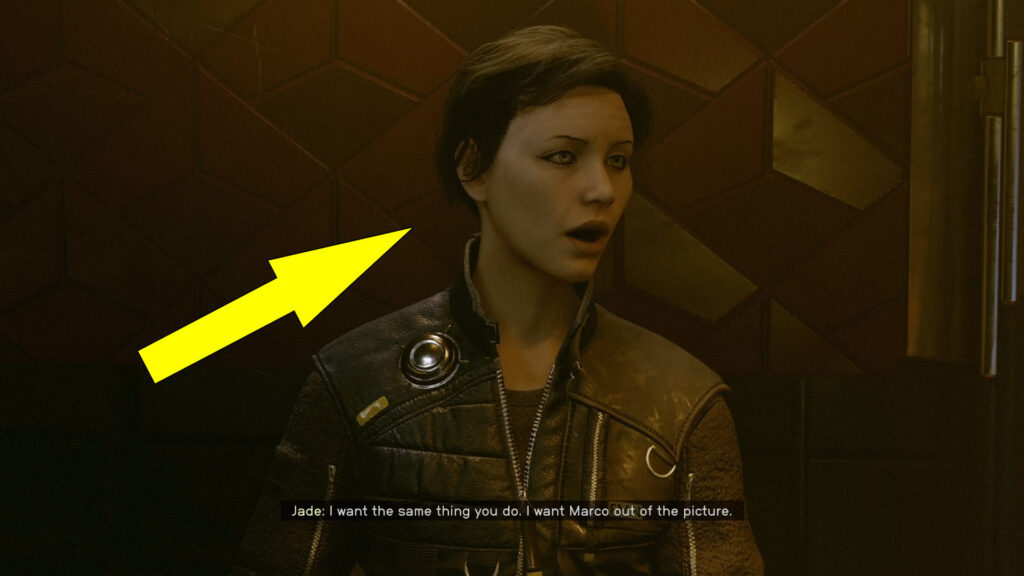 Unfortunately, Marco is incredibly paranoid and never stays in one place for too long, which makes him quite difficult to track.
No matter what you say during the conversation, you'll learn that Mei Devine, the owner of the Red Mile, is one of the few people who can set up a meeting with Marco.
However, to impress Mei and gain her favor, you must take on the challenge of running the Red Mile.
After finishing your conversation with Jade and Autumn, take a stroll past the bar. You'll spot Mei Devine standing by the railing, wearing a stunning red dress.
Strike up a conversation with her. After she introduces herself and praises her establishment, select the "I'm looking for Marco Gaziani. I understand you two are acquainted." dialogue option.
However, she will ask what is your business with the notorious smuggler. Regardless of how you respond, Mei will only agree to schedule the meeting if you agree to complete the Red Mile challenge.
How To Run the Red Mile Challenge in Starfield
After you let Mei know when you're ready to run the Red Mile, follow her and listen to your introductory ceremony.
Before you go through the "RUN" door, it is essential to make some preparations to increase your chances of success.
As you've probably guessed, the Red Mile challenge focuses on running to complete its objective.
So, deposit all your unnecessary heavy items (such as materials) into your ship's cargo. If you have helpful heavy items, you can give them to your companion.
Equip any Spacesuit, Helmet, or Pack that provides physical damage resistance, lowers the O2 usage, or grants cold resistance.
Aid items that boost damage resistance, O2 capacity and recovery, and movement speed can significantly reduce the challenge. Here are some examples: Boudicca, AMP, Frostwolf, Pick-Me-Up, Red Trench, Snake Oil, and so on.
Once you have completed all necessary preparations, proceed through the door next to the stage.
Follow the narrow passage and access the airlock. Upon reaching the "Last Chance" doorway, you will discover a Spacesuit Workbench and a Weapon Workbench. Before starting the challenge, you can use these to enhance your gear and Weapons.
In order to finish the Red Mile challenge, you need to activate the Red Mile Beacon, which can be found at the bottom of a tower, and then make your way back to the bar.
However, during your climb up the dangerous hill, you will be attacked by a bunch of aggressive Red Mile Maulers and be subjected to a few explosions that may stun you.
Conquering the Red Mile in the On The Run mission is difficult, but I will share a few tips and tricks to help you survive.
To complete the Red Mile challenge, killing enemies is not necessary.
The Red Mile Maulers are formidable opponents, and their attacks can be difficult to dodge. Therefore, it is recommended to sprint past them whenever possible.
Also, these beasts are dangerous up close and from a distance as they shoot a toxic projectile that can interrupt your boost pack and reload, causing a temporary staggering.
When surrounded, climb on top of a crate to catch your breath. Use your boost pack to avoid fall damage, as a sprain can lead to a death sentence.
And remember to collect the items from the Industrial Crate located on the right of the Red Mile Beacon before returning to the bar.
Once you activate the Red Mile Beacon and return safely to the bar, speak with Mei Devine. She will congratulate you on your performance and set up a meeting with Marco as promised.
While you wait, have a quick chat with Autumn and Jane about your achievement. After the conversation, head to Mei's office, which is located opposite the Red Mile doorway.
There, she'll let you know that Marco is on his ship, which is currently stationed on planet Codos.
How To Confront Marco Graziani in On The Run Mission
To reach Codos, one of Akila's moons, you must open your Starmap and locate the Cheyenne system. Once you are in Cheyenne, choose the Fortuna landing target on Codos to reach Marco's ship.
Make your way inside his ship and speak to the receptionist. They will direct you to Marco, who is located towards the back of the ship.
Follow the corridor on the left side of the receptionist's desk until you reach a beautifully adorned room. From there, head towards the back right corner to enter Marco's office.
When you enter Marco's office, he will greet you, and you will face a difficult decision as you introduce yourself.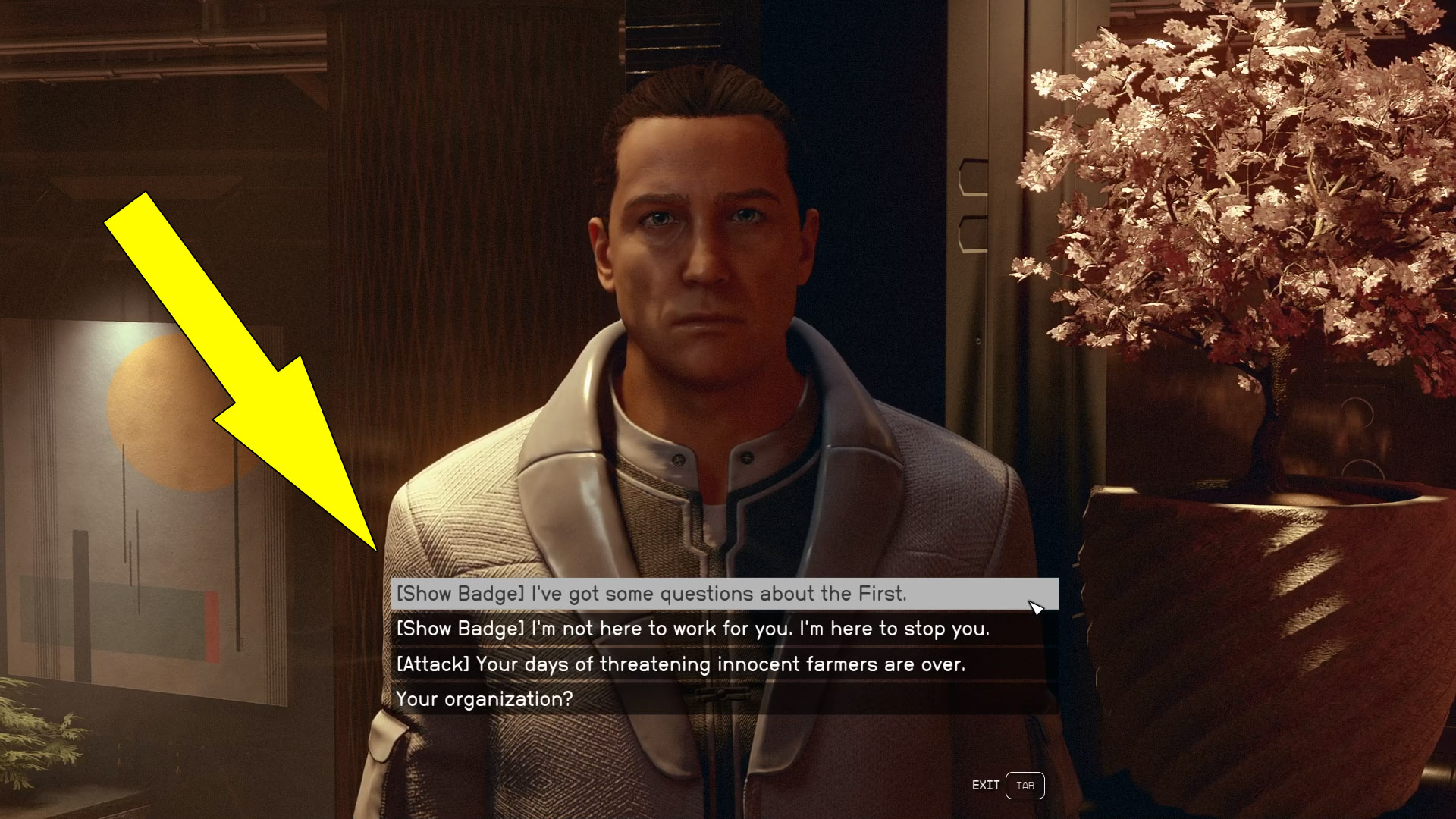 If you choose to show your badge to Marco, you may be able to gather some small pieces of information from the criminal leader.
However, you won't be able to persuade Marco to reveal any crucial details without making some sort of deal.
This deal means he can point you in the right direction, but in exchange, he wants the Rangers to let him operate with a free hand.
Now you have two options: accept Marco's offer and receive an Encrypted Slate, or refuse his offer and attack him to loot the Encrypted Slate from him.
To assist with your decision-making during the Starfield On The Run mission, remember that Marco Graziani is the leader of a smuggling organization and holds a high rank in the First Cavalry.
This means he is a permanent threat to the Freestar Collective and similar organizations, making it imperative to take him out immediately. Also, making a deal with him or taking him out won't affect the Freestar Collective questline. It's purely a role-playing decision.
So, regardless of when you choose to eliminate Marco (whether it's upon entering his office, at the beginning of the conversation, or after he has stated his demands), all his First Cavalry Veterans will swiftly make their way to your location, and the ship's turrets will begin to target you.
After you eliminate Marco, destroy the turret above his desk, and then grab the Encrypted Slate and Marco's Keycard by searching his corpse.
Before leaving his office, use Marco's Keycard to enter the room on the right side of his desk.
In there, you will discover multiple weapon cases and the Remote Turret Control Computer that can be used to reprogram the ship's turrets against Marco's 1st Cavalry Veterans.
To do this, press the [Update Friend/Foe Settings] button, followed by [Recalibrate Friend/Foe Settings], and then exit without pressing any more buttons on the terminal screen.
Then, take care of any remaining enemies that the turrets haven't eliminated yet. Before you leave, feel free to explore the ship and loot anything you find useful.
Finally, make your way back to the ship and set the course to the nearby planet of Akila. Upon arrival in Akila City, proceed to The Rock and deliver the Encrypted Slate to Alex Shadid to end the On The Run mission in Starfield.
Congratulations! If you've also completed the Surgical Strike mission, you've unlocked your next Freestar Collective mission, First to Fight, First to Die.