Diablo 4 Overstepping the Mark is a delivery-type quest in which you must get an iron medallion to Lyndon, the boss of the Backwater town.
Note that Overstepping Mark counts as one of the 49 Hawezar side-quests, and you need to finish it if you are aiming for 100% completion in Hawezar, the fifth region of the video game released by Blizzard Entertainment on June 6, 2023.
Overstepping the Mark is not hard at all; the problem is with the requirements you need to meet to make the quest available.
But don't worry because, throughout the walkthrough below, we will discuss about how you can start and complete D4 Overstepping the Mark side-quest.
How To Start Overstepping the Mark Quest in Diablo 4
To be able to play Overstepping the Mark, you must first complete two Hawezar Secret Side Quests.
To be more precise, the quests are named Drink to the Past and Good Riddance.
When you are all set, you must head to Zarbinzet, the main town in the Hawezar region.
Of course, it would be best if you use the town's Waypoint to get there faster.
Once you reach the town, you must find an NPC named Mislan, who is actually the Rings & Amulets merchant.
The NPC can be found on the south side of the town, as shown on the next Diablo 4 map.
Now to start the quest, you must buy a specific item from Mislan.
As such, interact with the merchant to see the list of goodies he haves for sale.
Among other loot, you can spot the Thieves Guild Emblem, which Mislan is willing to let go for only ten Gold, as you can see in the screenshot below.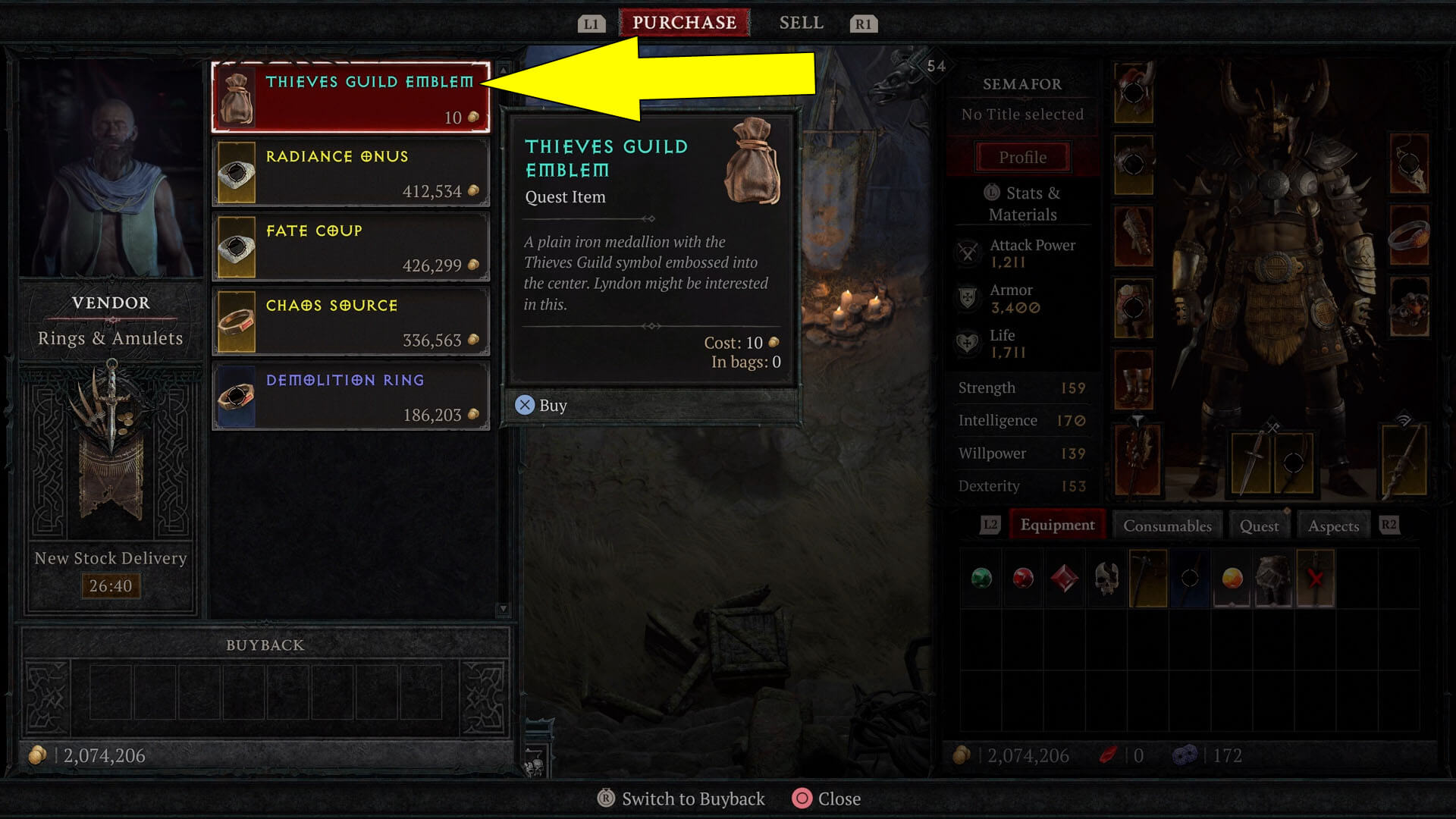 To continue, you have to bring the Thieves Guild Emblem to the boss of Backwater, Lyndon.
Thus, let's see where you can find this Lyndon exactly.
Where To Find Lyndon in Diablo 4
After obtaining the Thieves Guild Emblem quest item, you can open your map to see a blue marker in the town of Backwater on the east side of the Hawezar region.
As you can see, the Forsaken Coast area town has its own Waypoint you can use to fast travel, assuming you have already unlocked it in a previous visit.
When you get to Backwater, you must head to the hut northeast of the town's Waypoint, and you will find Lyndon sitting on a chair inside.
However, when you show the Emblem to the NPC, he won't be too happy as he remembers all the failures of his life because of it.
But when you finish your discussion with Lyndon, Diablo 4 Overstepping Mark side-quest ends, and you receive Renown points, a Cache, Gold, and XP.