Strange Ore Sample is one of the Dry Steppes secret quests in Diablo 4, in which you'll have to obtain a quest item with the same name and bring it to Gerti in the capital city of Ked Bardu.
The D4 Strange Ore Sample quest is similar to the Icebound Geode side quest in Fractured Peaks, as both require you to interact with Ore Veins in a specific region to obtain the quest item.
So, follow our Diablo IV guide to learn how to begin the Strange Ore Sample quest and how to complete it.
How To Start the Strange Ore Sample Quest in Diablo 4
In order to begin the Strange Ore Sample side quest, it is required to find and collect the Strange Ore Sample quest item. But before you go searching, it is recommended to complete Act III.
You can find the quest item by mining the Ore Veins in the Tusmaa Rift subregion of Dry Steppes. The quest item is not guaranteed to be obtained from the first Ore Vein as it is randomly dropped.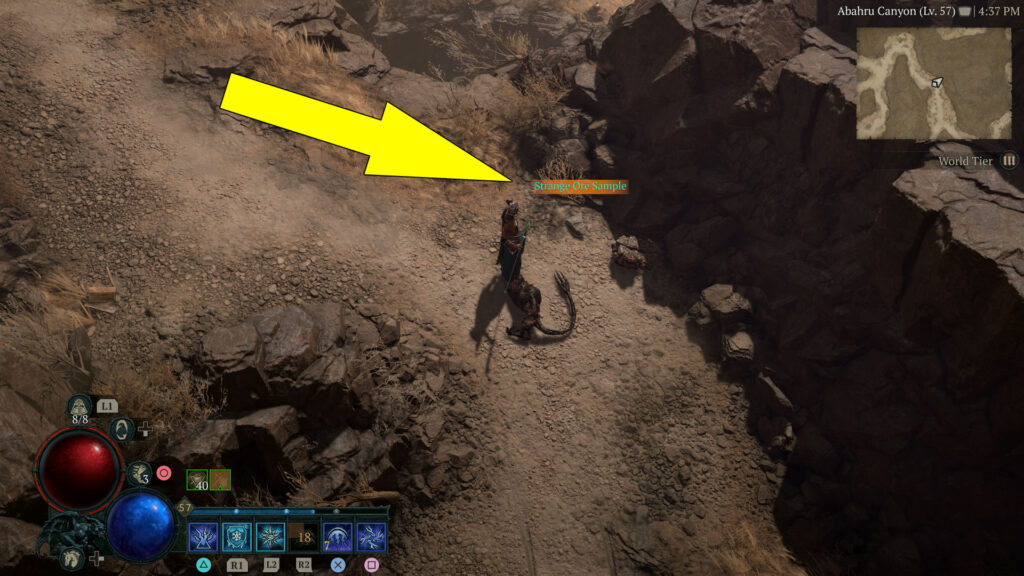 You can see the spot where it dropped during our playthrough on the map below.
You can also start the Reject the Mother side quest in the Tusmaa Rift subregion by interacting with the Torn Note in the Abahru Canyon area.
Where To Find Gerti in Diablo IV
Once you have obtained the quest item, head toward the capital city of Ked Barbu to speak with Gerti. You can also start the Crucible of Worth side quest by talking with her.
When you bring her the Strange Ore Sample, she expresses excitement about your fortunate discovery.
She mentions that after processing it, the metal will enhance the strength of her weapons.
In return for the ore, she will give you 20 Renown Points for the Dry Steppes region, Gold, XP, and a Gem Cache. If you want to complete all quests in the region, check out our Dry Steppes side quests locations guide.
Also, consider visiting our Diablo 4 Wiki Hub Page for the best guides about the game.