Diablo 4 Unyielding Flesh is a disturbing side-quest available in Yelesna focused on a female NPC and her unfaithful husband, Feodor.
The Unyielding Flesh side-quest is also a bit longer than the other two Yelesna side-quests available early in the game (Traveler's Prayer and Ravenous Dead), but nevertheless mandatory if you are a completionist looking to finish all 35 Fractured Peaks side-quests.
So, to help you with this task, our D4 Unyielding Flesh walkthrough below explains where to find Krystyna's husband, Feodor, in the Gnarled Timbers area.
How To Start the Unyielding Flesh Quest in Diablo 4
Unyielding Flesh is a Diablo IV side-quest you can trigger during your first visit to Yelesna, meaning that you only have to complete the Prologue, then explore the southeastern area of Fractured Peaks to discover the small village on the map below.
After reaching the village, there are three side quests available early in the game and one hidden quest.
Unyielding Flesh is one of the early quests, and you can start it by talking to Krystyna near the southeastern gate.
The female NPC explains that her husband, Feodor, left their house in the middle of the night upon talking to another woman. When she tried to confront him, he ran away, and Krystyna needs your help finding him because the forest she wants to explore is too dangerous. Let's see where to find Feodor.
Where To Find Krystyna's Husband Feodor in Diablo 4
Krystyna's Husband Feodor is found in the area known as Gnarled Timbers, east of Yelesna, within the Diablo 4 Fractured Peaks region.
After starting the quest, open your map, and you'll see the search area you must explore to find Feodor. Travel east of Yelesna, and once you enter the search area, look for Feodor on the northwestern side of the search area at the location marked below.
When you get close to the spot we have marked for you, you should be able to spot a skinless NPC tied with some chains.
Get close to the poor man, and while Krystyna tries to talk to him, you'll hear the voice of a mysterious woman you'll need to confront.
From Feodor's location, head east toward the second search area on your map. It is smaller, and when you get close to the center, you should find the mysterious woman in a small clearing.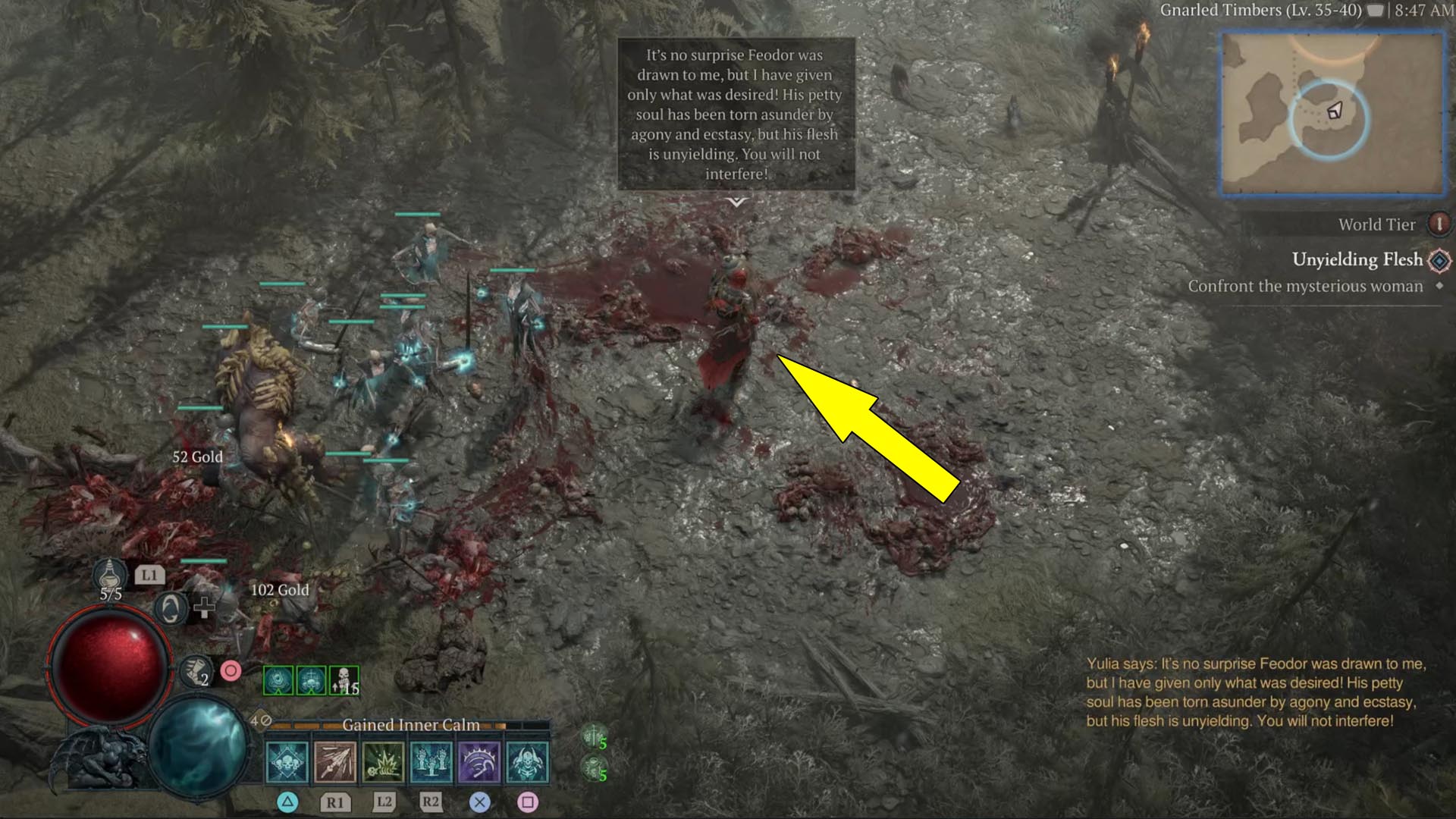 When you approach her, you'll find out that the unfaithful husband was lured by a demon, so get ready to deal with Yulia. She is an elite Hellbound demon you must kill to progress the quest.
Defeating Yulia shouldn't be too hard, even if you play on higher difficulty levels. Now, return to Krystyna, who is waiting for you near her agonizing husband.
To complete the Diablo 4 Unyielding Flesh side quest, retrieve the Fine Dagger in front of Feodor by interacting with it. Additionally, you'll receive XP, Gold, and 20 Renown Points.