Customers Know Best is one of the shortest Disney Dreamlight Valley quests you'll receive from Scrooge McDuck and the fourth one you'll have to complete for the Valley's entrepreneur.
For completing this quest, you'll receive 210 XP; but only if you figure out how to bring Merlin some blue furniture for his Study.
According to Scrooge's business lesson, you need to keep your customers happy, and Merlin is one of his most important clients. So let's see how to deal with Merlin's furniture request.
How To Start Customers Know Best In Disney Dreamlight Valley
In the video game developed by Gameloft, Disney Dreamlight Valley Customers Know Best quest becomes available after DreamlightValley Economy 101, but there are also two additional requirements you'll need to fulfill:
Unlock Characters: Merlin
Level Up Friendships: Scrooge McDuck Level 2
The first requirement is the most accessible since Merlin is the first character you'll encounter at the beginning of the game. So, you'll get the first requirement automatically.
The second one, however, requires you to reach Scrooge McDuck Level 2 Friendship Level.
In case you need help leveling up Scrooge McDuck's Friendship, make sure you visit our guide here to learn everything about Disney Dreamlight Valley Friendship Levels.
Now, check Scrooge McDuck's Shop in the Plaza area, and talk to him to start the quest.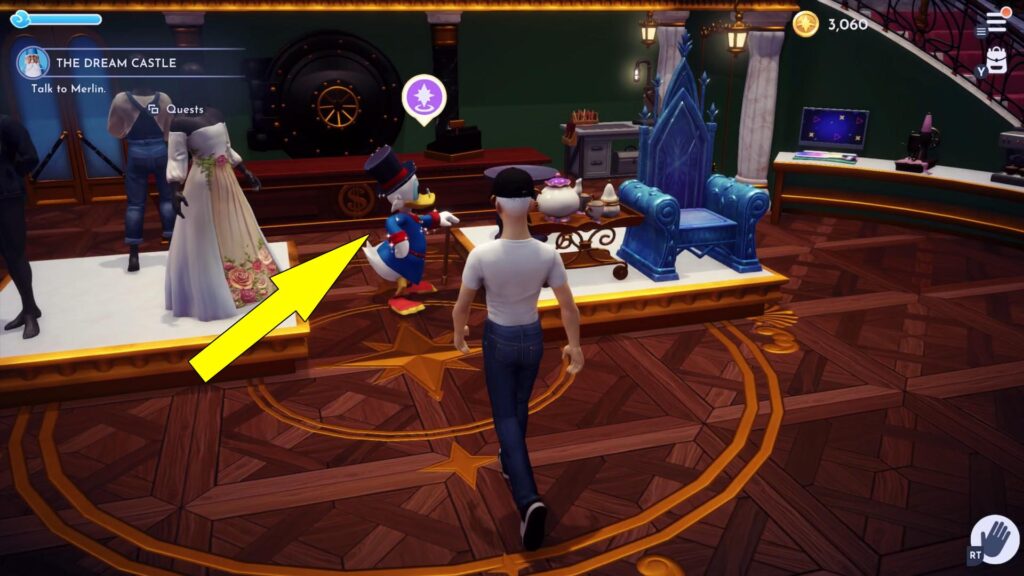 While talking to Scrooge, he'll ask you a couple of questions, and although the answers do not affect the story in general or the quest you'll receive from him if you wish to answer correctly, pick the following:
Merlin ordered something blue
He wants to put the piece of furniture in his Study
Next, Scrooge will give you 2000 Star Coins, and your objective is straightforward: Bring Merlin Blue Furniture for his Study.
Blue Furniture Location
Now, with the 2000 Star Coins you receive from Scrooge, you can end this quest simply by purchasing the Ice Throne below.
As you can notice, it is blue, a piece of furniture, and it costs only 210 Star Coins, so you'll get quite some profit.
However, before spending 210 Star Coins, you should also check your inventory. Specifically, open the game's menu, go to Furniture Sets, and see if you have any blue pieces of furniture you managed to unlock by completing other quests or activities.
Again, as you can notice in the screenshot below, you can choose between the Blue Dining Chair or the Blue Dining Table.
Any of these are enough for Merlin.
Obviously, the next step is to find Merlin, so open your map and look for his icon.
Approach the great wizard and talk to him by selecting the current quest from the dialogue menu.
Finally, select the piece of Blue Furniture you wish to gift him, and don't worry because you won't lose that furniture.
If you truly wish to impress him or don't have any other blue furniture in your inventory, go with Frozen's Ice Throne.
Once you give Merlin the blue furniture for his Study, head back to Scrooge McDuck, and tell him that his biggest customer is also the happiest.
This will end the Disney Dreamlight Valley Customers Know Best quest and allows you to unlock the next one, named A Forgotten Combination (covered in this guide).