Disney Dreamlight Valley Economy 101: How To Sell Gems At Goofy's Stall
Disney Dreamlight Valley Economy 101 is a quest that allows you to learn how to earn Star Coins by selling gems and how to expand your house, to create more space for the items you'll most likely want to place inside.
But before decorating your house, you'll need Star Coins, and you can earn them fast by selling gems.
Becoming a great entrepreneur in Disney Dreamlight Valley is mandatory, as you'll learn from Scrooge McDuck, and for his first lesson, you'll have to sell seven gems at Goofy's Stall.
Let's see where to find the gems and how to sell them for some extra Star Coins.
How To Start Dreamlight Valley Economy 101 In Disney Dreamlight Valley
Dreamlight Valley Economy 101 is the third quest you'll get from Scrooge McDuck, which means that you'll need to unlock it by completing the previous one in line named Scrooge McDuck's Grand Re-Opening (check this in-depth guide if you need help).
However, the Dreamlight Valley Economy 101 in the video game developed by Gameloft also requires you to:
Unlock the Pickaxe
Progress further with Goofy
These two requirements are pretty accessible because to get the Pickaxe, you must play through the Royal Tools quest we covered here.
Furthermore, you'll have to complete the Fishing Expedition quest to progress further with Goofy.
After you unlock the Pickaxe and finish the Fishing Expedition quest which unlocks the fishing activity, you'll be able to start Scrooge McDuck's Dreamlight Valley Economy 101.
So, you'll want to visit Scrooge inside his shop in the Plaza area.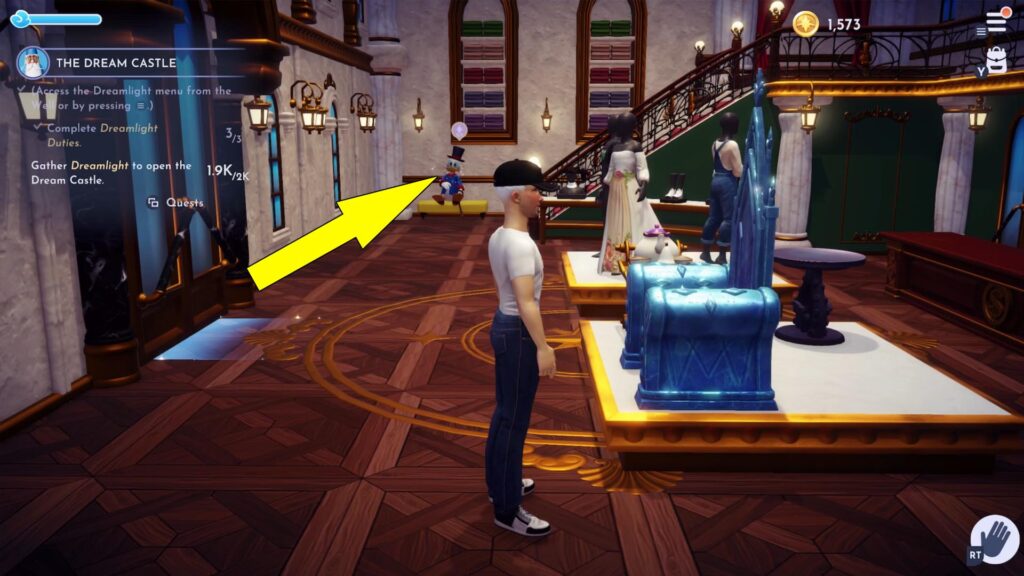 When talking to Scrooge, you'll have one dialogue option, which is not important for the game's story or the current quest.
Next, Scrooge reveals his plan to jumpstart the Valley economy, and the first task he'll assign is to sell seven gems at Goofy's Stall.
Economy 101 Gems Locations
Upon receiving the first quest objective, it's a good idea to check your inventory and the chest inside your house to see if you have already found gems.
Just so you know, the type of gems Scrooge wants you to sell is not important, meaning that they can be any of the following:
Amethyst (Shiny Amethyst)
Aquamarine (Shiny Aquamarine)
Citrine (Shiny Citrine)
Diamond (Shiny Diamond)
Emerald (Shiny Emerald)
Garnet (Shiny Garnet)
Peridot (Shiny Peridot)
Topaz (Shiny Topaz)
Tourmaline (Shiny Tourmaline)
Assuming you don't have any Gems or need more, it's time to go mining, so exit Scrooge's shop.
Disney Dreamlight Valley Mining is an accessible activity that requires a pickaxe and mining deposits, also known as Rock Spots.
Rock Spots are found on the wall of the mountains, so try not to confuse them with the rocks you get to mine within the village.
What you are looking for are black mining deposits, like the ones you see below.
As you can see, the Disney Dreamlight Valley Rock Spots are black, and always found on the mountain's walls, never in the village.
To mine such a spot, you'll obviously need a Pickaxe and energy, so press RT on Xbox to equip the required tool, then get close to a mining deposit and press X (also on Xbox) until you deplete the deposit.
After you deplete a mining spot, hug the mountain's wall and keep going around the area looking for more; however, do not stop in the Plaza because the deposits are found everywhere.
Some Disney Dreamlight Valley Mining Deposits, like the one below, have colored edges.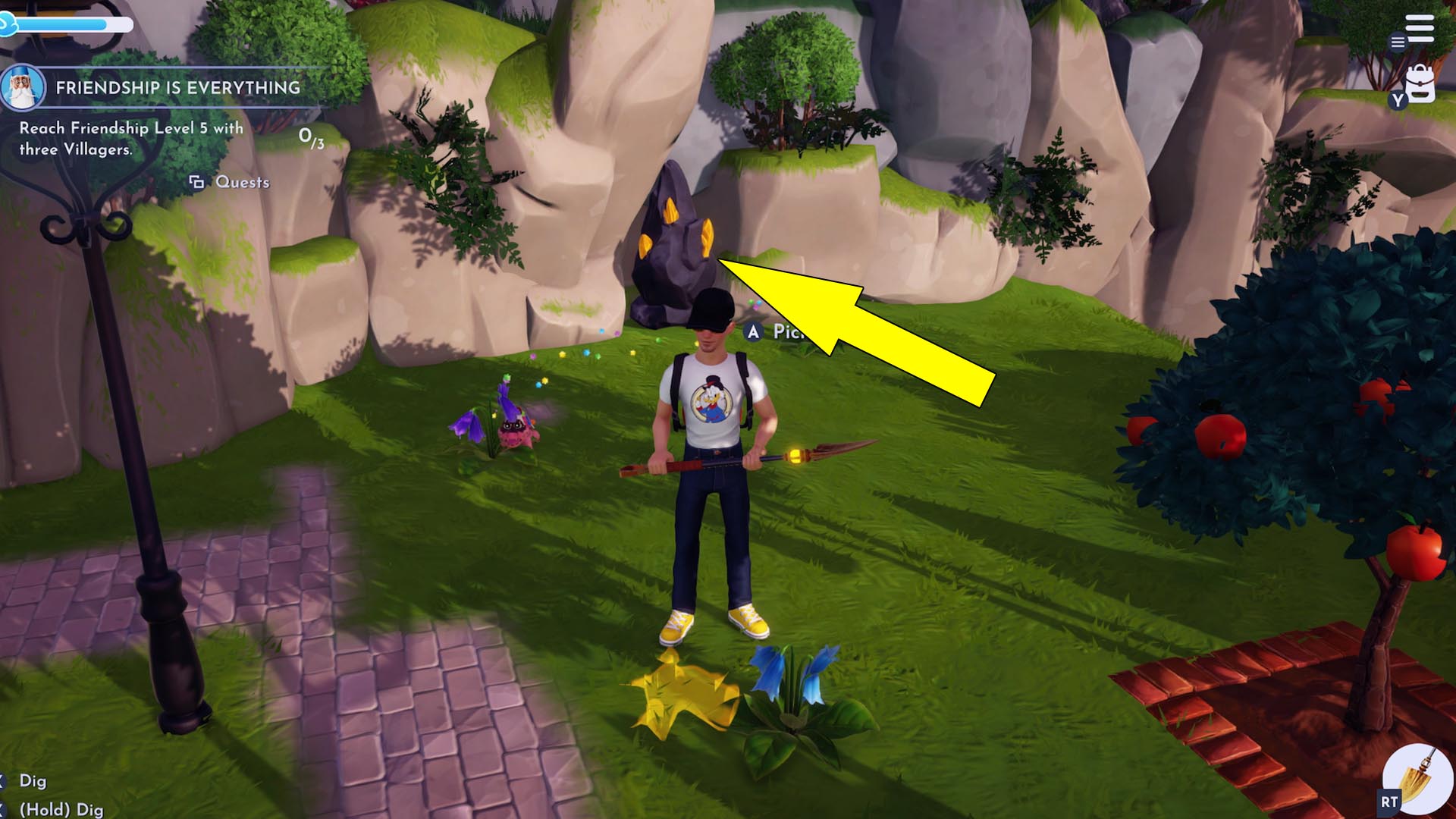 If you wonder what the difference is between the deposit in the screenshot above and the other two, the answer is simple. The latter has a guaranteed drop, meaning it contains a gem, while the first two may or may not include one.
What the game does not tell you is that some deposits may have guaranteed drops hidden under the first layers you mine. This means that once you start mining, you may discover the colored edges.
Knowing the difference can save you quite some time when mining, but as a rule, you'll want to mine all deposits.
Luckily the spawn rate is high, so by the time you finish exploring the edges of an area, the first mining deposits respawn.
You should also know that the Rock Spots in Disney Dreamlight Valley have fixed locations meaning that, for example, you'll always find two on the left side of the stairs connecting the Plaza and the Peaceful Meadow areas and two on the right side.
As you can probably guess, you can get gems even faster if you ask one of the characters to accompany you, provided you know how to increase his Friendship Level, and you also assign him the Mining Role starting Friendship Level 2.
Back to Goofy's Stall gems now; as said to get them, all you have to do is look on the walls of the mountains surrounding each area and keep mining.
How To Sell Gems At Goofy Stall
Upon collecting seven gems of any kind, head to the Goofy Stall in the Peaceful Meadow area on the right side as you descend the stairs.
You may remember the Stall from the Fishing Expedition quest since you were asked to repair it.
Approach Goofy's Stall and interact with it, then choose Sell when Goofy appears.
From your inventory, select any seven gems you have by pressing A on Xbox, then choose the Sell option at the bottom of the screen.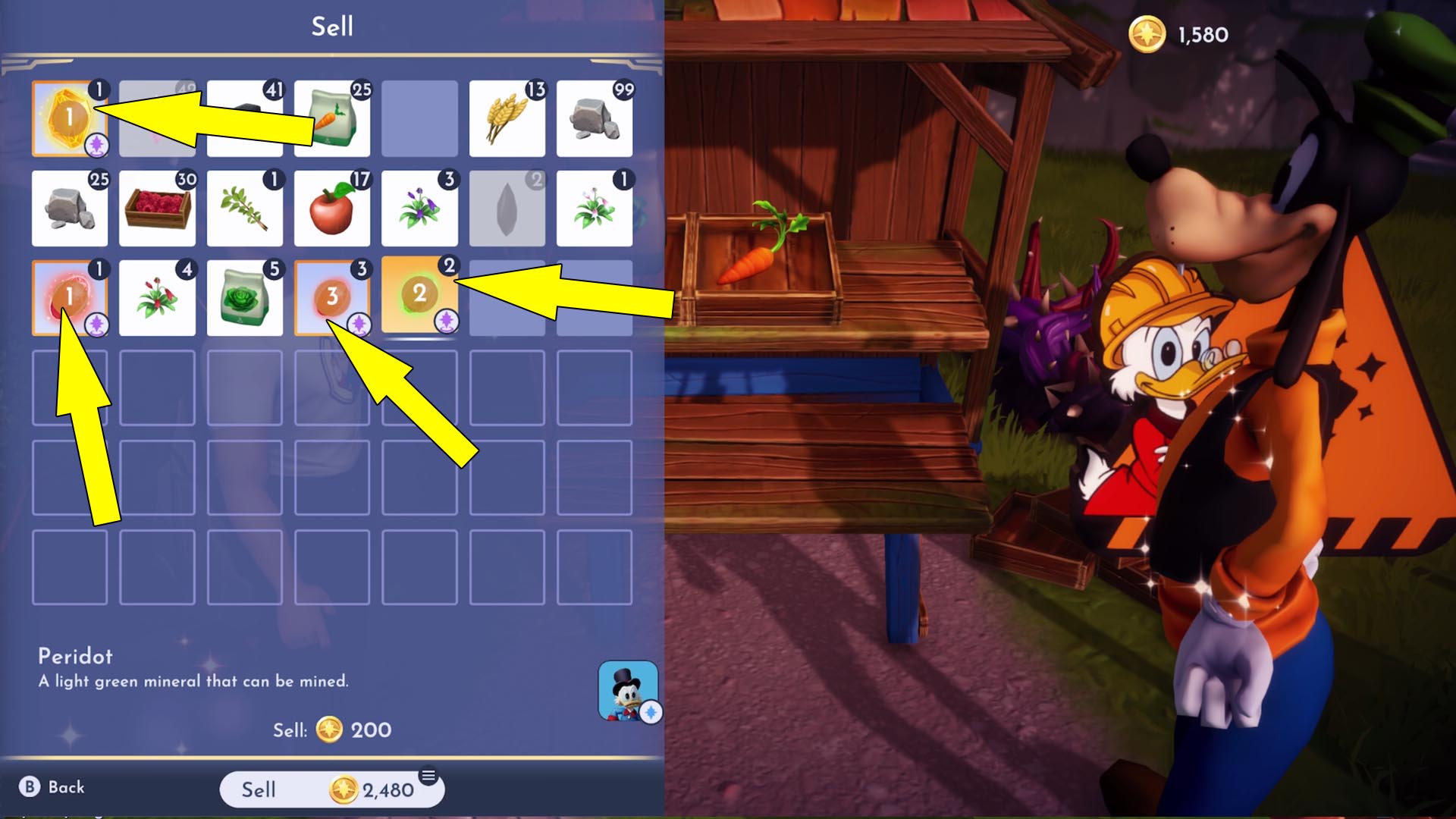 After selling the seven gems, you'll have to return to Scrooge McDuck for another financial lesson.
This time, the funny entrepreneur tells you that the best investment you can make is in your home.
How To Invest In Your House By Using The Elevator
To complete the second Disney Dreamlight Valley Economy 101 objective, head outside after you talk to McDuck and then return to your home in the Valley.
Inside, you'll see an elevator on the left side of the door (pictured below).
Step on it and press A on Xbox, then choose Expand by pressing X (also on Xbox). For the first Disney Dreamlight Valley Floor Expansion, you'll need to pay 1000 Star Coins, which you already have by selling the Gems.
Now, you'll want to pay Scrooge McDuck one last visit to inform him that you invested in your house, thus ending the Dreamlight Valley Economy 101 quest and unlocking the next one in line, Customers Knows Best.