Mint is a herb that can be used as a Cooking Ingredient to prepare some tasty desserts in the Early Access Version of Disney Dreamlight Valley.
The herb is also a quest item you'll need to obtain for Mother Gothel's friendship quest Restoring The Sunstone, covered in this guide.
So, for whatever reason you want Mint, make sure you check the following location guide and learn how to get the Cooking Ingredient quickly.
Where To Find Mint In Disney Dreamlight Valley
The only way you can get the herb is by harvesting it in the Frosted Heights area.
So, you can't grow it in your own garden; obtain it from Wall-E's garden, buy it at Remy's Pantry, or from Goofy's Stalls.
Therefore, you first need to gain access to the Frosted Heights Biome by removing the huge Night Thorns at the area's entrance.
You'll need a total of 10.000 Dreamlight to remove the Thorns and enter the snowy area, which is located north of the Forest of Valor Biome (look for the white area on your map, you can't miss it).
To get Dreamlight in the video game developed by Gameloft, you must complete tasks from the Dreamlight tab in the game's menu.
Once you are in the snowy Biome, look for the brown twigs with green leaves coming out of the snow, as shown in the following image.
To have a chance of doubling the herbs you get, don't forget to hang out with a companion who is specialized in Foraging.
Try to level up your companion as much as possible to increase your chance of doubling the herbs. Check our Friendship Level Up guide if you need help leveling up faster.
Keep in mind that more herbs will spawn over time, so come back later after you've cleared the area.
Cooking Recipes Based On Mint
If you want, you can sell the herbs for 80 Star Coins a piece at one of Goofy's Stalls or eat them to gain 155 Energy.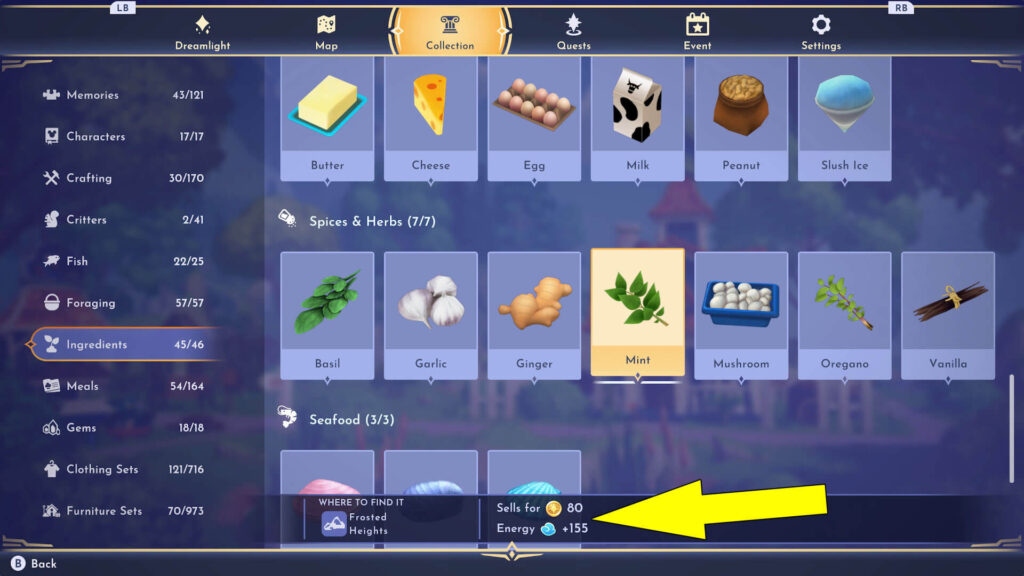 Since there are better ways to get Star Coins or Energy, you should use this type of herb as Cooking Ingredients for the following Recipes:
| | | | | |
| --- | --- | --- | --- | --- |
| Recipe | Ingredient 1 | Ingredient 2 | Ingredient 3 | Ingredient 4 |
| Mint Candy | Mint | Sugarcane | | |
| Mint Chocolate | Mint | Cocoa Bean | Sugarcane | Butter |
| Sorbet | Mint | Slush Ice | | |
And that's it, Villager! You've learned where you can find the Disney Dreamlight Valley Mint and how to use it. Also, don't forget to ask any questions you may have in the comments section below.