Rich Soil is a rare material in Disney Dreamlight Valley that was introduced by Scar's Kingdom update on October 19, 2022, for Xbox Series X, Nintendo Switch, PC, and PlayStation platforms.
Along with 10 Vitalys Crystals and 1,000 Dreamlight, you'll need 10 Rich Soil to craft a Miracle Growth Elixir enchantment which is mandatory for the Nature&Nurture quest (covered in this guide), so you need to stock up on this Crafting Material as fast as possible.
Obtaining Rich Soil in Disney Dreamlight Valley can prove challenging because the game won't tell you how to do it, and you can figure out the solution only if you are lucky.
So, if you don't want to rely on luck and waste time, make sure you check the following guide to learn where you can find Rich Soil.
Disney Dreamlight Valley Rich Soil is required after you prepare the Extra Fizzy Root Beer following the instructions in Vitalys Mines when you begin the Lion King Scar storyline.
To enter the cave or gain access to the new Scar character, you have to unlock the Sunlit Plateau Biome and complete The Curse quest for Mother Gothel.
How To Get Rich Soil In Disney Dreamlight Valley
The first aspect worth knowing is to not confuse the Rich Soil with the regular Soil (discussed in our guide here).
The method of obtaining Rich Soil is not that hard, but it does require some time when you play Scar's first quest in Early Access.
You have a chance to get this Crafting Material each time you harvest a vegetable from your own crops, but you can't get it from WALL-E's garden.
The area or Biome where you place your crops doesn't matter, but you must plant vegetables.
Be sure to hang out with a companion specialized in digging (mandatory for this material) to have a chance of doubling the resources you find.
It's also worth mentioning that this Crafting Material doesn't drop from golden crops (the ones you can harvest more than once if you move fast).
A good idea is to dig a large field (like the one in the image above) and plant Lettuce Seeds because these vegetables take only 3 minutes to grow. Wheat is also a good option, as well as any other fast-growing crops.
If you are wondering how to get Lettuce Seeds, all you have to do is buy them from Goofy's Stall in the Peaceful Meadow area, as you can see in the screenshot below.
Once the Lettuce is grown, harvest it, and you'll notice you have a drop rate of about 1 to 20 for Rich Soil.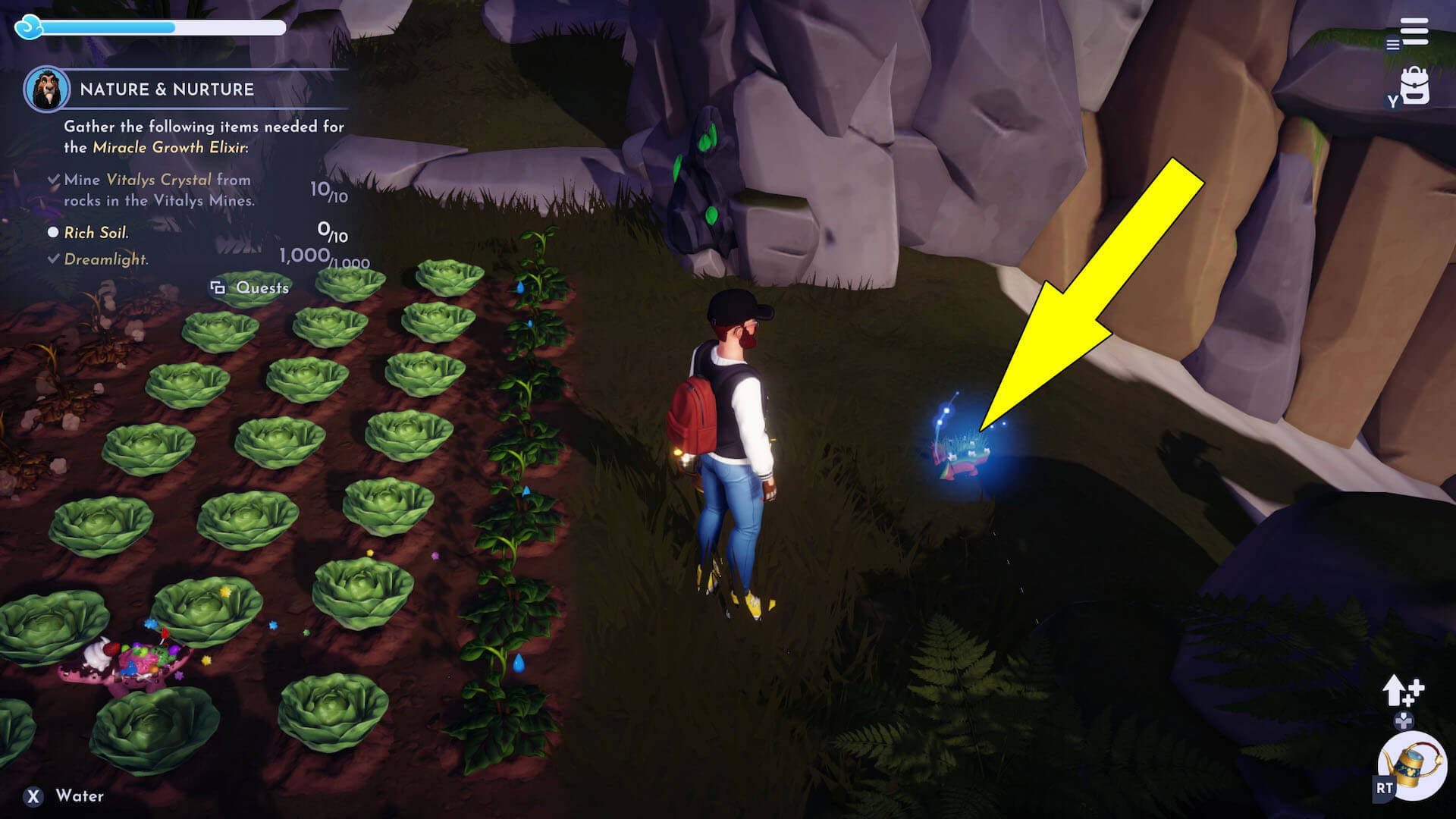 So you should harvest around 200 Lettuce crops to get 10 Rich Soil, which is the required quantity for the Nature&Nurture story quest you get from Scar in the Sunlit Plateau area.
Now that you know how to get the Disney Dreamlight Valley Rich Soil in the latest Scar's kingdom update, start farming it with the help of our tips above, and you should have enough pretty fast.