The Tree Stumps in Disney Dreamlight Valley are an excellent source of different types of wood, especially Hardwood and Softwood.
But Disney Dreamlight Valley Tree Stumps can also get in your way while you explore specific Biomes in the video game developed by Gameloft.
For example, if you want to explore the northwestern part of the Forest of Valor Biome, you'll first have to get rid of the annoying Stumps blocking your access and the bridges over the river.
Therefore, throughout the following guide, we will explain everything you need to do to upgrade your Shovel so that the Disney Dreamlight Valley Tree Trunks won't be a problem anymore.
Disney Dreamlight Valley Tree Trunks Locations
You'll encounter Tree Stumps in the first areas you can explore right as you start your adventure in Disney Dreamlight Valley.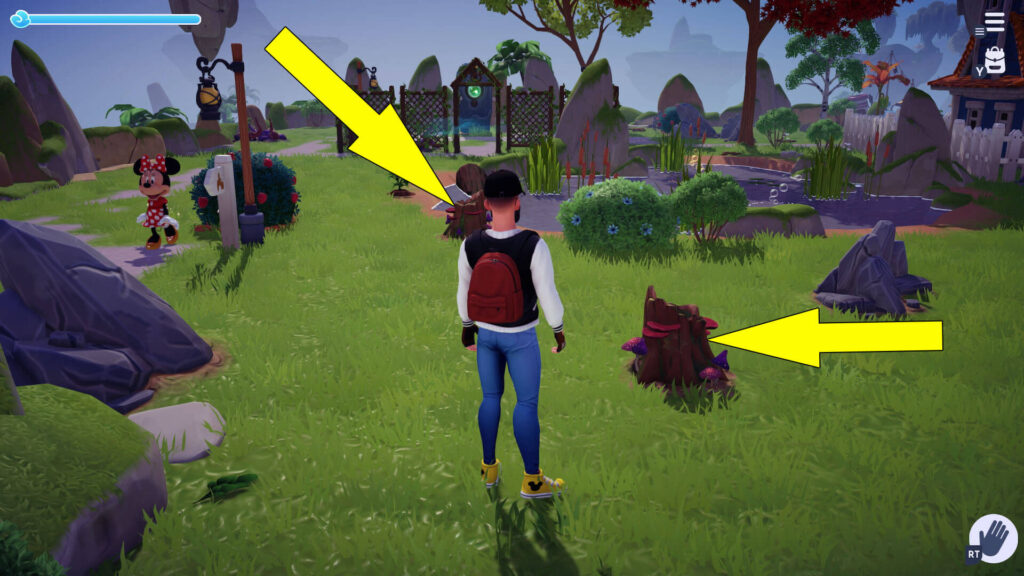 As you can see in the image above, they are hard to miss because of their size.
Also, if you try to move them with the environment customization tool from the Furniture tab in your inventory, you'll notice that it's impossible. So, there is no easy way around this.
You can find Tree Trunks in the following areas:
Plaza
Peaceful Meadow
Forest of Valor
Frosted Heights
Now let's see what you can do about these pesky obstacles.
How To Unlock The Tree Stumps Removal Tool
The removal tool you need to get rid of these annoying obstacles is your Shovel, which will require an upgrade.
However, you'll first have to bring Anna to the Village to do the said upgrade.
To bring Anna to the Village and unlock her as a playing character, you'll need to open the Frozen Realm, so head to the Dreamlight Castle north of the Plaza.
When inside, check the second floor and remove the Night Thorns on the door in the middle for 4000 Dreamlight. Now, go through the door, and you'll automatically start Anna's Spirits Of Nature quest.
Upon completing the said quest, Anna remains in the Frozen Realm, so focus on Elsa's quest named Chasing The Wind.
After you help Elsa, head back to Anna and ask her to move to your Village.
You don't need to build a house for her since she already has one in the Forest of Valor.
Now that Anna returned to the Village is time to do the same for Elsa, so you'll have to finish An Icy Invitation quest for Anna. It's the second Friendship Quest in her storyline.
While playing An Icy Invitation, you'll get the chance to unlock a better version of your Shovel, which allows you to remove the Tree Stumps in all Biomes.
How To Get Rid Of Tree Trunks
With the upgraded version of the Shovel, you can now freely remove all the Tree Stumps you want.
What you need to do is select the Shovel by pressing RT on your Xbox controller, position yourself near a Stump, aim at it, and press X as if you wanted to dig a hole.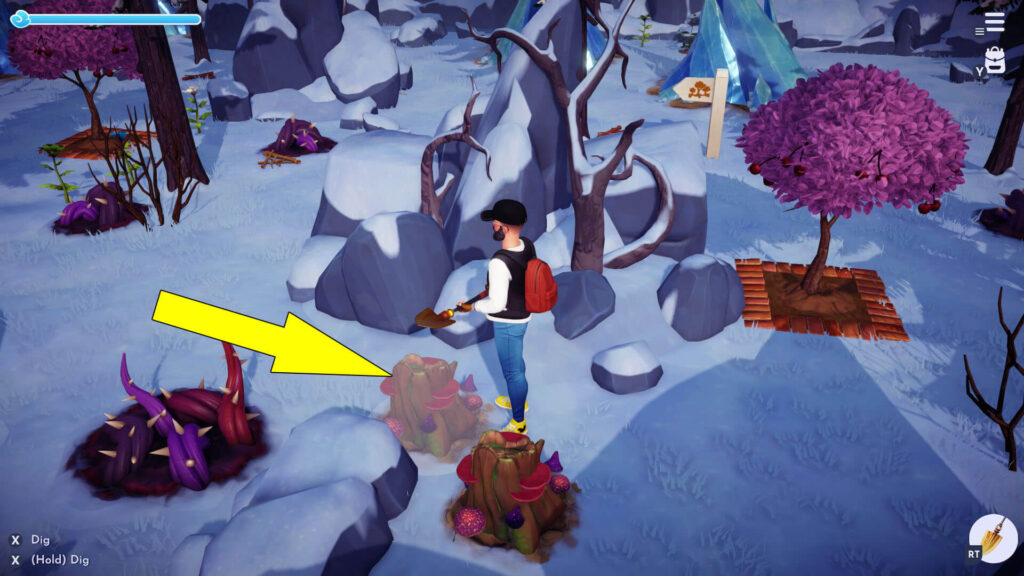 Depending on the area you visit when removing a Stump, you can get the following Crafting Materials:
| | |
| --- | --- |
| Area (Biome) | Tree Stumps Crafting Materials |
| Plaza | Softwood |
| Peaceful Meadow | Softwood |
| Forest of Valor | Softwood & Hardwood |
| Frosted Heights | Softwood, Hardwood & Dry Wood |
Collect as many as possible from the materials listed above and store them in chests because you'll need lots of them for the upcoming quests.
And that's all, Villager! You've learned how to remove Tree Stumps in Disney Dreamlight Valley, so now you can deal with the Giant Pink Mushrooms covered in our guide here, which can be just as annoying.