Disney Dreamlight Valley Mushrooms are a delicacy in the video game developed by Gameloft; however, the Giant Pink Mushrooms, which are poisonous, can't be consumed and are pretty annoying, especially early in the game.
Disney Dreamlight Valley Poisonous Mushrooms are very similar to the tree stumps, forming barriers blocking your path toward other areas.
They are larger than the Mushrooms used for cooking, and they require extra work before they can be removed.
As you progress, though, Disney Dreamlight Valley Giant Mushrooms will become quite valuable, as they will be your primary source of edible Mushrooms or Mushrooms you can use in cooking.
But, to be able to get edible Mushrooms, you'll need to know how to deal with the Giant Pink Poisonous Mushrooms in Disney Dreamlight Valley. So, let's see what you need to do to get rid of them.
Disney Dreamlight Valley Pink Mushrooms Locations
When you start your journey in Disney Dreamlight Valley, you'll have access to the Plaza and Peaceful Meadow Biomes. The latter is the one where you'll first see the Giant Mushrooms pictured below.
As you can notice, they really stand out because of their size. If you try to move them around using the environment customization tool in your inventory, you'll notice that you can't.
This means that they are part of the environment and they are unmovable.
While the Peaceful Meadow Giant Mushrooms won't bother you too much, when you get to the Glade of Trust, things get pretty messy because the Large Mushrooms block your path towards the western side of the Biome.
Specifically, you won't be able to cross the bridges over the river because of them.
So, in Dinsey Dreamlight Valley Early Access, the Pink Mushrooms spawn in the following Biomes:
Peaceful Meadow
Glade of Trust
Sunlit Plateau
Now that you know where to find them, you need to learn how to remove these obstacles.
How To Unlock The Giant Mushrooms Removal Tool
To remove the Large Mushrooms in all Biomes listed above, you'll need to upgrade the Watering Can.
Disney Dreamlight Valley Watering Can Upgrades are unlocked by Merlin, so it's imperative for you to focus on his questline in order to access the last upgrade.
If you pay close attention to Merlin's quests, you'll find out that the Wizard is also very annoyed by the Mushrooms that grow around the Valley because of their smell.
So, he decided to create a series of experiments in an attempt to destroy them. His first experiment is part of the New Enchantment quest.
If you complete it, you'll be able to remove a Pink Mushroom, but the enchantment won't last, so you'll do it only once.
By continuing Merlin's questline, he'll further improve your Watering Can, allowing you to remove small patches of big Mushrooms. The second upgrade is unlocked during the quest named A Dark Experiment.
However, the second Watering Can upgrade is useless when it comes to clearing the Giant Mushrooms in Glade of Trust; hence you'll need to focus on the last quest Merlin has for you in Disney Dreamlight Valley Early Access. Specifically The Final Trial.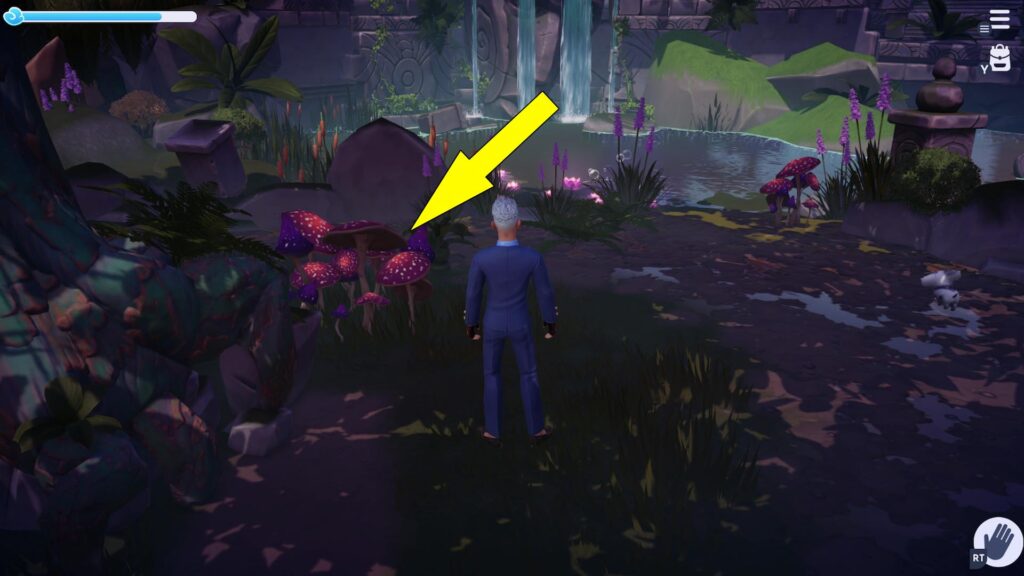 By finishing The Final Trial, you'll get the Royal Watering Can Upgrading Ointment that Merlin can apply to your can.
With the Royal Watering Can Upgrading Ointment, you can remove all Big-Path Blocking Mushrooms, including those on the Glade of Trust bridges.
How To Get Rid Of Poisonous Mushrooms
Upon obtaining the last Watering Can upgrade, removing all large Mushrooms in Disney Dreamlight Valley becomes straightforward.
All you need to do is get close to one of them, then press RT on your Xbox Controller.
Next, you'll want to select the Watering Can and press X to use it. This allows you to water the Disney Dreamlight Valley Big-Path Blocking Mushrooms and remove them.
As said, the Pink Mushrooms in Disney Dreamlight Valley are an excellent source of edible Mushrooms, and even though they respawn slowly, later in the game, you'll want to find as many as possible.
If you check our complete Cooking Recipes List, you can see that many meals require Mushrooms, so make sure you deal with the Poisonous Pink Mushrooms to get this rare ingredient faster.