Shadows And Bows is probably the most emotional Disney Dreamlight Valley quest because you'll finally get the chance to connect Mickey Mouse and his spouse Minnie, even if it's just for several moments.
Disney Dreamlight Valley Shadows And Bows is the fifth quest in Mickey's questline and the last one you can complete in the Plaza area without having to travel to other regions in the Valley.
It's pretty short, and unlike other quests we have covered so far, it doesn't require any crafting materials. So, it's a dialogue-based quest you can complete in about 5 minutes.
While you don't need to perform any activities, in Shadows And Bows, you'll have several dialogue choices, and you may want to know the correct answers. Let's see what you have to do to reunite Mickey and Minnie Mouse for the first time.
How To Start Shadows And Bows In Disney Dreamlight Valley
Since Shadows And Bows is part of a long line of quests you get from Mickey, first, you'll have to complete his previous request or the Missing Minnie quest we've covered in-depth here.
The second requirement is to get Mickey Mouse's Friendship Level to Level 6, which is an accessible task if you know what you have to do when it comes to increasing the Friendship Levels.
If you don't know, then our Disney Dreamlight Valley guide for increasing the Friendship Levels will surely help you understand how this feature works in the video game developed by  Gameloft.
Other than these two requirements, you don't need anything, so open your map and find Mickey Mouse, who is desperately looking for Minnie in the Plaza and Peaceful Meadow areas.
Look for his icon on your map, then talk to him.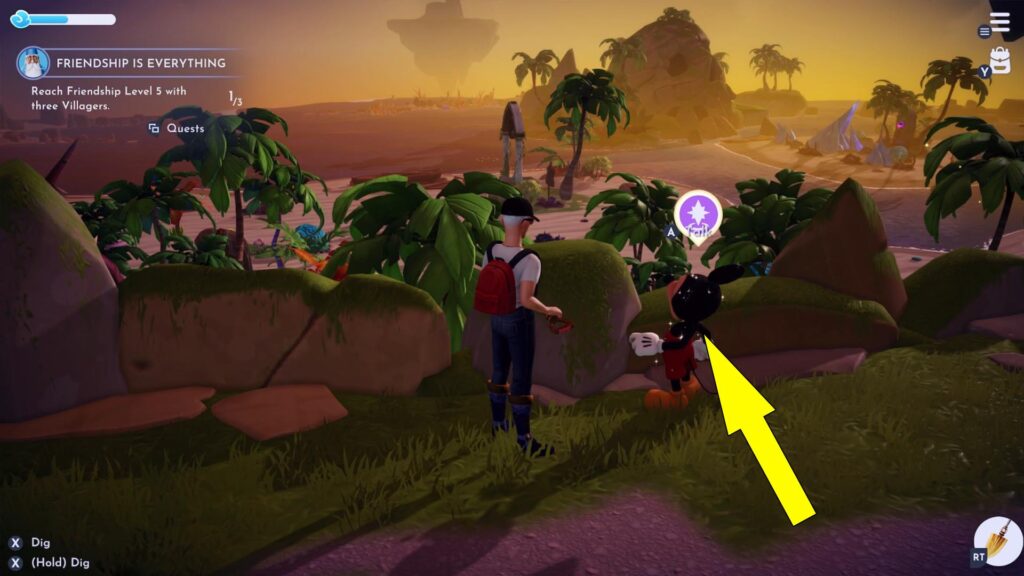 When Mickey tells you he knows how to make Minnie's shadow appear again, make sure you pick the That's great! dialogue option.
Now Mickey tells you that Merlin enchanted Minnie's red bow and that he might be able to make contact with her. But he needs Memories.
The next line you'll want to pick to progress the quest is: So we hold the bow and remember her? Now, Mickey will put you to a small test, and you must provide several details about Minnie.
Here are the correct answers:
Minnie loves wearing polka dots!
Minnie loves giggling!
Awesome! So Minnie's Bow is a Memory Magnet, but you need more memories; therefore, Mickey will send you to talk to Goofy and Scrooge McDuck.
How To Ask Friends About Their Favorite Minnie Memory
The two Disney Dreamlight Valley characters you have to approach are mobile, so you'll want to open your map and look for their icons.
You can also mark them if you want. Let's approach Goofy first.
After you find him roaming around the Valley, approach the clumsy character and choose the Shadows and Bones line.
Now, for the next dialogue line, go with What is your favorite memory of Minnie?
Goofy will start sharing a funny story about a pie he made using turnips instead of apples. Luckily Minnie was there and helped him fix the cake.
Once you find Goofy's favorite Minnie memory, open your map again and find Scrooge McDuck. Most likely, you'll find him inside his shop, protecting his fortune.
After reaching the Plaza and Scrooge McDuck's shop, talk to him and, once again, pick the Shadows and Bows quest from the list of dialogue options.
Ask him about his favorite memory of Minnie, and he'll tell you that Minnie was a top-notch customer who loved the tartan plaid chair.
Great, now it's time to find Mickey, so open your map and mark his location once more. Talk to him, and he'll ask you to follow him to the Wishing Well.
The Disney Dreamlight Valley Wishing Well is in the center of the Plaza area. After you find it, get close to Mickey, and you'll see the shadow of Minnie nearby.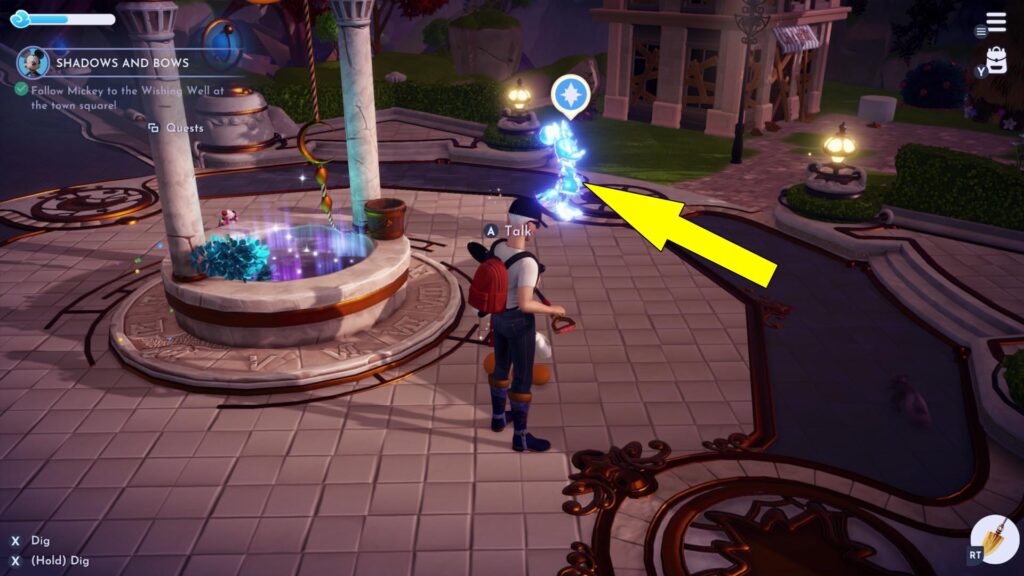 Go talk to the cute mouse and ask Minnie where she is. Next, you'll want to remain close to Mickey and Minnie while they discuss. The moment they spend is quite cute so enjoy this small cutscene before talking to Mickey Mouse again.
After Mikey tells you that he needs to talk to Merlin and figure out how to bring Minnie to the Valley, the Disney Dreamlight Valley Shadows And Bows quest ends, unlocking the next one in line named Memory Magnification.