Shine A Light is one of Mother Gothel's friendship quests in Disney Dreamlight Valley that rewards you with 350 XP on completion.
This time the NPC will ask you to gather some materials that you'll need to craft 3 Sunlight Torches.
Basically, you pick up where you left off in the previous quest from Mother Gothel, named My Kingdom For A Scroll (covered in this guide).
And if you get stuck at any point in the Shine A Light quest, don't forget to consult our following walkthrough.
How To Start Shine A Light In Disney Dreamlight Valley
You have only two requirements you need to meet in order to start the quest.
First, you need to complete My Kingdom For A Scroll which is the previous quest from Mother Gothel, as I mentioned before.
And then reach Friendship Level 4 with Mother Gothel. If you need help in this regard, check our guide here.
Upon dealing with the two requirements, talk to the NPC and see what must be done to complete the quest.
Where To Find Softwood
In your discussion with Mother Gothel, you agree to gather some materials for her that you'll use to craft 3 Sunlight Torches.
Here is the list with everything you need to obtain:
45 Softwood
60 Fibers
3 Garnets
3 Aquamarines
3 Citrines
Start with Softwood because it's the easiest to find.
Softwood looks like little brown branches, which you can find on the ground in all the areas except Dazzle Beach.
Start with the Plaza and Peaceful Meadow Biomes because here you'll find the most Softwood.
You can also buy the Softwood from Kristoff's Stall if, by any chance, you've completed his friendship quest Village Project: A Mountain Man's Stall (covered in our guide here).
How To Get Fibers
Now focus on the Fibers, which can be crafted using Seaweed in Disney Dreamlight Valley.
In its turn, Seaweed can be fished from any source of water. Check this guide if you want to increase your fishing skills.
When ready, go to any area that has water and start fishing. But keep in consideration that you must not aim for the ripples because you want to catch Seaweed, not fish.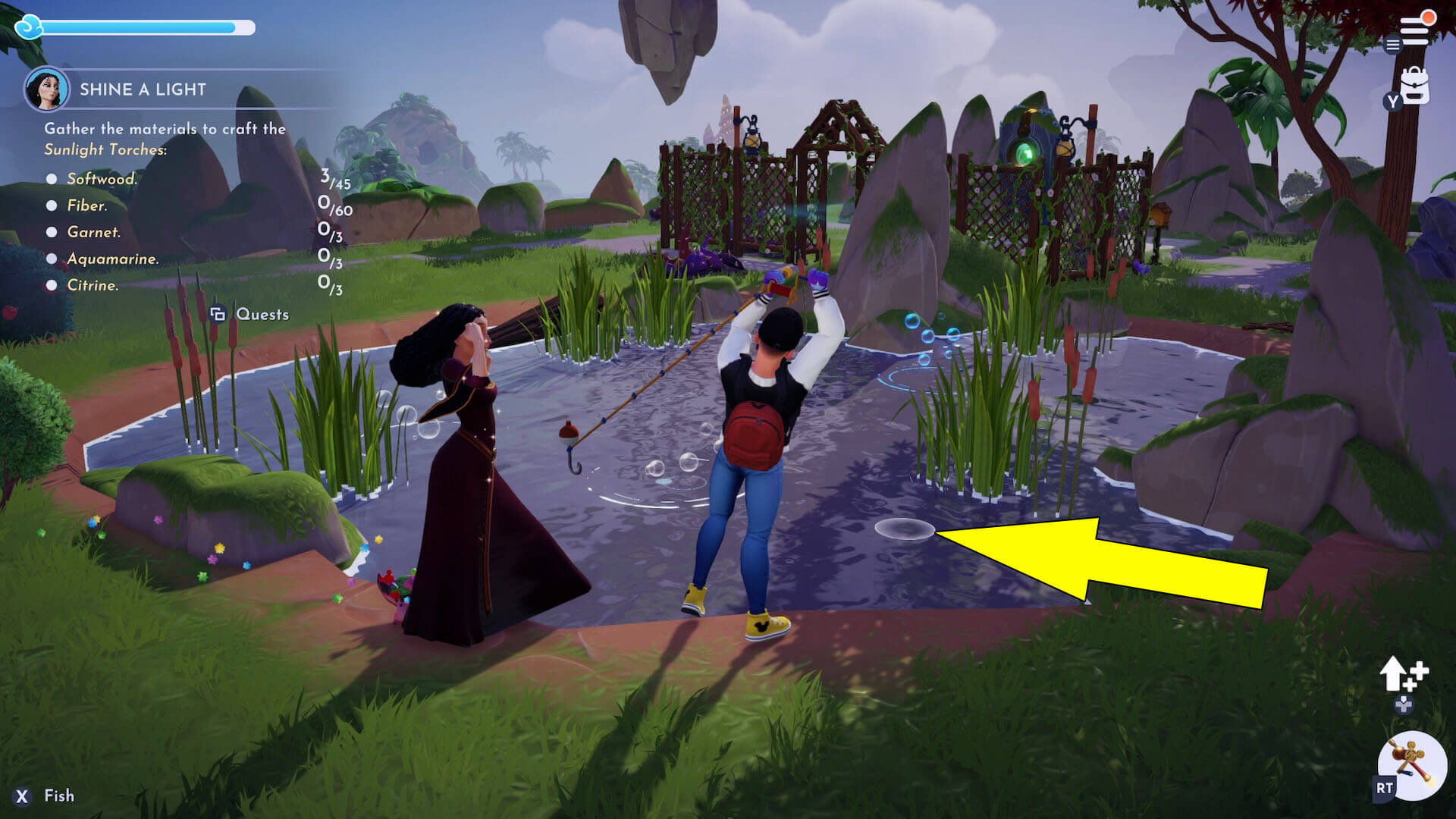 There is still a pretty good chance you'll catch a fish from time to time, but you should get mostly Seaweed.
You'll need to gather 12 Seaweeds to craft 60 Fibers, so have patience.
Go to a Crafting Station and make the Fibers from the Refined Material tab when you have the 12 Seaweeds.
How To Get Garnets, Aquamarines, And Citrines
There are still three types of materials needed for the Sunlight Torches: Garnets, Aquamarines, and Citrines.
These are all Gems and can be obtained in the same way, by mining the black rock deposits on the mountain walls.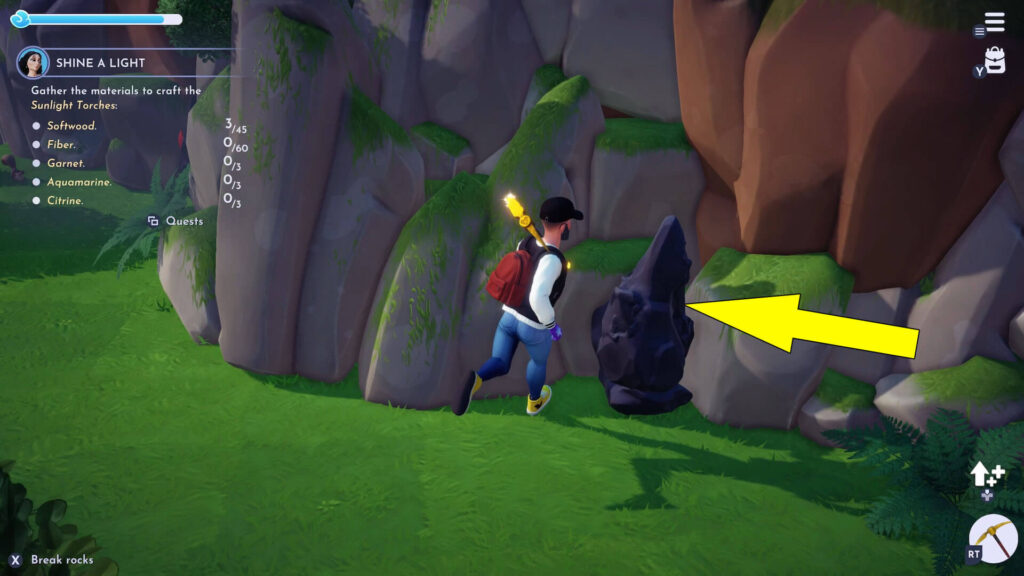 However, you have to go to different areas depending on which type of Gem you want to target. Check the following table to know where you can find each Gem.
| | |
| --- | --- |
| Gem Type | Location (Where To Find) |
| Garnet | Peaceful Meadow, Plaza |
| Aquamarine | Dazzle Beach, Forest of Valor |
| Citrine | Sunlit Plateau, Glade of Trust |
Farm the deposits in all these Biomes until you have 3 of each type of Gem.
How To Craft The Sunlight Torches
Now that you have all the materials needed for the Sunlight Torches head to a Crafting Station and interact with it.
Go to the Furniture tab, select the Sunlight Torch and make 3 of them.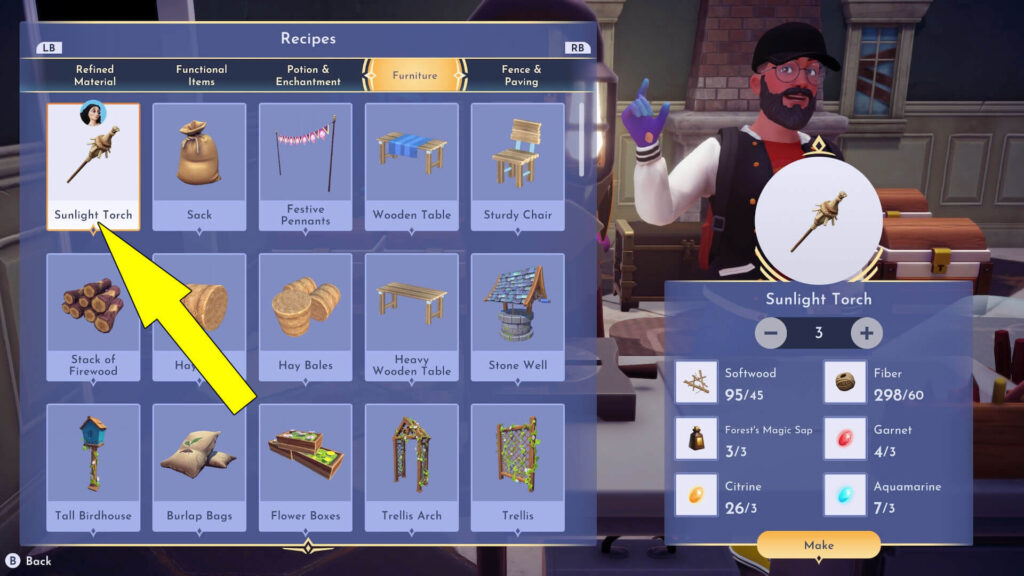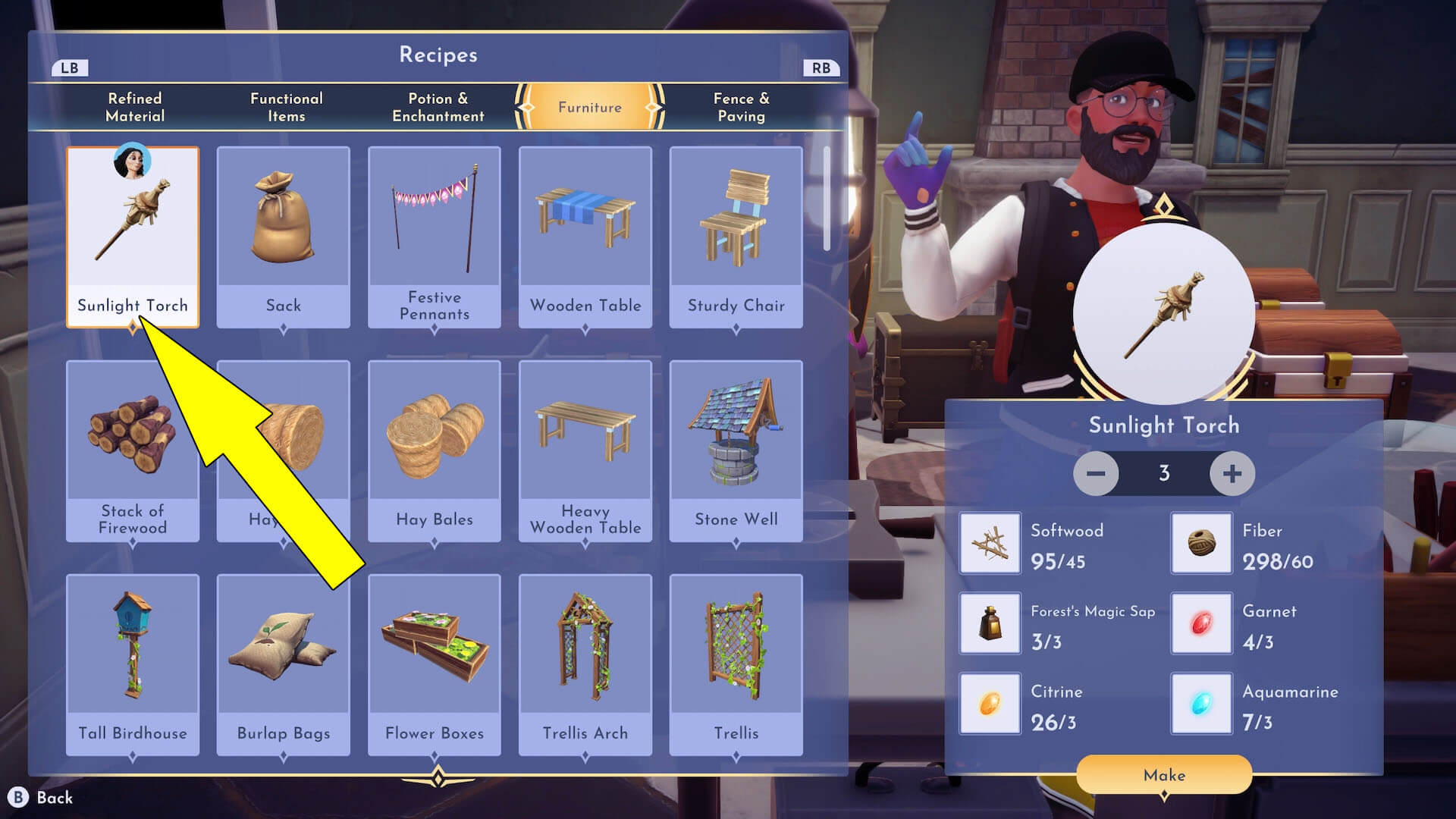 Then talk to Mother Gothel to see what's next.
How To Place The Sunlight Torches At The Bottom Of The Mystical Cave
The quest giver now sends you to the Mystical Cave in the Dazzle Beach area to place the Torches.
You've been to the Mystical Cave in the With Great Power main quest (discussed here).
But just in case you forgot, you can find the Cave on the east side of the Dazzle Beach area, in the mountain on the grass section of the Beach, as you can see on the following map.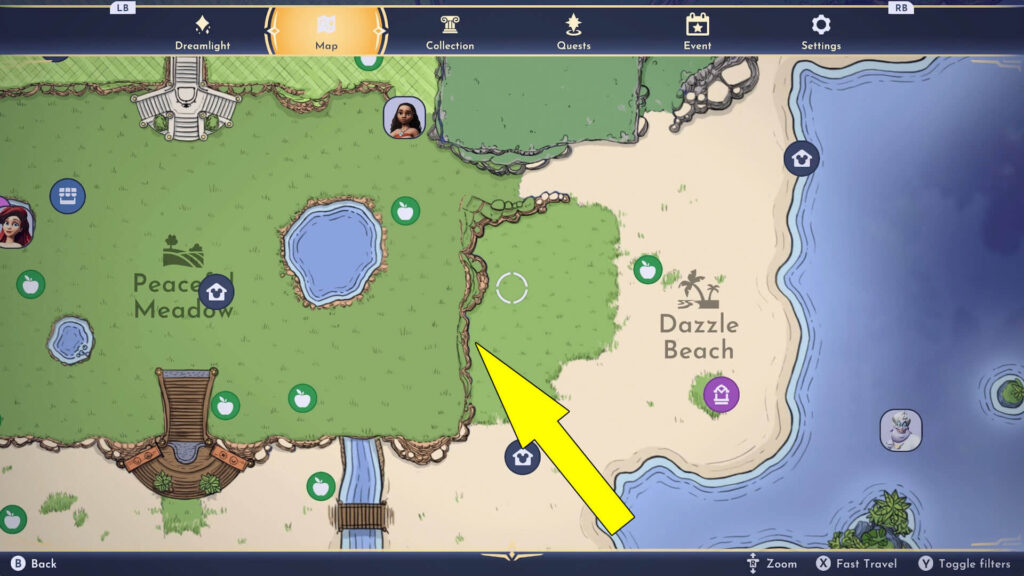 So enter the Cave at the said location and head all the way down.
You'll find three pedestals on the bottom level of the Cave, and you must place one Torch on each support.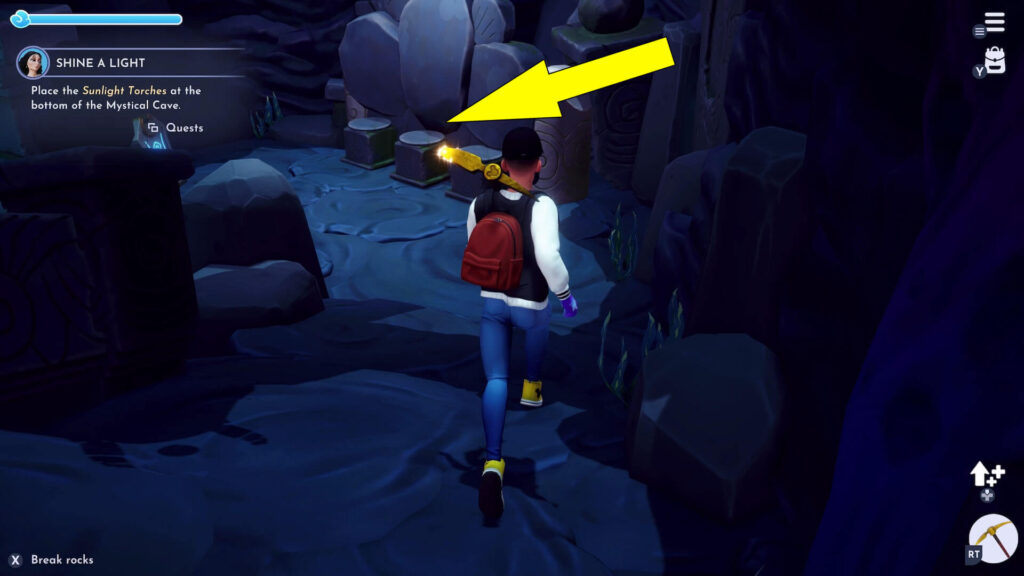 Get close to the pedestals and interact with them to place the Torches, then take a picture of the strange symbols with your camera.
Select the camera by pressing the RT button on your Xbox controller, look for the perfect angle, and take a picture.
You can now return to Mother Gothel to speak with her and complete the Disney Dreamlight Valley Shine A Light quest. If you are ready, start The Sunstone Fragments quest (covered in this guide), which is next in line from Mother Gothel.