While cooking in Disney Dreamlight Valley, you may notice that you can't find Slush Ice to prepare some desserts.
So, during The Unknown Flavor quest, you will help Remy recreate the recipe for a magical dessert, which will unlock the Slush Ice ingredient at Chez Remy.
Therefore, follow our in-depth guide if you want to learn how to complete The Unknown Flavor quest and unlock the Slush Ice in Disney Dreamlight Valley.
How To Complete Disney Dreamlight Valley The Unknown Flavor Quest
Below are all the objectives for completing The Unknown Flavor quest in Disney Dreamlight Valley:
Talk to Remy to begin the quest (Friendship Level 10 required)
Ask Merlin for help
Find Merlin's notes in his House
Gather Purified Night Shard for the recipe
Find someone to turn the Purified Night Shard into powder
Complete the recipe:

Snowball (x15)
Purified Night Shard Powder (x1)

Craft Ice Slush
Bring Remy the Ice Slush
Prepare a bowl of Vanilla Ice Cream
Return to Remy
How To Unlock The Unknown Flavor Quest
To unlock The Unknown Flavor quest, complete The Price Of Fame quest by serving restaurant orders at Chez Remy, reach Friendship Level 10 with him, and unlock the Sunlit Plateau and Frosted Heights.
Also, if you haven't already, bring WALL-E to your Village by completing The Shy Little Robot quest.
Once you've met all the requirements, talk to Remy to start The Unknown Flavor quest.
He will tell you that he wants to prepare a frozen, sweet dessert that has something magical about it but can't quite remember the recipe.
If magic is involved, Merlin always has the answers, so you decide to ask him about it. Talk to Merlin, and he will point you toward the notes in his House that can be found in his library.
Interact with the sparkling stars to pull Merlin's notes out of the library and pick them up.
How To Craft Purified Night Shard Powder In The Unknown Flavor Quest
According to Merlin's Notes, the first step to creating the frozen delicacy is to craft Purified Night Shards and turn them into powder.
So, to craft Purified Night Shards (x3), you will need to collect Night Shards (x15) and Dream Shards (x3).
To find Night Shards, dig the sparkling dirt mounds scattered over the Dreamlight Valley using your shovel. Dream Shards can be found by removing the Night Thorns and feeding the critters around the Village.
Once you've gathered enough Night Shards and Dream Shards, go to a Crafting Station, select Potion & Enchantment, and craft Purified Night Shards (x3).
Now, the villager that can turn these Purified Night Shards into powder is the one and only WALL-E.
Find WALL-E and give him the Purified Night Shards to crush them into powder.
Where To Find Snowballs
Now, the second step to complete the recipe is mixing Snowballs and Purified Night Shard Powder into a frozen delicacy.
To collect Snowballs, you'll need to find a place covered with snow, right? In Early Access, the only location on the map that has snow is Frosted Heights.
There are a couple of different ways to collect Snowballs:
Pick up the Snowballs on the ground.
Dig randomly around Frosted Heights for a slight chance of receiving Snowballs (x2). To speed up the process, hang out with a Villager with the Digging Role.
Complete Elsa's Breaking The Ice quest to permanently upgrade your pickaxe to be able to break the ice blocks around Frosted Heights and receive Snowballs guaranteed.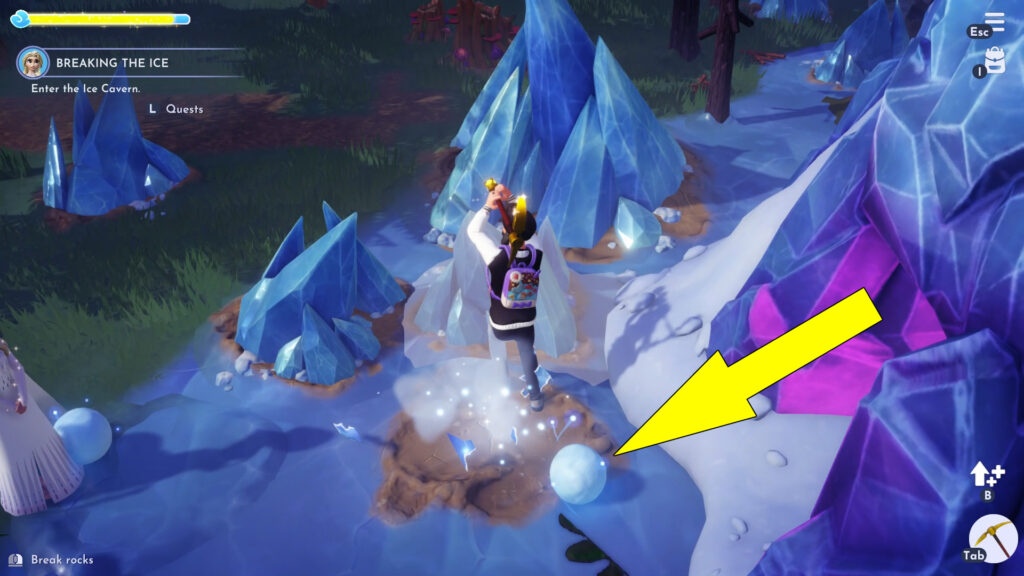 Once you've gathered the Snowballs (x15), go to a Crafting Station, select the Functional Items tab, and craft the Ice Slush for Remy.
How To Prepare Vanilla Ice Cream In The Unknown Flavor Quest
Once you find Remy and bring him the Ice Slush, he will ask you to prepare a Vanilla Ice Cream and hand you the recipe.
Open your inventory and use the Vanilla Ice Cream Recipe to unlock it. The Recipe for Vanilla Ice Cream is Slush Ice, Milk, Sugarcane, and Vanilla.
Where To Find Slush Ice & Milk
After you give Remy the Slush Ice, it will become permanently available in Chez Remy Restaurant for 150 Star Coins. Here you will find Milk as well for 230 Coins.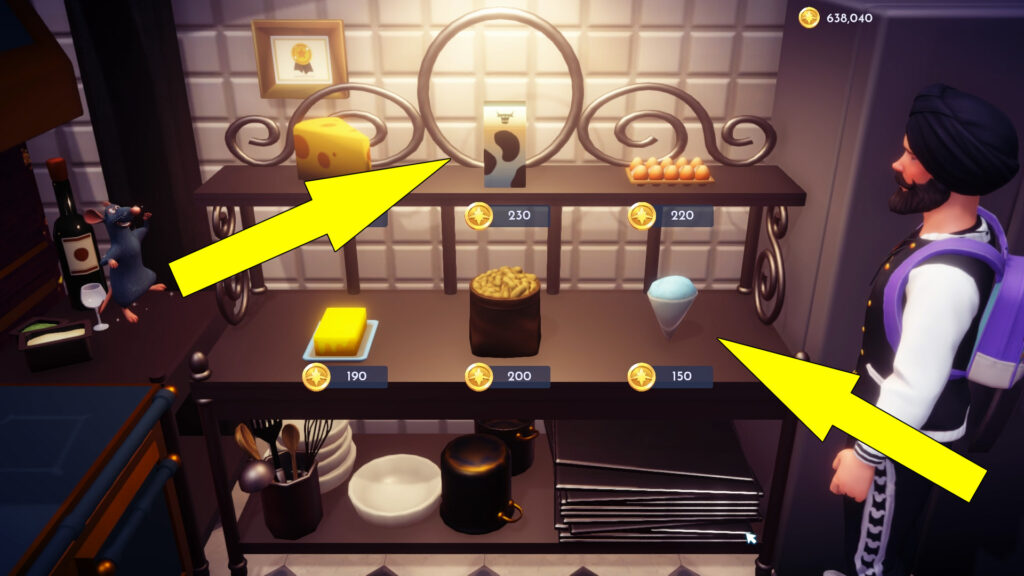 How To Get Sugarcane
Sugarcane and Sugarcane Seeds are available at Goofy's Stall in Dazzle Beach.
If you don't find Sugarcane listed in his stall, buy Sugarcane Seeds, plant and water them.
Wait 10 minutes for them to grow, then harvest the plants to receive the Sugarcane.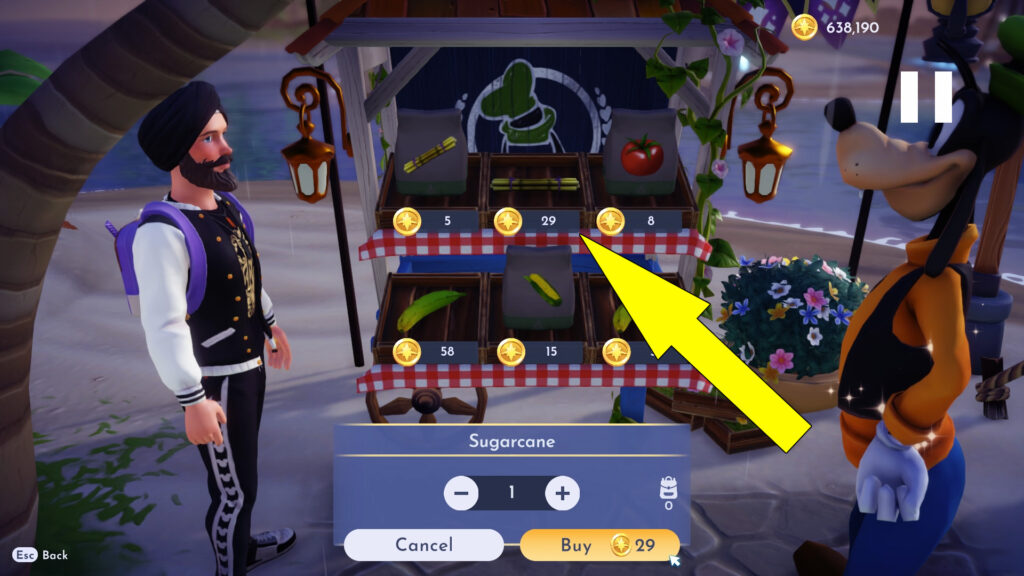 Vanilla Locations
Vanilla grows only in the Sunlit Plateau and can be collected from the ground (check the image below).
Look for plants with yellow flowers and harvest them to collect the Vanilla ingredient.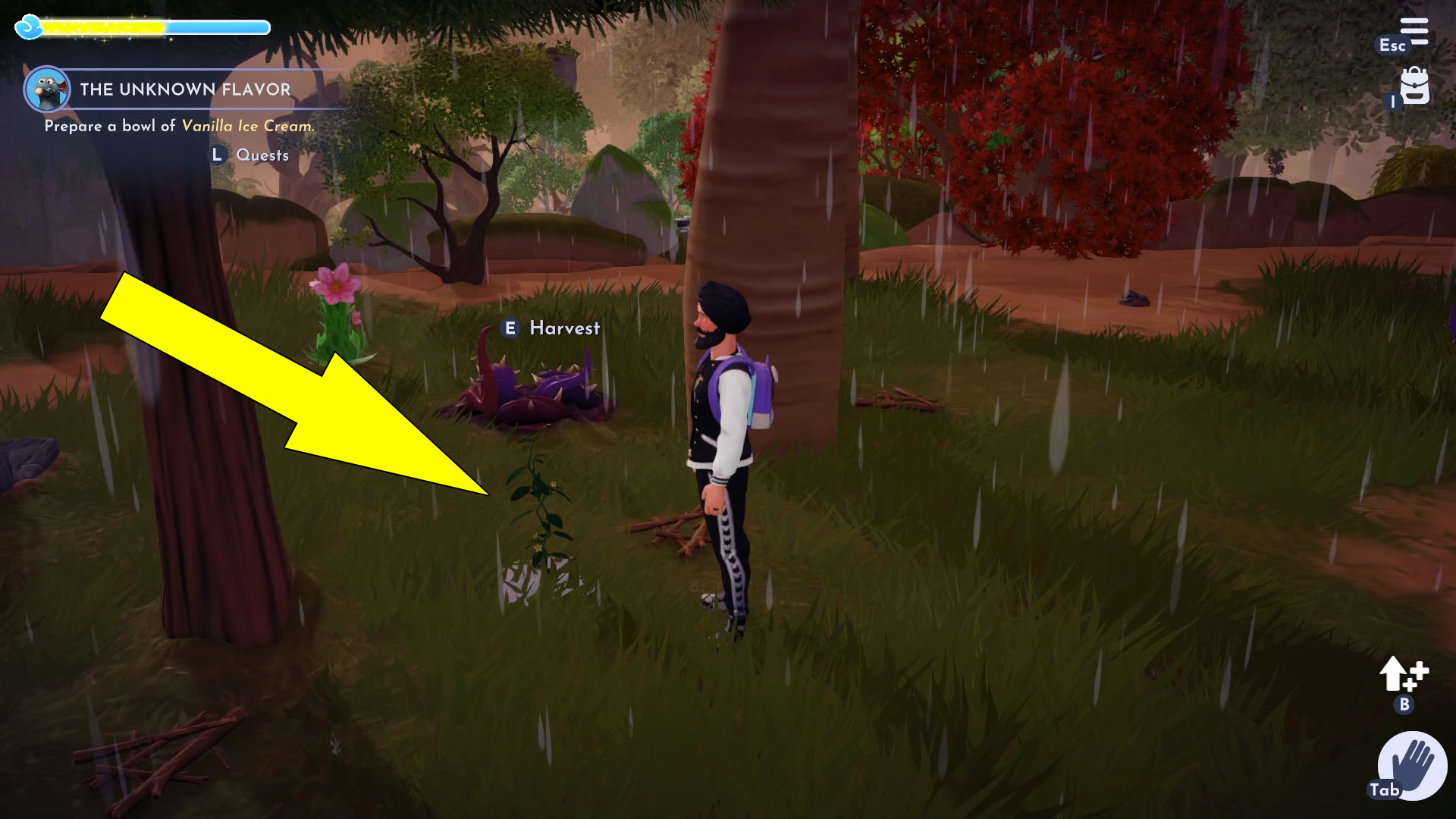 Once you have gathered all four ingredients, go to a Cooking Station, drop all of them in the pot and start preparing the Vanilla Ice Cream.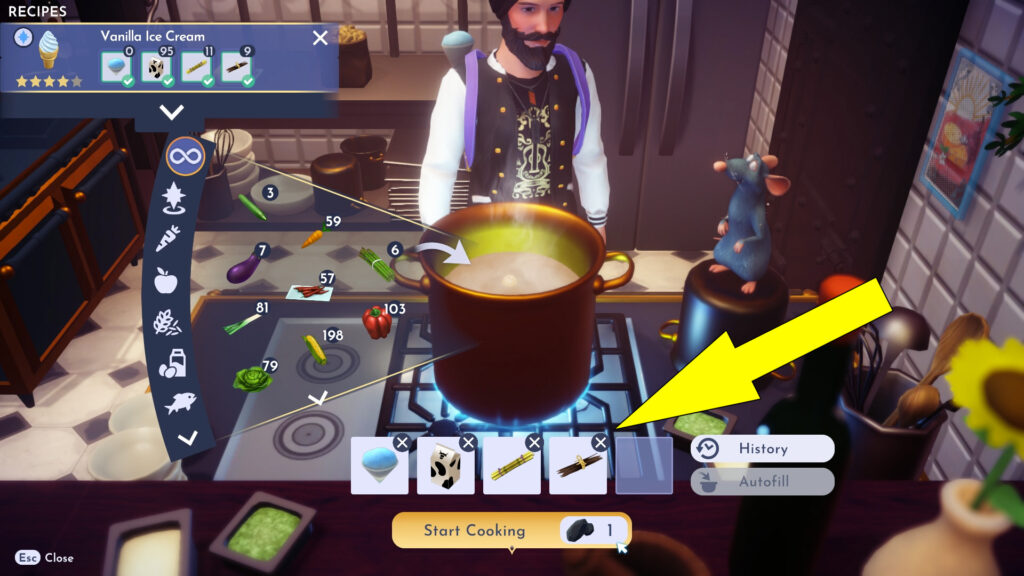 Return to Remy and show him what you just created, mixing all the ingredients to complete The Unknown Flavor quest, which is also Remy's final quest in the Early Access video game developed by Gameloft.
Also, don't forget the Slush Ice will be permanently available to buy at Chez Remy and create new dishes. So, check this Disney Dreamlight Valley Cooking & Recipes List Guide to learn more about Slush Ice recipes.