Timeworn Effigy is one of the few hidden quests within Diablo 4's Hawezar region that require you to recover the Timeworn Timue Doll quest item and bring it to Timue at her hovel.
You can also bring to Timue the Curious Venom quest item for the Venom of the Nangari quest, as well as the Budding Crimson Thorn quest item for the One Little Red Sprig quest, both available in the Hawezar region.
Without further ado, let's see where you can find the Timeworn Timue Doll quest item to complete the Timeworn Effigy quest in Diablo IV.
How To Start the Timeworn Effigy Quest in Diablo 4
In order to start the Timeworn Effigy quest, you must first finish Act 5 of the main story campaign in Diablo 4.
Afterward, you must complete The Heretic questline in Zarbinzet, followed by the Necrotic Research quest from Gulyas.
After fulfilling the previously mentioned requirements, your first objective is to find the Timeworn Timue Doll quest item to start the D4 Timeworn Effigy quest.
The Timeworn Timue Doll quest item can be obtained randomly by searching the Scattered Remains in the Blightmarsh subregion of Hawezar.
During our playthrough, we got the Timeworn Timue Doll from a pile of Scattered Remains in the southern part of the Blightmarsh, as shown in the image below.
Some players reported getting the Timue Doll from the Loose Stones in the Forsaken Coast or Toxic Fens subregions.
Where To Find Timue in Diablo IV
Once you have obtained the Timeworn Timue Doll quest item, return to Timue's Hovel and speak with her.
When you show Timue the doll and ask her why it resembles her, Timue reveals that she made the doll for a child, possibly her own, a long time ago.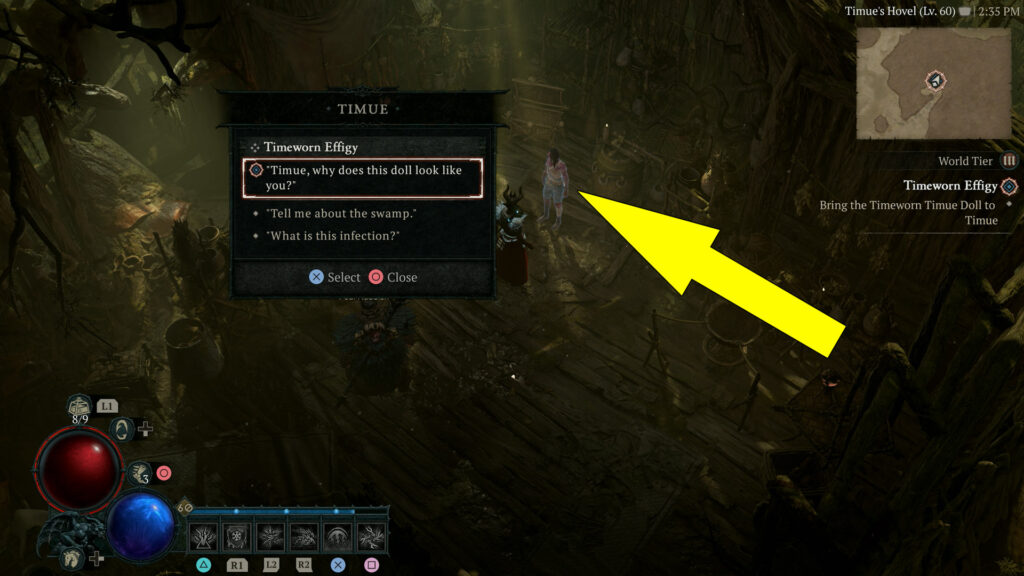 She mentions that her child had a similar doll that also looked like her.
Timue finds it noteworthy that the doll has been brought back to her by the swamp after all this time and hopes that it might someday bring her child back to her as well.
As a reward for returning Timue her doll and ending the Timeworn Effigy quest, you will receive XP, Gold, an Ore Cache, as well as 20 Renown Points for the Hawezar region.
If you're looking to keep track of all the side quests in the region, take a look at our Hawezar side quests locations guide.
Also, our Wiki Hub Page has everything you need to reach a 100% completion rate for the game.