Hanging With Mickey is a quest featured in Disney Dreamlight Valley which focuses on crafting a Tall Birdhouse for Mickey Mouse.
As with all crafting quests, Disney Dreamlight Valley Hanging With Mickey also requires several crafting materials, and throughout the following guide, we'll discuss their locations and help you build Mickey's Birdhouse.
Eventually, Hanging With Mickey will help you reunite two of the most beloved Disney characters: Mickey and Minnie Mouse.
But first, let's see how to start this quest.
How To Start Hanging With Mickey In Disney Dreamlight Valley
In Gameloft's latest game, Hanging With Mickey is the third quest in Mickey's questline, so the first requirement is to complete the previous one named Foodception.
Next, you'll need to level up Mickey Mouse's Friendship Level to 2, which is an easy task provided you know how Friendship Levels work in the game.
Assuming you need additional help, check our in-depth guide here to learn everything about the Friendship Levels.
Last but not least, you'll also have to progress further with Scrooge McDuck because you need to use the Crafting Station inside his store to craft the Tall Birdhouse. Upon you help McDuck restart his business, the Crafting Station is at your disposal.
After all these requirements have been met, find Mickey Mouse using the icon on his map. He is a very dynamic character and patrols all areas.
When talking to Mickey, feel free to choose any dialogue option you want because there are no effects on the quest you'll play or the story in general.
Mickey plans to restore the Valley to its former glory, and the first step in doing this is to bring back the birds. So, your job is to craft a Tall Birdhouse.
But to build it, you need the following Crafting Materials:
3 White Daisey
3 Blue Falling Penstemon
8 Softwood
Let's see where to find all materials for the Disney Dreamlight Valley Tall Birdhouse.
Softwood Locations
Softwood is a Crafting Material that spawns randomly in most areas of the game, including Forgotten Lands, Frosted Heights, Sunlit Plateau, Glade of Trust, Forest of Valor, Peaceful Meadow, and Plaza.
You may remember this material from Scrooge McDuck's Grand Re-Opening quest, where you used it to build Scrooge's Store Signs.
So, first, make sure you don't have any Softwood in your Inventory, then start exploring both Plaza and Peaceful Meadow areas.
The Softwood looks like a pile of sticks, as you can see below, and it is very common.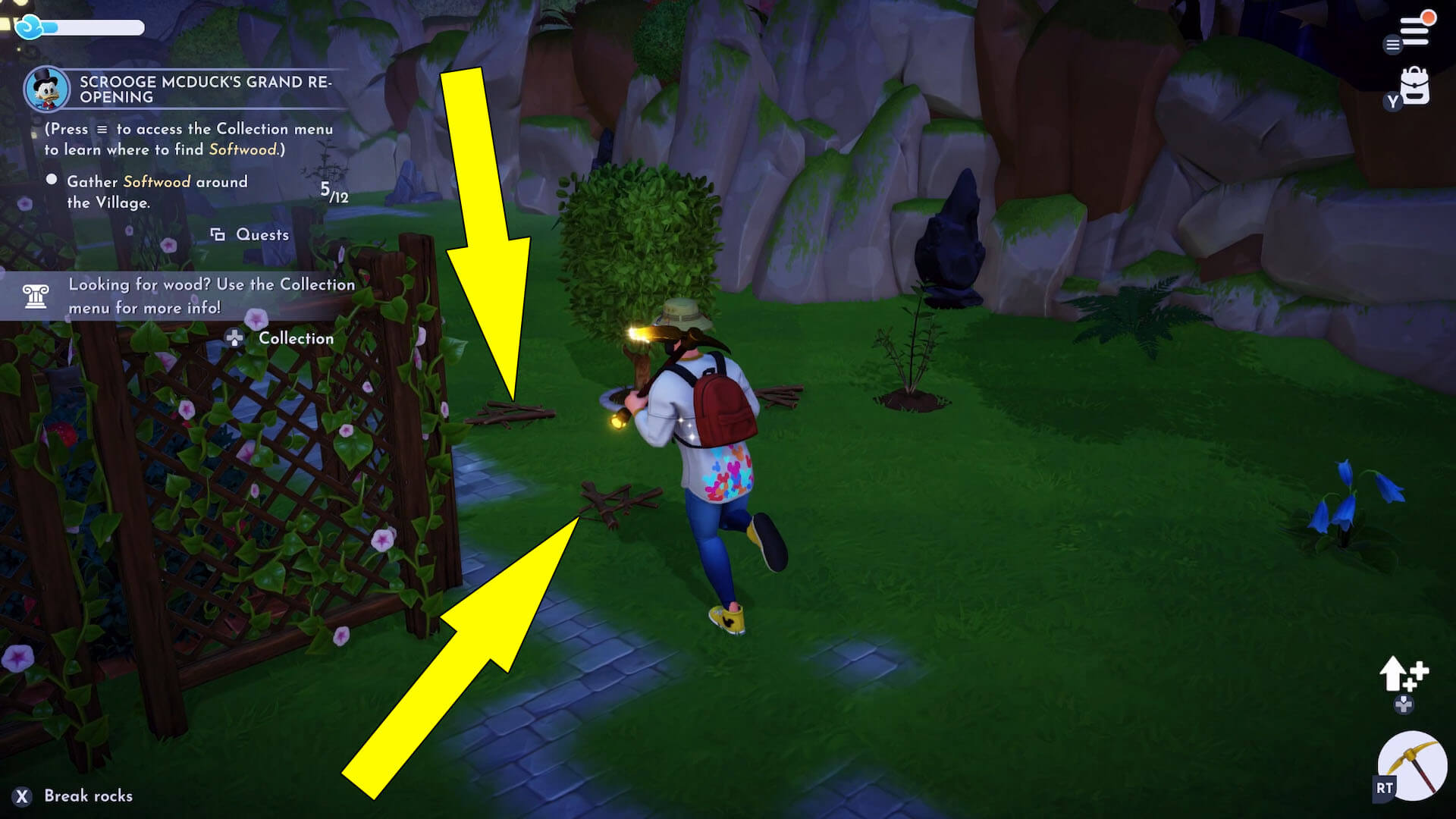 Make sure you get eight units of Softwood, then move to the next material.
Where To Find Blue Falling Penstemon
In Disney Dreamlight Valley Blue Falling Penstemon is a flower that grows (spawns) exclusively in the Plaza area.
Just like the Softwood, it spawns randomly, so you'll need to explore the areas around the fountain, looking for an intense-blue colored flower.
You can see what it looks like in the following screenshot, and you only need to approach it and press A (on Xbox) to pick it up.
Make sure you find three of them.
Where To Find White Daisies
The third and final Disney Dreamlight Valley Crafting Material you need for the Tall Birdhouse is also a flower. Specifically, the White Daisy, which is a plant that grows only in the Peaceful Meadow.
From the Plaza area, head south and descend the stairs towards Goofy's house to enter the Peaceful Meadow.
Now start looking around for a white type of flower that spawns randomly in this region. It's pretty common, as you can notice in the following screenshot, and you'll need three of them.
How To Craft A Tall Birdhouse
Great, so now that you have all Crafting Materials, let's craft the Tall Birdhouse. To do this, head back to Scrooge McDuck's store in the Plaza area.
Once inside his shop, check the Crafting Table on the right side of the large vault.
Interact with it, then from the menu, select Furniture. In the new window, you should be able to spot the Tall Birdhouse.
Select it, then choose Make to craft it using the materials you already have in your Inventory.
How To Place The Tall Birdhouse In The Village
Upon crafting the Tall birdhouse, it's time to place it in the Village, so exit McDuck's Shop and look for a suitable area.
There are no requirements here, so pick whatever spot you like.
When you find a suitable position, press Y (on Xbox) to open your Inventory, then navigate to the Furniture tab.
Select the Request window, then the Tall Birdhouse.
Finally, move the Tall Birdhouse around until you are satisfied with its location. Make sure the background is green, and place it in a valid location with no obstructions.
After placing the Tall Birdhouse is time to bring Mickey the good news, so use your map to find his location, and talk to him one last time.
For building the Tall Birdhouse and finishing the Disney Dreamlight Valley Hanging With Mickey quest, you'll earn 150 XP Points and gain access to the next quest in line named Missing Minnie.