Disney Dreamlight Valley Remembering Old Times is Minnie Mouse's last quest in the Early Access version of the video game developed by Gameloft, and to complete it, you'll need to craft a Rustic Clock Tower.
While small in size, the Disney Dreamlight Valley Rustic Clock Tower is a building that requires a considerable number of Crafting Materials, so if you wish to complete it faster, you'll want to use the best farming spots for Iron Ore, Clay, and Hardwood.
Complexity-wise, Remembering Old Times in Disney Dreamlight Valley is very accessible, but because of the large amounts of Crafting Materials, you'll spend quite some time Digging and Mining.
Obviously, if you stocked up on Crafting Materials, you'll be able to finish the quest in no time. Still, for our walkthrough, we'll assume you start from 0, and we'll share with your some tips & ticks that will eventually help you gather everything you need faster.
How To Start Remembering Old Times In Disney Dreamlight Valley
Because Remembering Old Times is the last quest in Minnie's story, it goes without saying that the first requirement is to complete her previous quest named On The Trail Of Minnie's Memory.
Upon finishing the quest, you'll have to unlock the Glade of Trust and Sunlit Plateau Biomes for a total of 12.000 Dreamlight you can obtain by completing the tasks listed in the Dreamlight section of your in-game menu.
Finally, you'll have to reach Minnie Friendship Level 7. This requirement is quite accessible, provided you follow our Friendship Leveling Guide here.
Although not required to start the current quest, if you want to gather the Rustic Clock Tower Crafting Materials faster, it's recommended to also complete Merlin's Final Trial quest and Anna's Icy Invitation quest, for reasons that we'll explain below.
When ready, find Minnie Mouse below and talk to her.
When talking to Minnie, she'll tell you that there used to be a Rustic Clock Tower in the Plaza area that disappeared during the Forgetting.
As you can guess, Minnie needs your help crafting a new one, so make sure you agree to help her.
Now Minnie tells you that to craft the Rustic Clock Tower, you need the following Crafting Materials:
100 Stone
100 Hardwood
30 Iron Ingots
200 Clay
Great, so let's see how to farm the Rustic Clock Tower Items.
How To Farm Iron Ore
The Iron Ingots are the first Items you should focus on because even though you need only 30 to craft them, you'll have to gather a total of 150 Iron Ore and 30 Coal Ore.
The best Disney Dreamlight Valley Iron Ore farming area is hands down Glade of Trust, but to make the most out of it or to get to all Rock Spots (Mining Deposits) in this Biome, you'll want to upgrade the Watering Can by completing the Final Trial quest.
The said quest and upgrade can be used to remove the large pink mushrooms that block the path toward the northern side of the Glade of Trust.
Upon removing the mushrooms, make sure you ask a companion specialized in Minning to join you so you can obtain Iron Ore even faster.
Then move around the edges of the Biome, looking for black mining deposits such as the one below.
Upon depleting the Rock Spots around the Glade of Valor, consider moving to the Forest of Valor Biome because it is also quite rich in Ore.
This time, however, you'll want to use your upgraded Shovel obtained by completing Anna's Icy Invitation quest to fully unlock the Biome.
Although Iron Ore also exists in the Sunlit Plateau, Frosted Heights, and Forgotten Lands, don't waste your time there because the drop rate is relatively low. Stick to the Biomes above and move from one area to another.
Hardwood Farming Areas
While waiting for the Iron Deposits to respawn, consider exploring the same areas so you can farm Hardwood.
Hardwood spawns randomly on the ground in all Biomes except Plaza, Dazzle Beach, and Peaceful Meadow, but Glade of Trust and Forest of Valor are the best areas for farming.
As you can see below, Hardwood piles have a reddish color, so make sure you don't confuse them with Softwood or Dry Wood.
Even though it is regularly found on the ground, the best sources for Hardwood are the tree stumps (also pictured below) you can remove with your upgraded Shovel.
If you decide to look for Hardwood in other Biomes, prioritize the tree stumps. If not, stick to the Forest of Valor and Glade of Trust, and pick up all the Hardwood that appears while waiting for the Iron Deposits to respawn.
How To Get Clay
When it comes to Clay, first, you'll need to change your companion and pick one specialized in Digging.
Again, to farm Clay in Disney Dreamlight Valley, you'll want to remain in the Glade of Trust Biome because it's flat and there are only a few obstacles. Basically, you'll want to start digging in a straight line so you can save as much time as possible.
When reaching the other side, turn around and dig in the opposite direction.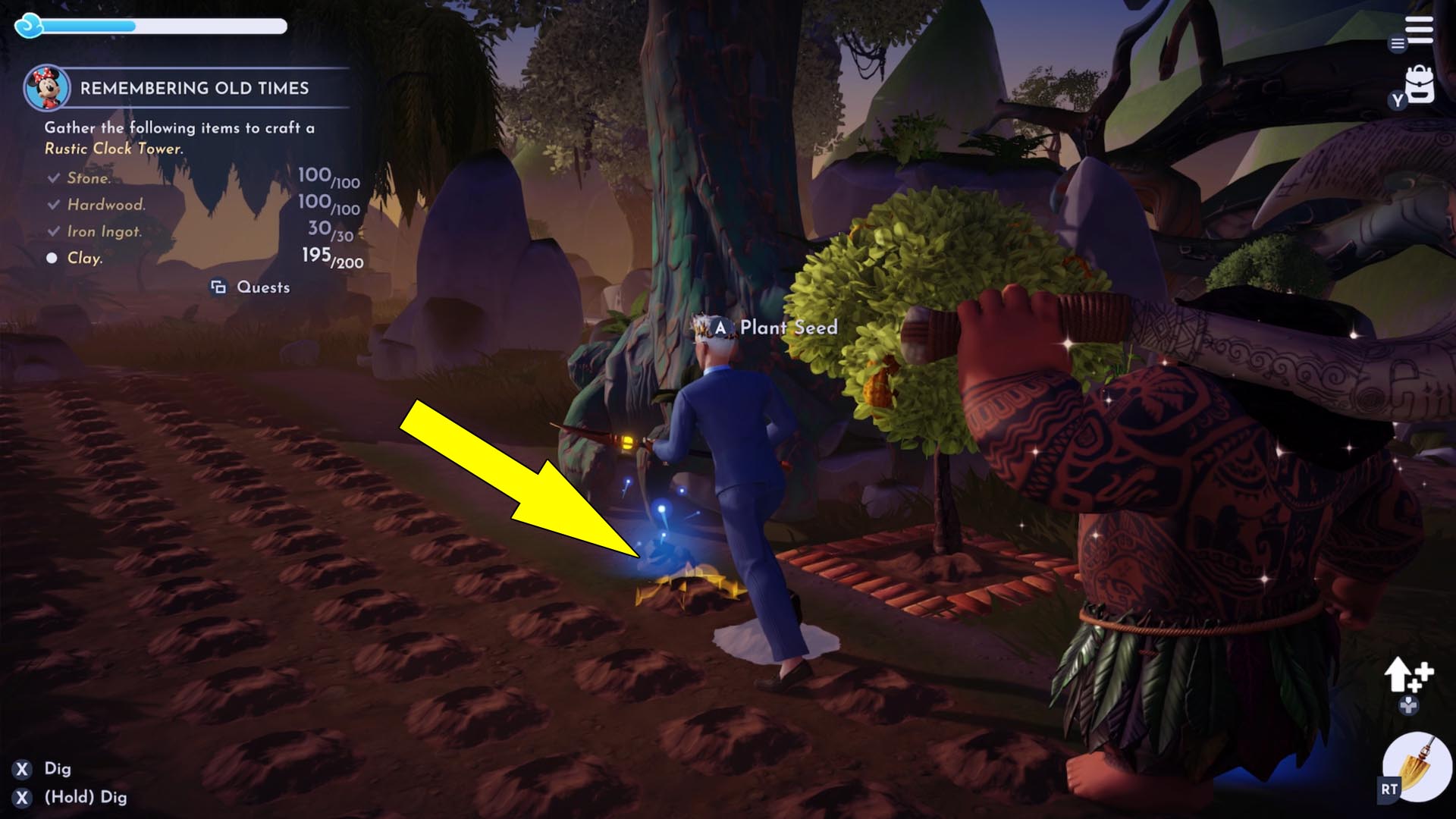 You can also find Clay by digging in other areas such as Sunlit Plateau and Forgotten Lands, but because they are full of obstacles, you'll need to avoid them.
After digging holes, don't bother covering them because, in time, they will disappear.
Remembering Old Times Stone Locations
The most accessible material you'll need for Minnie's clock is the Stone, especially if you follow the order above because you'll get some units while mining for Iron Ore.
Therefore you'll want to look for Stone only after you have the required amount of Ore for the Iron Ingots.
Stone is found everywhere by mining Rock Spots (Black Deposits), as well as small and large Stone Deposits (see the following screenshot).
Lastly, Stone can be bought from Kristoff's Stall for 2 Star Coins. This means that even if you don't have a single stone, you can get 100 for 200 Star Coins.
Remember, though, that the Stall must be unlocked by completing A Mountain Man's Stall quest.
Crafting Minnie's Rustic Clock Tower
Great, so not that you know how to get all Rustic Clock Tower Items; once you have them, talk to Minnie again, then head to a Crafting Table (next to Goofy's House or inside Scrooge's Shop).
In the Furniture tab, look for the Rustic Clock, then hit the Make button. Finally, head to your Village, and open your backpack by pressing Y on Xbox.
Go to the Furniture tab next, then in the Requests section, select Minnie's icon, then the Rustic Clock Tower.
Due to its size, as you can see below, the clock doesn't need too much space, so pick an area without obstacles.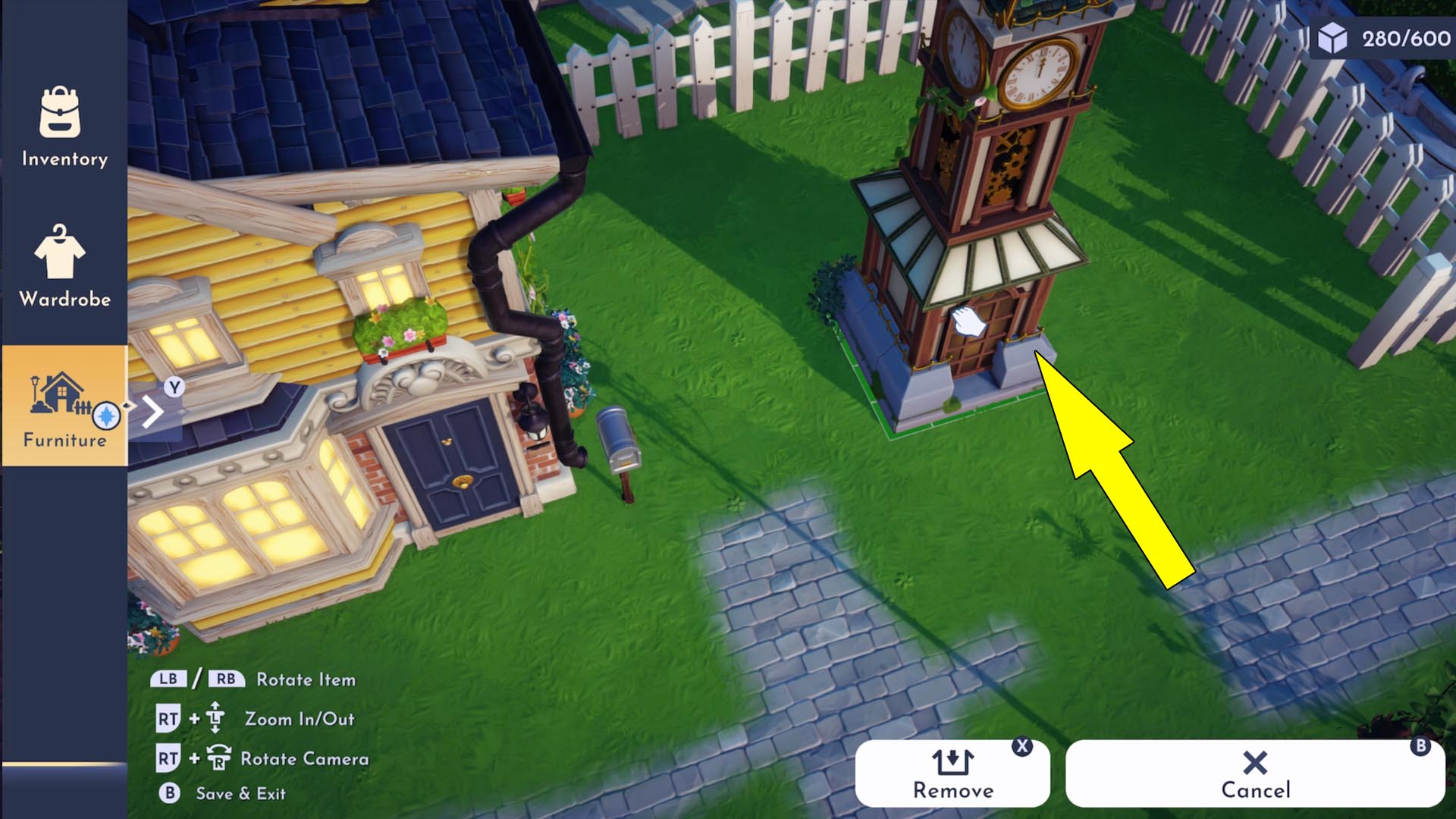 Once you place the clock, all that's left to do is talk to Minnie again. She will reward you with the Blue Jean Overall and the Straw Sunhat with Yellow and Red Band for completing the Disney Dreamlight Valley Remembering Old Times quest and her storyline in Early Access.