Disney Dreamlight Valley Secret Door is Mickey's final quest in the Early Access version of the video game developed by Gameloft, and by far the most difficult one because it involves one of the trickiest puzzles.
The Secret Door friendship quest in Disney Dreamlight Valley, however, comes with many rewards, and if you manage to figure out where to find the door depicted in Mickey's Memory, you'll be able to enter a secret room full of chests and goodies.
So, alongside the rewards you get from Mickey Mouse for The Secret Door quest in Disney Dreamlight Valley, you'll also get your hands on numerous gems and seeds.
But, obviously, to get them you'll need to find the said door, then you have to do a bit of work in order to open it.
So, let's see how to complete the Disney Dreamlight Valley The Secret Door friendship quest by finding the elusive door that appears in Mickey's last Memory.
How To Start The Secret Door In Disney Dreamlight Valley
If you followed our Disney Dreamlight Valley Wiki guides, you know that all characters in the video game have a series of quests you'll have to complete. Combined, these quests form questlines, and Mickey's questline featured in Early Access comes with seven quests, including The Secret Door.
The requirements to start his last quest are very accessible. First, you'll need to complete his previous quest named Memory Magnification we covered in this walkthrough.
Then, you'll want to focus on increasing Mikey Mouse's Friendship Level to 10, as we explained in our Friendship Leveling Up guide here.
Next, you'll want to unlock the Sunlit Plateau Biome, west of the Plaza. Unlocking the Sunlit Plateau costs Dreamlight obtained by completing various tasks listed in the Dreamlight section of your menu.
If Sunlit Plateau is the fourth Biome you unlock, it costs 7000 Dreamlight, but this amount might be different for you depending on when you decide to open this area.
Now, what the game doesn't tell you is that for this quest, you'll need specific gems, so if you want to complete it faster, it is recommended to start it after you unlock all Biomes in the game.
Last but not least, you'll want to have a companion specialized in Mining by your side when starting the second part of this quest, although this is not a requirement.
So let's begin the quest by finding Mickey's icon on the map after you meet all the requirements above.
When you approach Mickey Mouse, he'll tell you that after Minnie returned to the Village, he started to remember many things, including where he hid his magical chest. The one he'll ask you to open.
Agree to help him because you are magical, just like Mickey's Magical Chest. Now, open your inventory, select Mickey Mouse's Magical Chest and pick Use.
Upon opening it, interact with the Golden Chest on the ground to get one of Mickey's Memory.
Mickey's Secret Door Location
As you can see below, Mickey's Secret Door Memory is a picture in which you can identify three elements:
A curtain partially covering a metal door
Four gems
The actual door you need to open
So let's see what Mickey has to say. When you talk to him, he'll tell you that he remembers the door but not its location; however, he also remembers a riddle:
Turrets and towers you will behold. Within: a door for things new and old.

Mickey's First Riddle – Disney Dreamlight Valley The Secret Door Quest
Obviously, Mickey needs your help finding the door, and you'll want to help him out.
The only clues you'll get from him are those provided in the first riddle. Now, try to figure it out, focusing on the words turrets and towers, which depict a location.
Ask yourself where did you see turrets and towers in Disney Dreamlight Valley. The only location is Dreamlight Castle.
So, head to the Castle north of the Plaza, then check Mickey's Memory picture above, looking for one of the elements I have listed. Specifically the violet curtain.
The only curtains you'll find while exploring the Castle are those on the ground floor, behind the plant pots. Like the one on the right side, pictured below.
That's where you'll find Mickey's Memory Secret Door.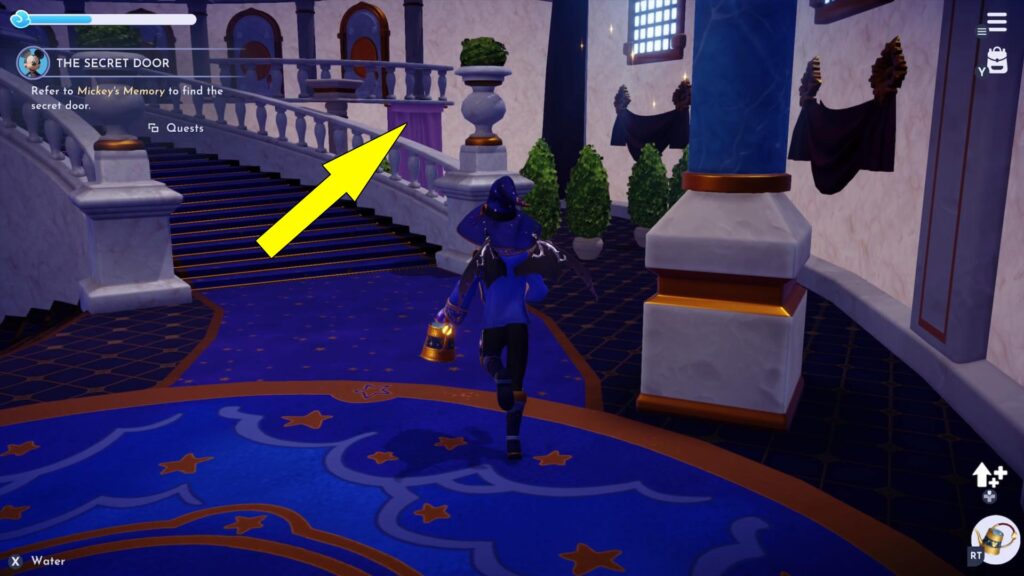 To reach it, move between the pots, then interact with the purple curtain.
Upon interacting with the purple curtain, you'll be able to see a fifth gem that was already placed on the door.
Now, the obvious question is how to open the Dream Castle Secret Door.
How To Open Mickey's Memory Secret Door In Castle
Approach Mickey Mouse again, and he'll tell you that he remembers the second part of the riddle:
It needs no key you've ever known. To open this door, find matching stones.

Mickey's Second Riddle – Disney Dreamlight Valley Secret Door Quest
As you can see, the second part of the riddle is more accessible because it tells you that you'll need stones, meaning gems.
By combining this clue with Mickey's Secret Door Memory picture, you can quickly figure out what type of stones you need:
Garnet
Citrine
Aquamarine
Tourmaline
Before moving forward with our Disney Dreamlight Valley Secret Door walkthrough, though, it is worth outlining that you need the regular versions of these gems to open the door.
This means that Shiny Garnet, Shiny Citrine, Shiny Aquamarine, and Shiny Tourmaline won't work.
Furthermore, if you already have the gems, you can skip the mining part, but if you don't, you'll need to look for them. Finally, now is the time to find a companion who specializes in Mining and ask him to join you so you can speed up the process a bit.
Great, so let's see where to find the gems you need to place on the door.
Where To Find Garnet
Disney Dreamlight Valley Garnet is a red gem found in Plaza and Peaceful Meadow, so you'll want to focus on the Rock Spots (Mining Deposits) in these two Biomes.
Since these areas are accessed early in the game, you probably know that the Mining Deposits have fixed locations and where they are.
So, you'll want to move from one deposit to another and keep mining them until a Garnet drops. Again, it must be a regular Garnet, not a Shiny Garnet.
How To Get A Citrine
The next gem you'll need to open the Secret Door is a Citrine, found exclusively in the Sunlit Plateau and Glade of Trust.
The Citrine is an Orange Gem that drops when you mine the Rock Spots in these two biomes, and although you can find it quite fast if you complete Merlin's Final Trial quest, then in the Glade of Trust, you'll be able to mine more deposits, because you'll be able to remove the large poisonous mushrooms.
So, focus on finding the Rock Spots in these areas, and after you deplete those in Glade of Trust, if you still need a Citrine, move to Sunlit Plateau and keep Mining.
Aquamarine Locations
The next type of gem you'll need is the Aquamarine found exclusively in the Dazzle Beach and Forest of Valor.
It is a blue gem you'll find by mining more Rock Spots along the beach and in the forest area where you found Kristoff.
Again, you'll be able to find one faster if you complete Anna's Icy Invitation quest because it allows you to upgrade the Shovel to remove the stumps in the forest area.
This way, you'll get more Mining Deposits. If you don't have the upgrade, you can still get an Aquamarine, like the one pictured below.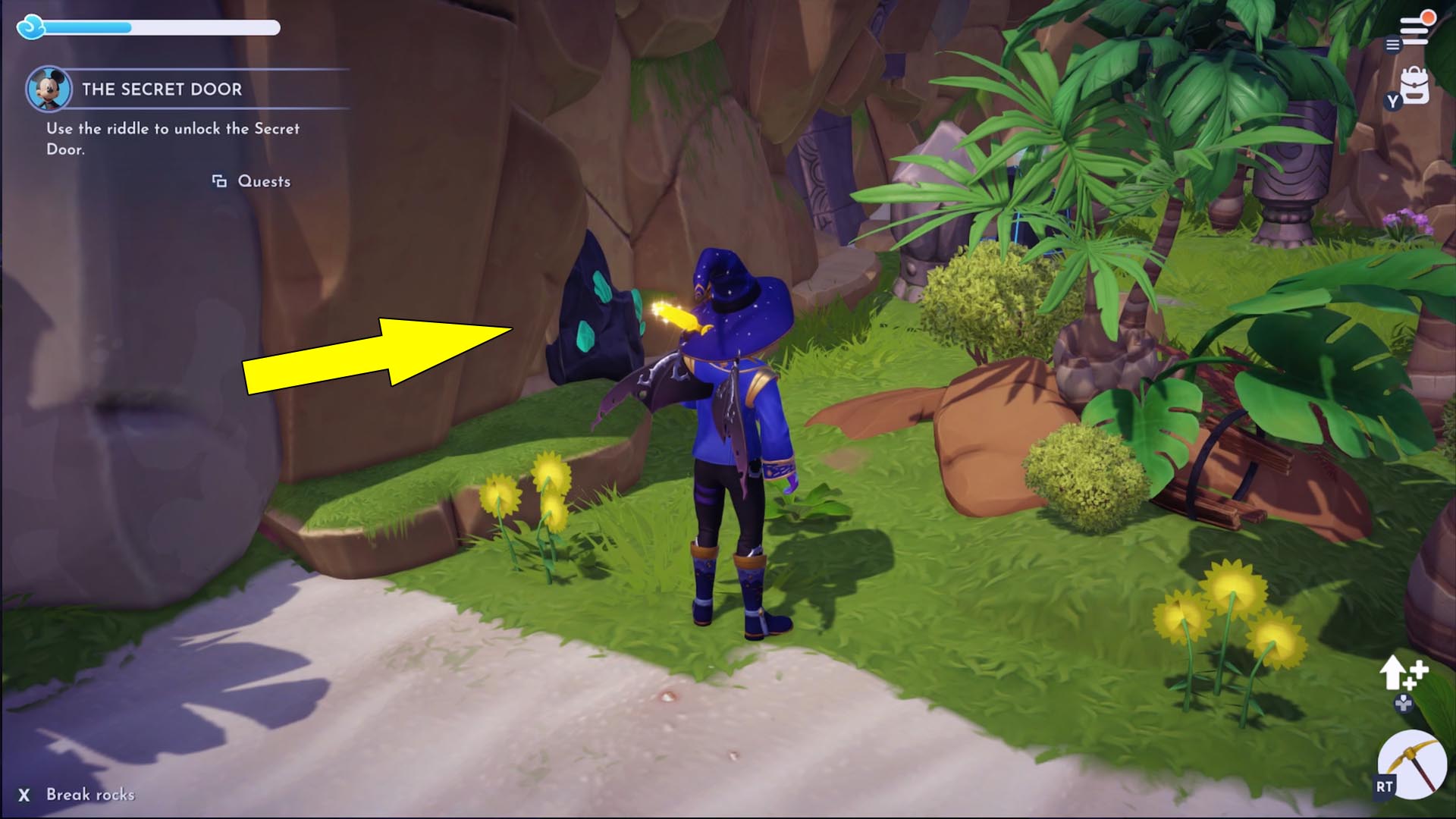 How To Get A Tourmaline To Open The Secret Door
The last type of gem you'll have to find is a regular Tourmaline, a pink gemstone that drops when mining Rocks Spots in the Frosted Heights and Sunlit Plateau Biomes.
Following the same logic above, if you want to fully explore the Frosted Heights Biome, complete Elsa's Breaking The Ice quest so she can upgrade your pickaxe to remove the Ice Shards that block your path.
Obviously, you can also get the Tourmaline from a Sunlit Plateau Mining Deposit, as you can notice in my screenshot.
Great job, Miner! Now that you have all 4 Secret Door Keys, head back to the Castle and approach the door.
Place the Garnet, Citrine, Aquamarine, and Tourmaline in the slots in any order you want by selecting them from your inventory.
Now, the door should open, and you can talk to Mikey to complete the quest; however, don't leave the area just yet because there are a lot of goodies you'll want to find and a secret area.
Mickey's Secret Room Rewards
Upon talking to Mickey and finishing The Secret Room quest, you'll want to find and check the following items:
Scrooge's Accounting Records – On the right side, as you enter
Fairytale Book – On the left side in front of the couch
Worn-Out Book – Behind the wooden desk
Minnie's Polka Dot Compendium – In front of a shelf on the right side of the bookcase
Storage Chest – In front of a barrel. It contains 10 Purple Impatiens and 1 Purified Night Shard
Storage Chest – On the left side of the bookcase. Contains 3 Okra Seeds, 4 Cucumber Seeds, 4 Soya Seeds, 3 Zucchini Seeds
Storage Chest – Near a barrel on the right side. Contains 5 Orange Nasturtium, 4 Blue Passion Lilly, 5 Canola, 3 Rice
Upon collecting all these items, remain in the same room because there is one last secret area.
How To Use The Conspicuous Book In Castle Room
While searching the items listed above, you may come across the Conspicuous Book. It is a purple book you'll find in the left corner of the room while facing the bookstand.
Pick it up, and open your inventory to read the following description:
A book that…hums? Curious.

Disney Dreamlight Valley Conspicuous Book
If you wonder what to do with the Conspicuous Book, then the answer is simple. Place it on the bookstand.
So, approach the bookstand and interact with it, then place the book in the slot on the right, as you see below.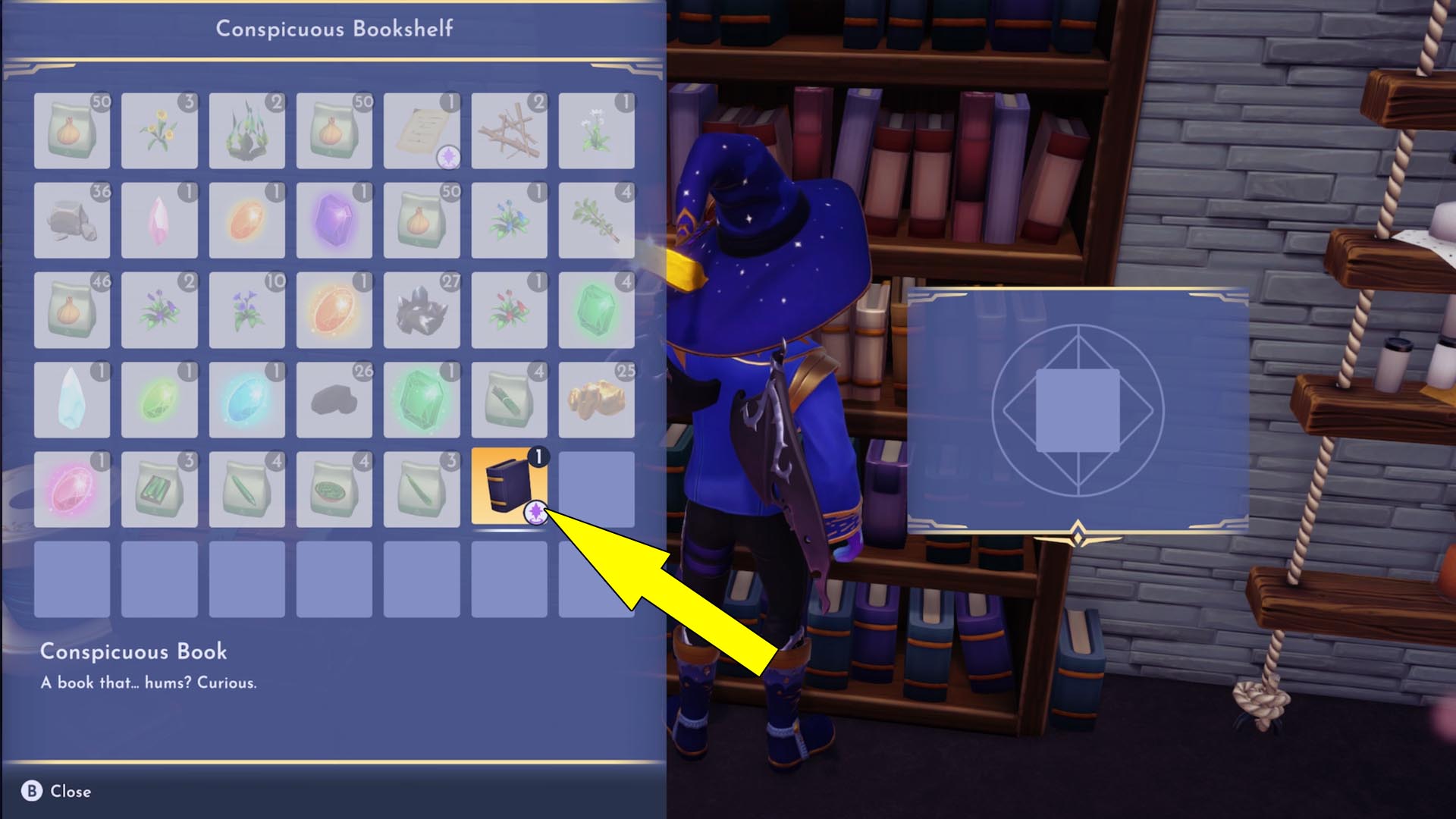 By placing this book on the bookstand, you'll unlock a second Disney Dreamlight Valley Castle hidden room with three additional chests to be looted and a new Crafting Station.
The Chests are on the right side, and they contain the following items:
First Chest: 1 Emerald, 1 Sapphire, 1 Ruby, 1 Shiny Diamond
Second Chest: 5 Gold Nuggets, 2 Gold Ingots
Third Chest: 10 Night Shards
And that's it, treasure hunter! You have completed Mickey's Disney Dreamlight Valley Secret Door quest and found the hidden room in the Castle.