A Warm Welcome is a Disney Dreamlight Valley fetch quest that also involves a bit of cooking you'll need to do for Goofy, one of the first characters you'll meet in the Valley.
As a starting character, most of Goofy's quests serve as tutorials, and for the Disney Dreamlight Valley A Warm Welcome quest, one of the tasks will help you learn how to identify the herbs featured in the video game developed by Gameloft.
To be able to play this quest, however, you'll need to finish the previous one in Goofy's questline, named Fishing Expedition (refer to our guide to learn more about it).
Furthermore, for the second part of this quest, you'll also need an oven, so you'll want to make sure that Mickey's Foodception quest covered here is also completed.
Assuming you met all requirements, let's see how to finish A Warm Welcome in Disney Dreamlight Valley.
How To Start A Warm Welcome In Disney Dreamlight Valley
Similar to all other quests, you can start A Warm Welcome by talking to Goofy, our quest giver.
Goofy usually patrols the Plaza and Peaceful Meadow areas, so open your map and look for his icon.
Sometimes you can also find him inside his house in the Peaceful Meadow area.
Once you locate Goofy, assuming you unlocked the quest, talk to him, and he'll tell you he wants to do some cooking.
When he asks if you want to join, accept his invitation by choosing: Sure, I'll help you with cooking!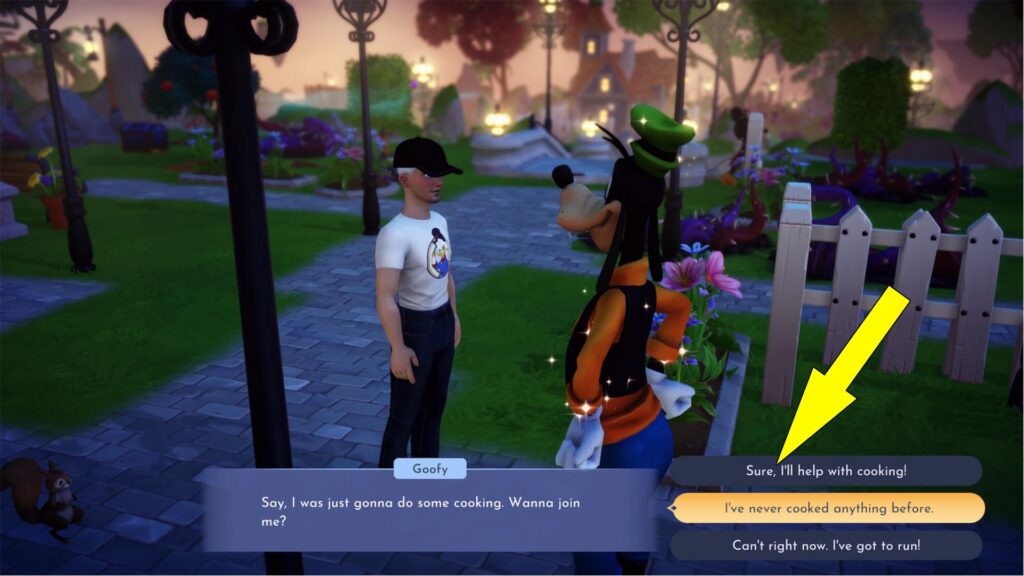 For Goofy's recipe or the meal he wants to cook with you, he needs three Basil and three Oregano.
Both of these Cooking Ingredients are herbs. So let's see where to find them.
Basil Location
In Disney Dreamlight Valley Basil is a very common Herb that grows exclusively in the Peaceful Meadow area.
Open your map, and from the Plaza, head south, descending the stairs towards Goofy's House.
Upon entering Peaceful Meadow, turn right and head towards Merlin's Tower, looking for a small-sized plant.
In the screenshot below, you can see three of them and notice that the plant's color is intense green.
Make sure you get three of them and keep exploring the Peaceful Meadow because Basil spawns randomly.
Where To Find Oregano
The next Ingredient or Herb Goofy needs for his recipe is Oregano, but unlike Basil, this herb grows only in the Plaza area.
Therefore head north from your current area, and follow the stairs up, moving towards the fountain.
In this area, you'll want to look for a plant that is a bit taller and looks more like a small tree that was recently planted.
Again you can see two Oregano plants in the following screenshot.
Keep in mind that it spawns randomly and only in the Plaza area. After you get 3 Oregano, pay Goofy another visit, and he'll ask you to cook a meal using Oregano or Basil.
How To Cook A Meal Using Basil Or Oregano
To cook a meal, head to your house where you placed your oven.
Assuming you don't know how to cook or want to cook something extravagant for Goofy, head to our complete Disney Dreamlight Valley Cooking Guide, where you can check all Recipes in the game.
If you don't want to impress Goofy with your cooking skills, just approach the oven inside your house.
From the list of ingredients, select one Basil and one Oregano.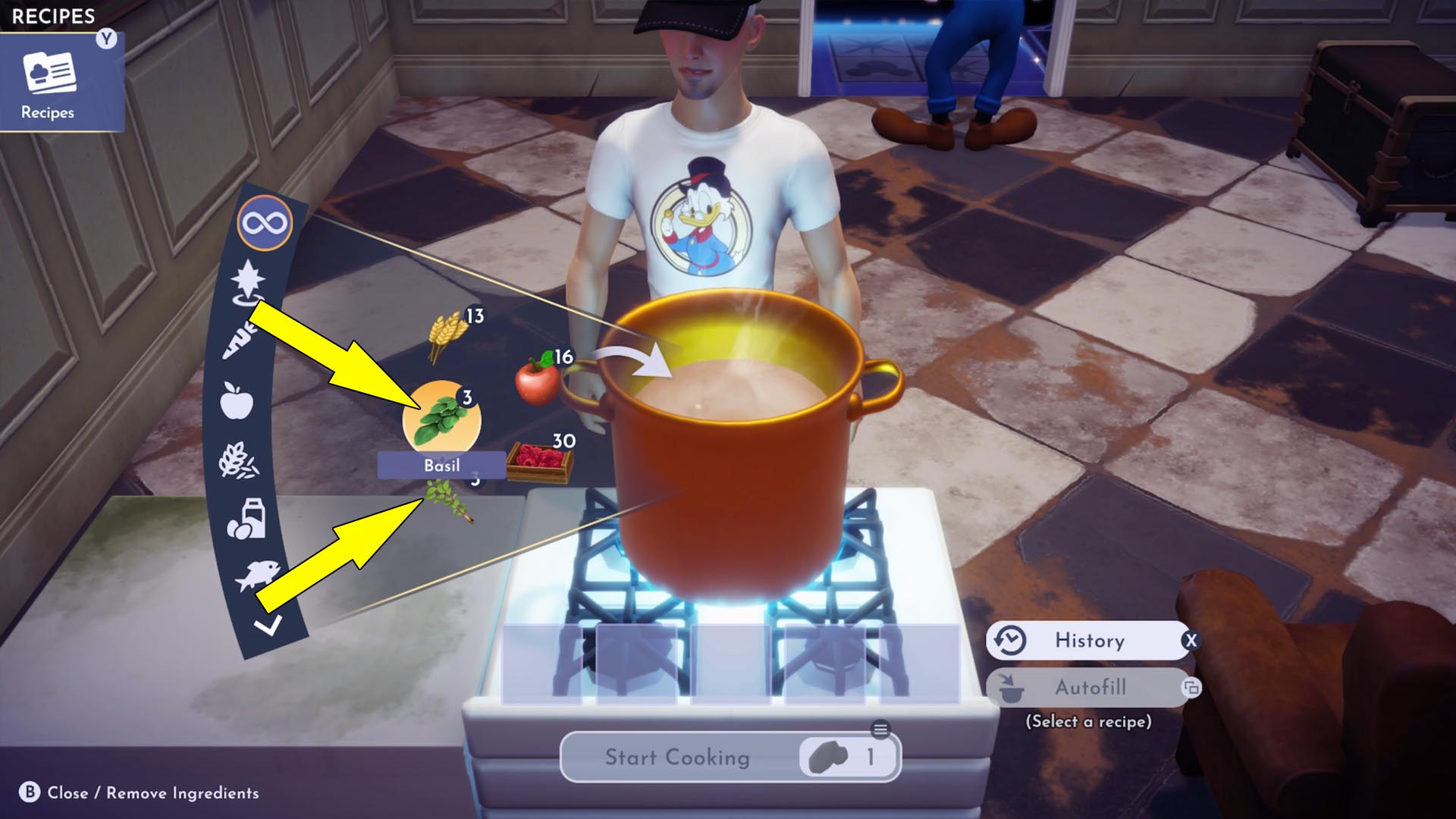 Now, pick the Start Cooking option using the button at the bottom of the screen, and you'll cook Hors d'Oeuvres. As you can see on the list of recipes here, it is a basic meal, but it's enough for Goofey.
If by any chance you can't cook the meal, it means that you are missing Coal Ore which is found in mining Rock Spots.
Great, so Goofy's Oregano and Basil-based meal is ready, so head back to the clumsy character, to claim your rewards.
By finishing the Disney Dreamlight Valley A Warm Welcome quest, you'll be able to unlock the next one in line, named Photographic Memory.