Dry Wood is a Crafting Material in Disney Dreamlight Valley that you can use to make several Furniture items.
This Crafting Material is also mandatory in a few quests of the Disney Dreamlight Valley Early Access version.
But obtaining the Dry Wood can be difficult if you don't know what to look for precisely and where you can find it.
So, you should definitely check the guide below to learn how to obtain Dry Wood in Disney Dreamlight Valley easily.
Disney Dreamlight Valley Dry Wood Locations
There are several Biomes where you can find this Crafting Material, so have a look at the following list and learn all of them.
Forgotten Lands
Frosted Heights
Sunlit Plateau
To unlock all the areas listed above, you need to have a total of 32,000 Dreamlight, which is quite a lot and may take a while to earn.
It's not necessary to have all 3 areas unlocked, but it will speed up the process of gathering the Dry Wood.
To earn more Dreamlight, you must complete tasks from the Dreamlight tab of the game's menu.
How To Get Dry Wood
Now you should go to the 3 mentioned Biomes and gather all the Dry Wood.
You have to look for the small greyish branches which can be found on the ground, as shown in the following screenshot.
As you probably know, there are several types of wood in Disney Dreamlight Valley, so it's really important to remember that Dry Wood is grey, unlike the rest.
You can also obtain grey twigs by removing the Tree Stumps scattered through the Frosted Heights area.
If you don't know how to remove the Tree Stumps, you can always check our guide here.
How To Use The Dry Wood
So far, there are two quests where this Crafting Material is mandatory, and you should focus on them first.
Do You Wanna Build A Snowman – the final quest for Anna's storyline in Early Access requires 8 units
Breaking Bones – in this quest, you need 5 units to upgrade your Shovel and clean the Sunlit Plateau of bones
Crafting Recipes Based On Dry Wood
Now let's see how you can make your house and the Village prettier with furniture items you can craft with the help of the gray twigs.
Here is a Crafting Recipes list with items for which you need the small gray branches:
| | |
| --- | --- |
| Crafting Recipe Name | Required Dry Wood |
| Elegant Gazebo | 200 |
| Flower Boxes | 6 |
| Painted Wood Table | 10 |
| Stack of Firewood | 5 |
| Stellar Blue DJ Booth | 100 |
| Stellar Pink DJ Booth | 100 |
| Wooden Lamppost with Blue Light | 4 |
| Wooden Lamppost with Green Light | 4 |
| Wooden Lamppost with Pink Light | 4 |
| Wooden Lamppost with Yellow Light | 4 |
As you can see, there are a couple of Recipes that use a lot of this Crafting Material, so you should stock up on it as soon as you can.
And if you consider you have too much gray wood, you can sell it at one of Goofy's Stalls for 25 Star Coins a piece, but I recommend you don't because it's not worth it.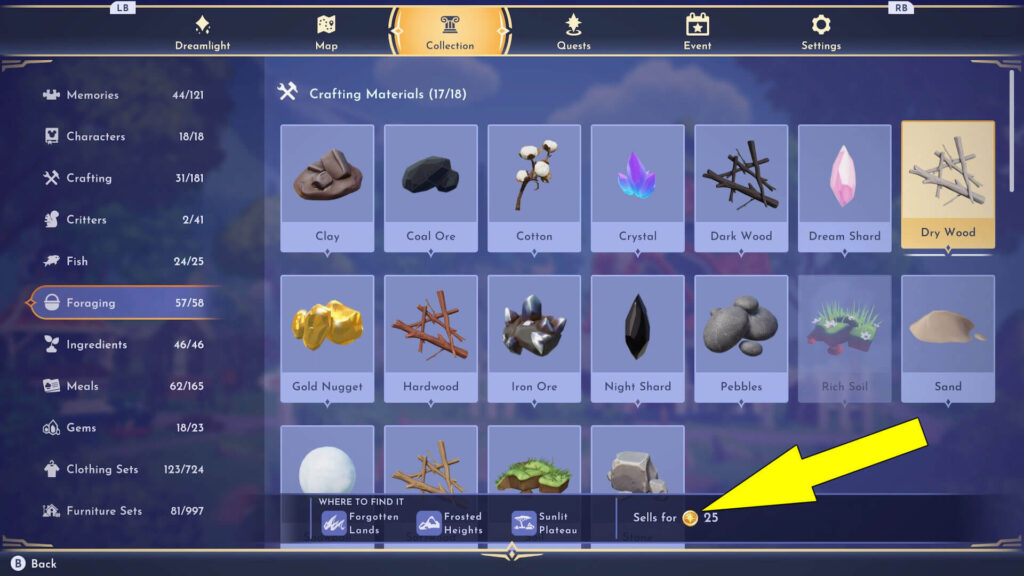 That's everything you need to know about Disney Dreamlight Valley Dry Wood, but if you have questions, let us know in the comments section below.