Disney Dreamlight Valley Magic Moments is Ursula's second friendship quest, and it's focused entirely on cooking, which means that it involves a lot of ingredients to cook Sushi and Lobster Rolls.
The villain in Disney's 1989 animated film The Little Mermaid has a plan to gain more power but to do so, she needs more info on the Curse you set free in Glade of Trust when you met Mother Gothel.
So, to get the info from Mother Gothel, you'll have to exercise your cooking skills again by preparing two special meals: Lobster Roll and Sushi.
Magic Moments quest in Disney Dreamlight Valley can be completed faster if you have the cooking ingredients for the two recipes; however, we'll assume you don't, and throughout the following guide, we'll tell you where to find them.
How To Start Magic Moments In Disney Dreamlight Valley
Magic Moments as all other quests we've covered in our Disney Dreamlight Valley Wiki, has a series of requirements, one of them being quite challenging.
First, you'll need to complete the previous quest in Ursula's questline, named Lair Sweet Lair.
Then you'll need to unlock the Glade of Trust Biome by spending 5000 Dreamlight, which is obtained when you complete the tasks listed in the Dreamlight tab of your in-game menu.
Furthermore, you'll have to progress Mother Gothel by finishing The Curse story quest and Remy by opening his Chez Remy Restaurant as part of A Restaurant Makeover quest.
Finally, you have to reach Ursula Level 4, which means you have to increase your Friendship Level with the Sea Witch.
The latter is the most challenging requirement because, unlike other characters, you can't assign Ursula a job. Thus you won't be able to get additional XP while performing tasks around the Valley.
As such, you'll need to start working on increasing your Ursula Friendship Level as early as possible by having daily discussions with her and by gifting her favorite things each day.
Alternatively, however, you can also gift her any type of flower and any type of gem to level up faster.
Now, when you reach Friendship Level 4 with Ursula, if you've met all requirements above, find the Sea Witch and talk to her.
The villain tells you that there is a lot of power in the Village, and she wants it. She also tells you to talk to Mother-what's-her-face and try to find out more about the Curse that struck the Village.
Since you are here to complete the quest, agree to help Ursula. Now, open your map and look for Mother Gothel's icon, then travel to her location. Pick the Magic Moments quest from the list of dialogue options, then ask for more information about the Curse.
Obviously, Mother Gothel won't provide any information for free, so agree to help her, and she'll ask for food. Specifically a Sushi Roll and a Lobster Roll.
Let's see how to cook these two Disney Dreamlight Valley Recipes.
How To Make Sushi
From the beginning, it's worth knowing that Mother Gothel wants two Sushi Rolls, not just one, so you'll need to double the ingredients.
In case you did not check our complete Disney Dreamlight Valley Recipes list here, for this dish, you need the following ingredients:
Disney Dreamlight Valley Sushi is one of the easiest meals you can cook since it's a 2-star meal.
So, the first thing you'll need is any type of fish, which means that you'll need to find a water source and start fishing in the water ripples. This activity is very relaxing, and if you need additional help to fish in the game successfully, you'll want to check our guide here.
After you get two fish (because you need two Sushi Rolls), it's time to go after the Rice.
Rice grows in swampy areas, so you'll need to visit the Glade of Trust. Although you can find some Rice Plants growing in the wilderness, it's best to grow your own crops.
For this, however, you need Rice Seeds which can be bought from Goofy's Stall in Glade of Trust.
In the following screenshot, you can also see that by upgrading Goofy's Stall, you can buy Rice from him directly, but why spend your money?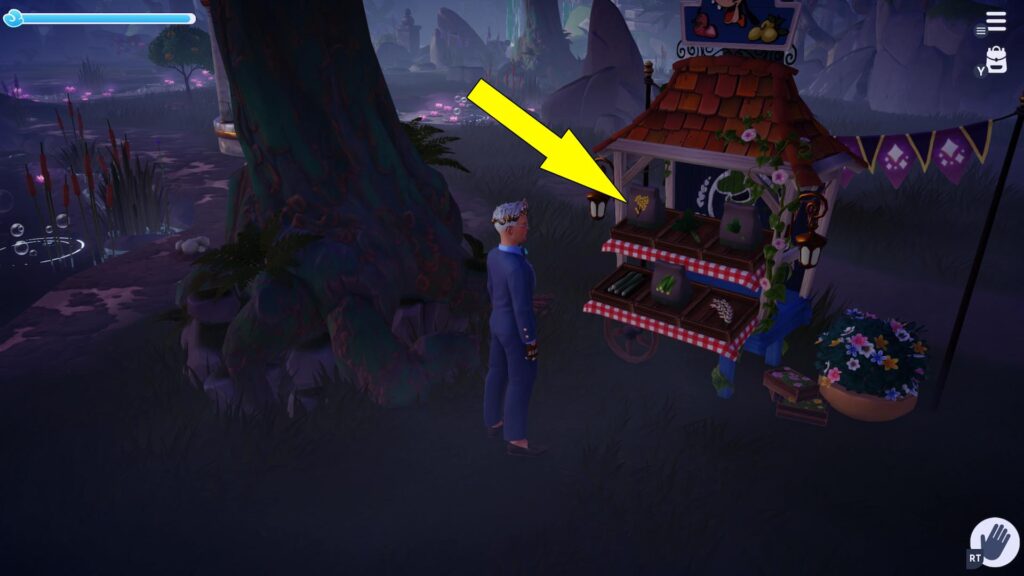 Now that you have two Rice Seeds use your Shovel to dig two holes and plant them anywhere you want, then use the Watering Can to water your crops.
Rice needs 50 minutes in real-time to grow, and you'll want to check your crops from time to time and water them. While waiting for the Rice to grow, consider focusing on the ingredients you need for the Lobster Roll.
Lobster Roll Recipe & Ingredients Locations
Unlike Sushi, Disney Dreamlight Valley Lobster Roll Meal requires not two but five ingredients since it's a 5-star meal. These ingredients are:
Wheat
Lobster
Lemon
Butter
Garlic
Let's go over all of them and see what you need to do to obtain them.
Wheat is an ingredient that's very accessible but can be found only in Peaceful Meadow Biome. Like the Rice, you can buy it directly from Goofy's Stall in Peaceful Meadow, or you can buy some Wheat Seeds and plant them.
It takes only one minute in real-time for the plant to grow.
Alternatively, you can obtain Wheat Seeds by removing Night Thorns in the Peaceful Meadow, or if you unlocked Wall-E's garden (Village Project The Garden quest), you could get this ingredient from him.
The next ingredient you'll need for the meal is Lobster, and again, you'll need to exercise your fishing skills.
Disney Dreamlight Valley Lobsters can be found only in the Glade of Trust Biome by fishing in orange water ripples like the one in my screenshot.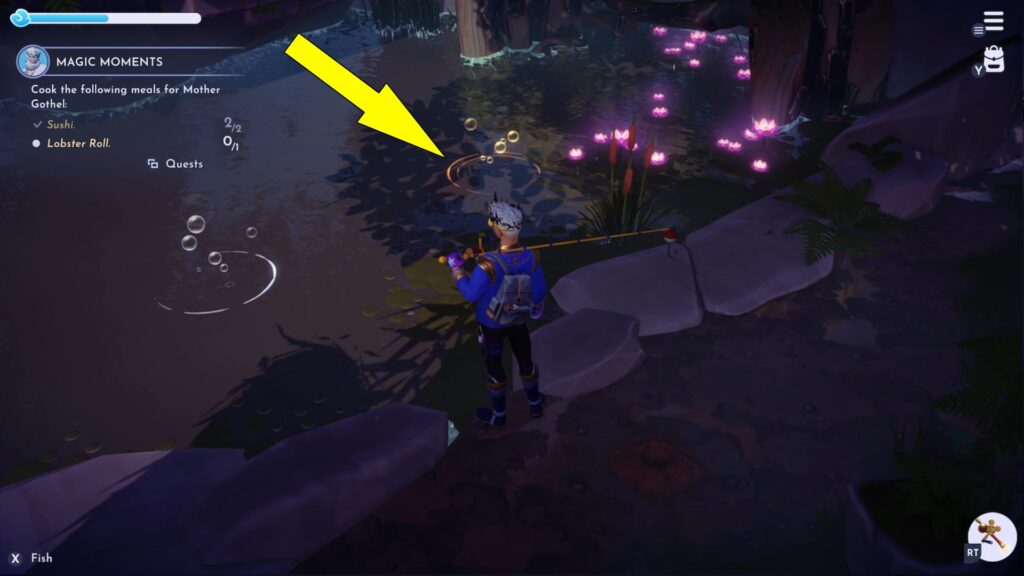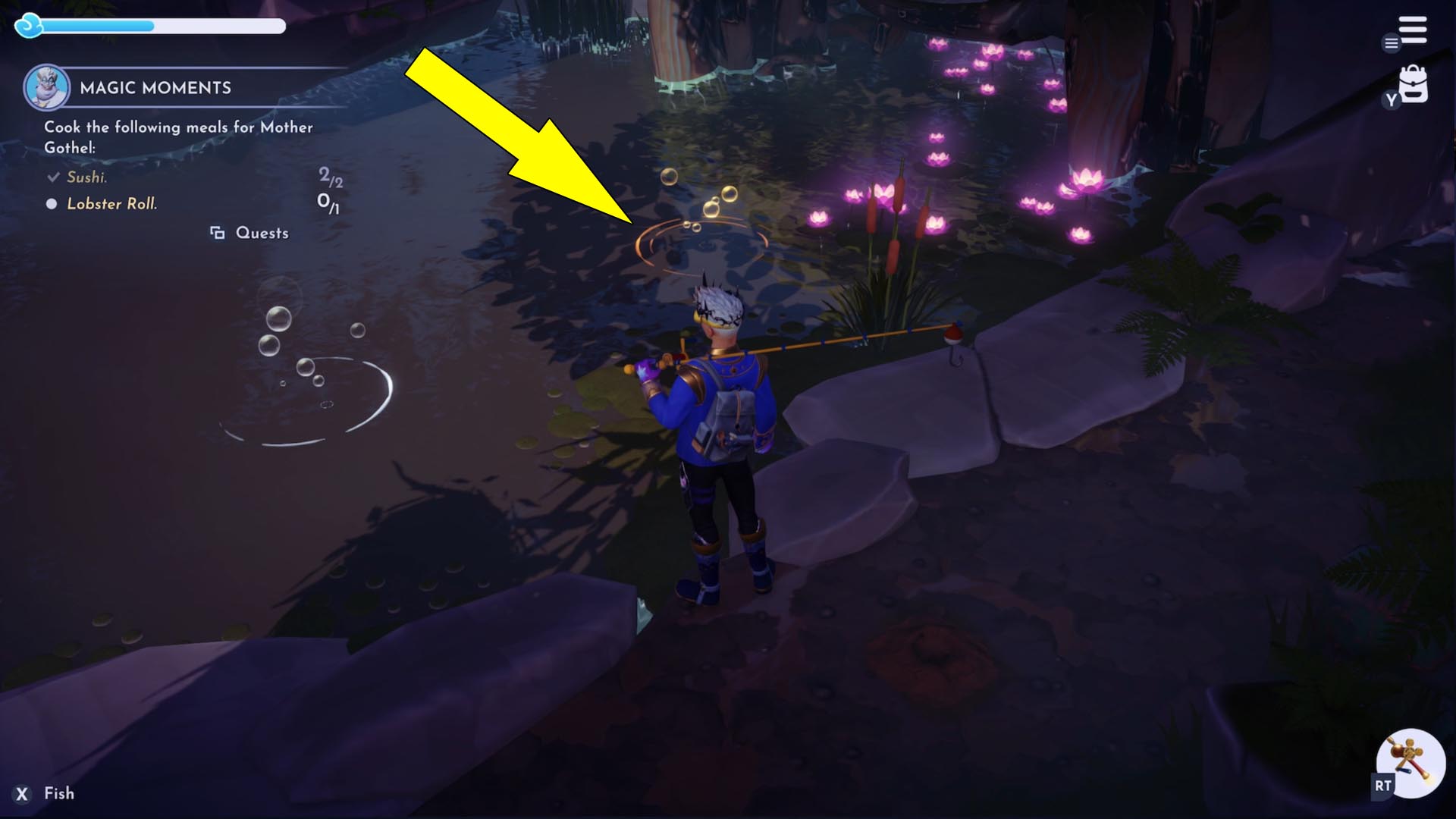 Make sure you complete the QTEs without missing any step, and you'll get a Lobster in no time.
Lemon is also a very common ingredient, but it requires your presence in the Glade of Trust or Forest of Valor.
Since Garlic is found exclusively in the Forest of Valor Biome, make sure you travel to that area and look for a Lemon Tree (pictured below) and a small green plant (also pictured below). Harvest both of them to obtain Garlic and Lemon.
If you can't access the northern side of Forest of Valor, look for Lemon Trees in Glade of Trust or complete Anna's An Icy Invitation quest to upgrade your Shovel and remove the tree stumps on the bridge.
Great job, so the last ingredient you need now is the Butter. Disney Dreamlight Valley Butter can't be found via exploration, so you'll need to buy it from Chez Remy.
With all the ingredients above in your inventory, head to Remy's Restaurant, and behind the Cooking Station, you can see a shelf. Interact with it and buy one Butter for 190 Star Coins.
Next, it's time to cook both Magic Moments Recipes, so approach Remy's oven and add the ingredients listed above to cook two Sushi and one Lobster Roll. Make sure you cook them one at a time, and remember that you also need 3 Coal (one for each meal) obtained by mining Rock Spots (black Mining Deposits).
When you're done, open your map and find Mother Gothel's icon. Travel to her and hand over all three meals to find out that during the Curse, a mysterious flower grew in the swamp near the Pillar.
Luckily she agrees to give it to you, so now, you'll have to travel back to Ursula. When you give Ursula the Corrupted Flower, she'll tell you that she'll use it for a small experiment.
Now Disney Dreamlight Valley Magic Moments ends, and the next quest, named The Ritual, becomes available.