The Ritual, or Ursula's Disney Dreamlight Valley third friendship quest, continues the events of Magic Moments and the Sea Witch's search for more power.
In the video game developed by Gameloft, The Ritual is a fetch-quest during which you'll eventually have to help Ursula obtain an Enchanted Flower.
To do this, you'll need to gather a series of ingredients used by Ursula to create a spell; then, you'll need to place the Enchanted Flower in a specific location as requested by the villain.
Since Disney Dreamlight Valley The Ritual quest will get you one step closer to unlocking Prince Eric, we'll discuss how to complete it in the following walkthrough.
How To Start The Ritual In Disney Dreamlight Valley
As the third quest in Ursula's story, The Ritual can be played after you reach Ursula Level 7, one of the trickiest requirements you'll need to meet.
Because you can't assign Ursula a job, thus being unable to increase your Friendship Level via various tasks you complete, it's worth knowing that you'll want to pay attention to her daily requests and try to fulfill them every day.
Additionally, you'll want to have daily discussions with Ursula to obtain extra XP or gift her as many flowers and gems as possible. Although it will take some time to reach Ursula Level 7, it is worth spending gems since they are easy to obtain.
The second requirement for The Ritual quest is to have Moana unlocked, so make sure you travel to her realm and bring Moana to your Village by completing the following:
Last but not least, for The Ritual Disney Dreamlight Valley quest, you'll want to unlock the Sunlit Plateau Biome by spending 7.000 Dreamlight.
As you probably know by now, Dreamlight is obtained by completing tasks listed in the Dreamlight section of your in-game menu.
Now that you know all The Ritual requirements and how to meet them, open your map after you finish Magic Moments, and pay a visit to the Sea Witch.
When talking to Ursula, you'll find out that she wants to do a small experiment with the flower you brought at the end of the previous quest.
Basically, she wants to extract the power from it, so why not see what happens by accepting to help her?
Since nobody will get hurt, tell Ursula you trust her, then she'll send you to find a seashell. For this objective, you must do is find Moana's icon and travel to her location.
Tell Moana the Sea Witch sent you to talk to her and that she's a necessary evil. Moana agrees to give you the seashell, so now it's time to get the remaining ingredients for Ursula's Spell:
5 Aquamarine
6 Squid
1 Empty Vial
The Ritual Squids Locations
The first ingredients we'll cover in our guide are the Disney Dreamlight Valley Squids because you need 6 of them.
Before looking for them, finding a character that specializes in fishing is recommended so that you can get The Ritual Squids faster.
With the companion by your side, head to the Glade of Trust or Forgotten Lands Biomes because these are the only Early Access areas where you'll find Squids.
Now, look for a water source (lake, pond, or river) and blue water ripples like the one pictured below.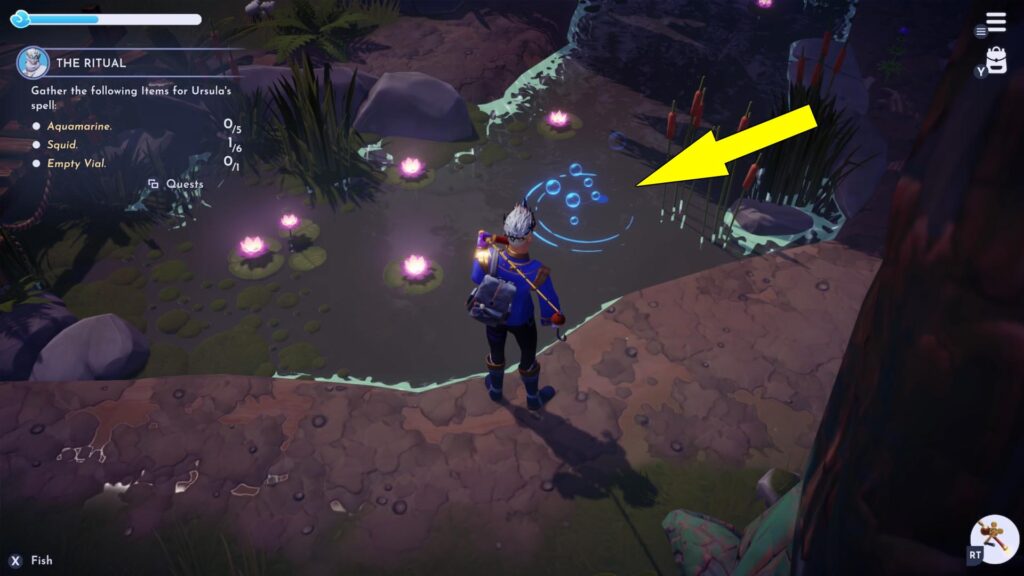 Start fishing and make sure you aim your line towards the blue water ripples, then complete the QTEs as we've explained in our Fishing Guide here.
Keep fishing in blue water ripples to get the six Squids for the spell.
Where To Find Aquamarine
Once you're done fishing, it's time to start Mining, but first, change your companion to one that specializes in Mining to obtain Aquamarines faster.
These gems can be found by Mining the Rock Spots (black deposits) in Dazzle Beach and Forest of Valor Biomes.
It is also worth knowing that for Ursula's Ritual, you need normal Aquamarines, not the Shiny versions. Move from one Rock Spot to another and wait for them to respawn when you run out.
Also, if you completed Anna's Icy Invitation quest, you can remove the tree stumps that block the bridges and your access to the northern side of the Forest of Valor area, thus being able to find even more Mining Spots like the one below.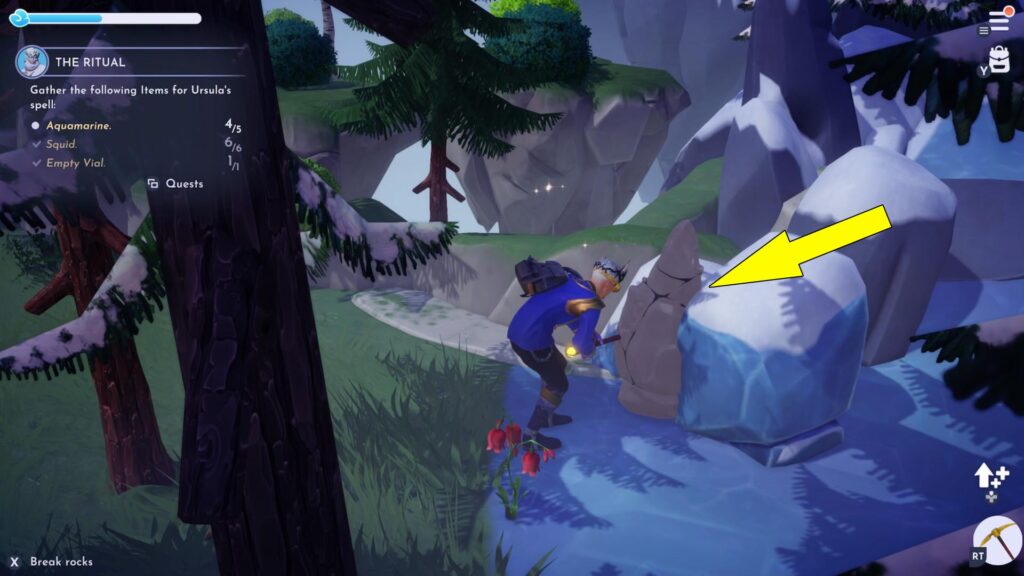 How To Craft An Empty Vial
The next quest item you need for the spell is an Empty Vial, a craftable object requiring 3 Glass.
Glass is obtained from 5 Sand and 1 Coal Ore, which means that for 3 Glass, you need 15 Sand and 3 Coal Ore.
To get 15 Sand, head to the Dazzle Beach area and start mining the blue round shells on the beach (pictured below).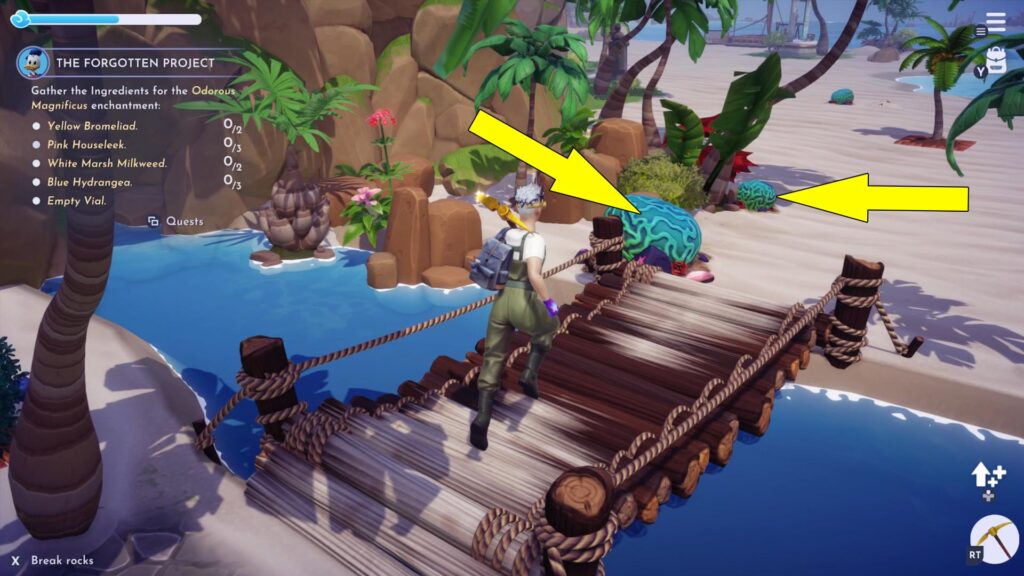 Alternatively, you can obtain Sand by digging randomly on the beach using your Shovel.
Coal Ore is obtained by mining the Rock Spots, so most likely, you have the required amount since you already mined some while looking for Aquamarines.
With the Glass and the Coal Ore in your inventory, go to a Crafting Station (next to Goofy's House, for example), and access the Refined Material tab.
Craft 3 Glass first, then craft an Empty Vial. Now switch to the Potion & Enchantment tab and craft the Enchantment Potion you see in my screenshot.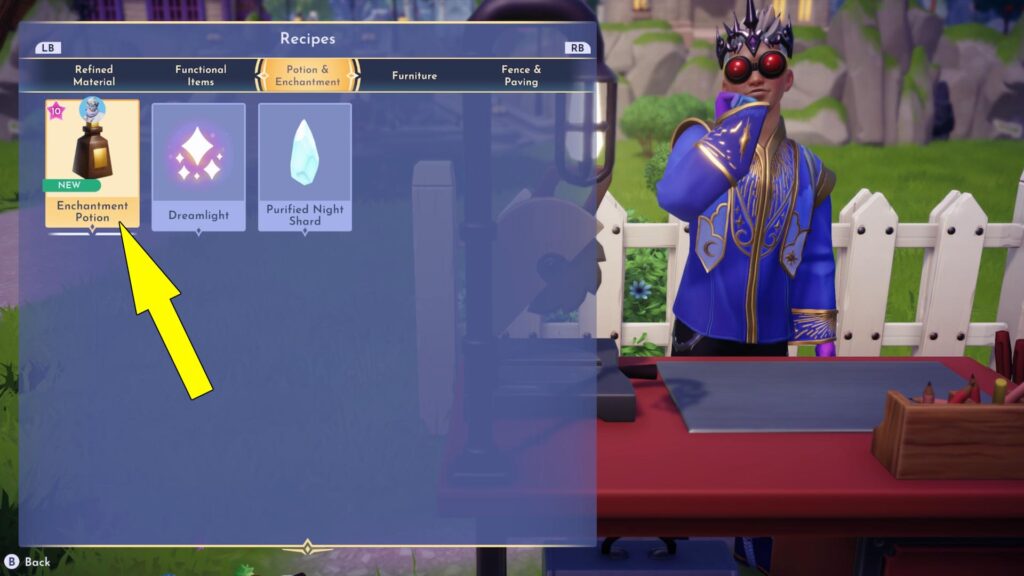 Awesome job! Now let's see what Ursula wants to do with this Potion. Open your map and look for her icon, then get close and give her the Enchantment Potion.
She'll use it on the flower you got from Mother Gothel, then she'll give you the flower asking you to place it near the Mystical Cave.
Ask why Mystical Cave, and she'll lie, telling you that the flower will protect the cave. Regardless, you agree to fulfill her wish, so travel to Dazzle Beach.
Where To Place The Enchanted Flower Near The Mystical Cave
When arriving on Dazzle Beach, return to the cave you explored during the story quest named With Great Power.
The cave is east of Peaceful Meadow, on a patch of grass.
While standing at the entrance, open your inventory (Y on Xbox), then go to the Furniture tab.
Pick Ursula's icon in the Requests section, then the Enchanted Flower. Finally, place the Enchanted Flower near the boulder you see in my screenshot.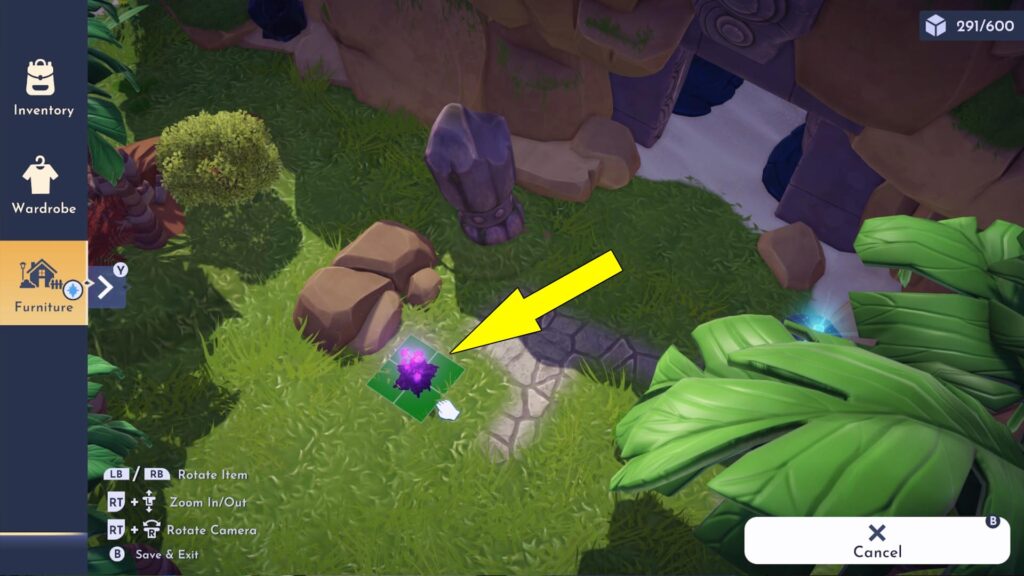 Now take a picture of the flower, then head back to Ursula. Talk to her, and she'll tell you she must find another way to harness the power.
Don't worry, though, because you'll deal with Ursula during her last quest, which is also the most difficult, and it's named A Deal With Ursula.