Snowballs are Disney Dreamlight Valley Crafting Materials and quest items you should know how to get even though you don't need large quantities for the Early Access version of the video game developed by Gameloft.
However, you'll still need some, provided you want to complete all the quests or craft certain furniture items.
As such, you should check our guide below, and we'll tell you all the methods you can use to obtain Disney Dreamlight Valley Snowballs.
Disney Dreamlight Valley Snowballs Locations
Except for a limited amount of Snowballs you can find in the Forest of Valor Biome, you'll get most of these Crafting Materials from the Frosted Heights area.
This means, of course, you'll have to unlock the said area, and you'll have to spend 10.000 Dreamlight to do so.
Coming up with the necessary Dreamlight shouldn't take too much time because all you have to do is complete the Dreamlight Tasks listed in the game's menu.
Once you have the required amount of Dreamlight, head to the snowy area known as Frosted Heights and unlock it.
How To Get Snowballs
The easiest way to get this unique Crafting Material is to dig it out with the help of your Shovel, which you can equip with the RT button on your Xbox controller.
So, find an open field, or at least as open as it can be, considering the Frosted Heights area is full of obstacles, and start digging.
Try to dig in straight lines as much as the area allows it. To do so, hold X (also on Xbox) with the Shovel equipped.
You can get all sorts of rewards while digging in the Frosted Heights Biome, but your main concern is the balls of snow.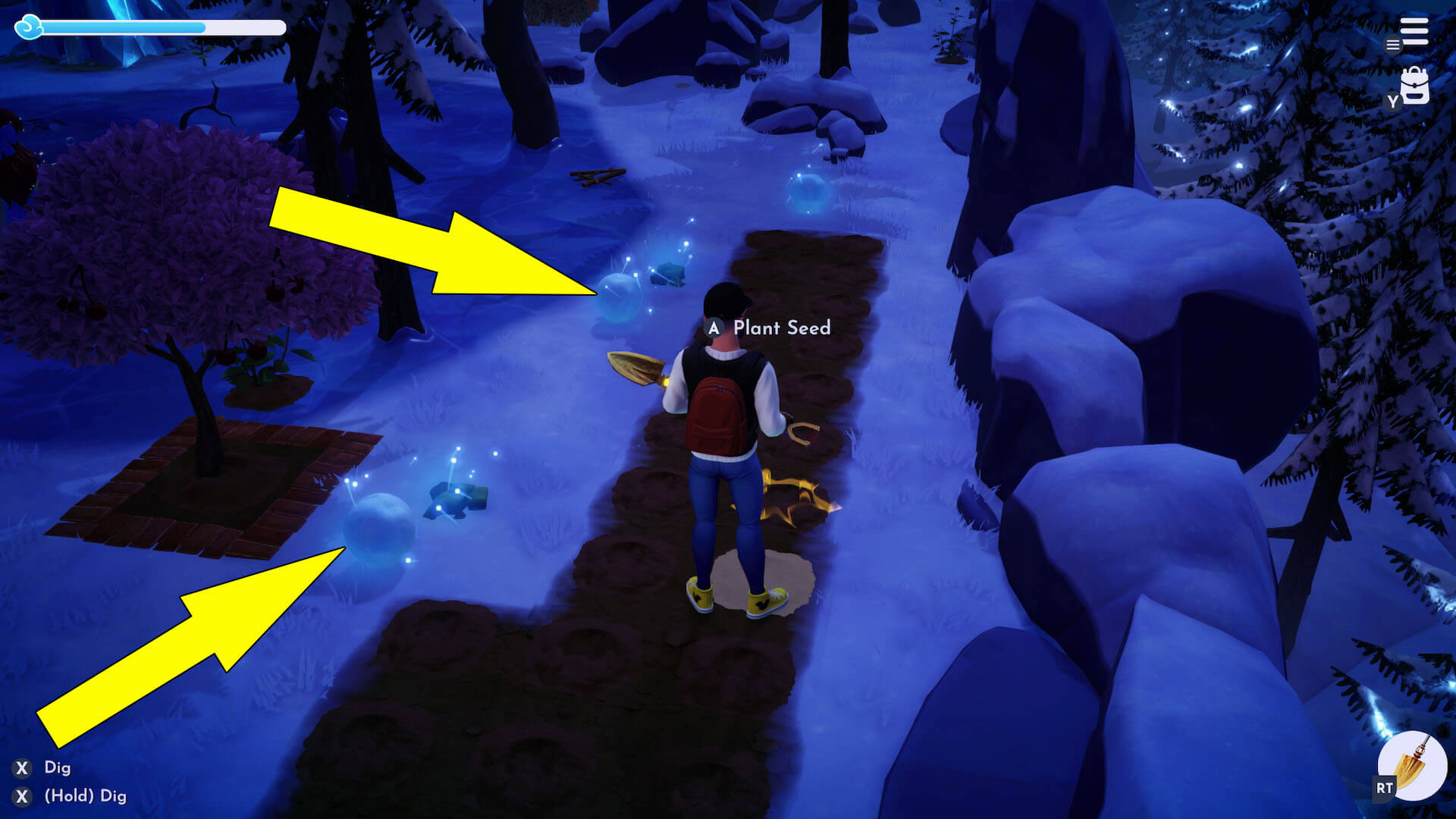 Don't forget to hang out with a companion specialized in Digging to increase the number of Snowballs you'll get.
Note that the higher your companion is in level, the more of the Crafting Material you'll receive, and you'll always want to dig in new spots.
Another way you can get the balls of snow in Disney Dreamlight Valley is to smash the Ice Blocks scattered through the Frosted Heights area. You'll also find a couple of Ice Chunks in the Forest of Valor area, at the border with Frosted Heights.
However, you'll first need to upgrade your Pickaxe, as we explained in-depth in this guide.
You can also find Snowballs lying on the ground in the Frosted Heights Biome, but this will not happen often.
And finally, you can buy the Crafting Material from the upgraded version of Kristoff's Stall if you can spare some Star Coins. Also, he only sells the balls of snow occasionally, so if you are in a hurry, stick to digging and mining Ice Blocks.
To unlock and upgrade Kristoff's Stall, you'll need to complete the A Mountain Man's Stall and A Broken Sled quests.
How To Use The Snowballs
Before using them in crafting, it's worth knowing that the Snowballs are also quest items. You'll need them while playing:
Crafting Recipes Based On Snowballs
Furthermore, you can use these resources to craft all sorts of Furniture items.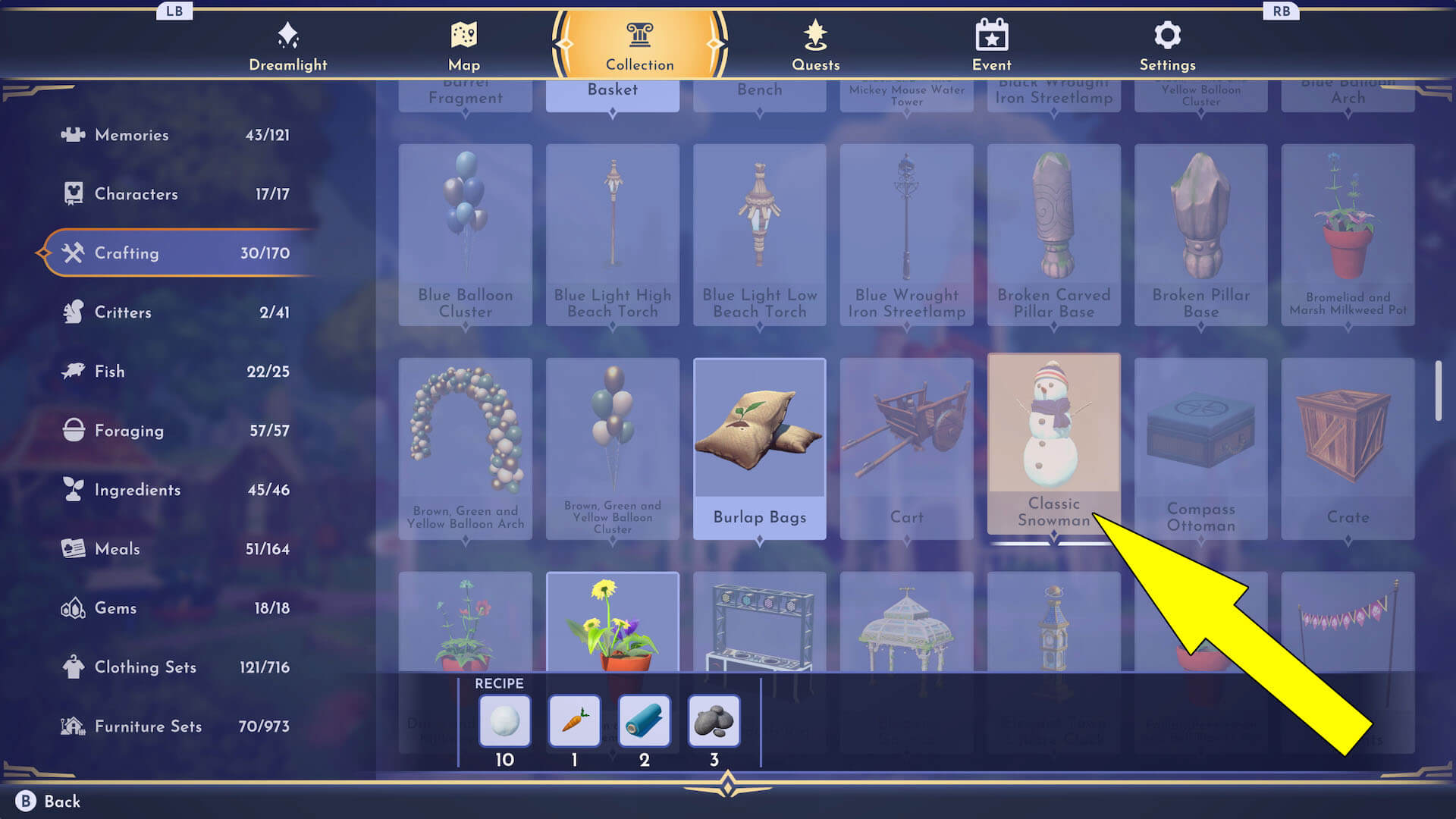 Here are all the items that will require balls of snow.
| | |
| --- | --- |
| Crafting Recipe Name | Required Snowballs |
| Snowy Brick Road | 1 |
| Classic Snowman | 10 |
| Haughty Snowman | 10 |
| Snow Kid | 8 |
| Snow Lady | 10 |
As mentioned, you don't need many Snowballs in Disney Dreamlight Valley for now, but as you can see, the Crafting Material is far from useless, and if you consider you have too many, they sell for 25 Start Coins a piece at any of Goofy's Stalls.
Last but not least, check this guide if you are interested in obtaining Clay, which is another Crafting Material, just like the balls of snow.