If you want to complete some of the quests in Disney Dreamlight Valley or customize your house and the Village, you'll need many Crafting Materials; one of the most important being Hardwood.
For the moment, there are two methods of obtaining Hardwood, and you should learn them both if you want to stock up on this Crafting Material.
Therefore, throughout the guide below, we'll tell you the locations where you can find the Disney Dreamlight Valley Hardwood and how to obtain it.
Disney Dreamlight Valley Hardwood Locations
As you are probably used by now, each Crafting Material can be found in certain areas, and Hardwood makes no exception.
Here is the list of Biomes where you can find this Crafting Material in the Early Access version of Disney Dreamlight Valley:
Forest of Valor
Glade of Trust
Sunlit Plateau
Frosted Heights
Forgotten Lands
You'll need a total of 40,000 Dreamlight to unlock all these areas, which is a lot, so you should first focus on the cheaper ones like Forest of Valor and Glade of Trust.
To earn more Dreamlight, you have to complete the tasks listed in the Dreamlight tab of the game's menu.
Obviously, the more Biomes you unlock, the more Hardwood you can get.
How To Get Hardwood
Now that you know where you can find the Crafting Material, you should go to every single Biome you have unlocked from the list above and look for the brown-reddish twigs on the ground, as shown in the following image.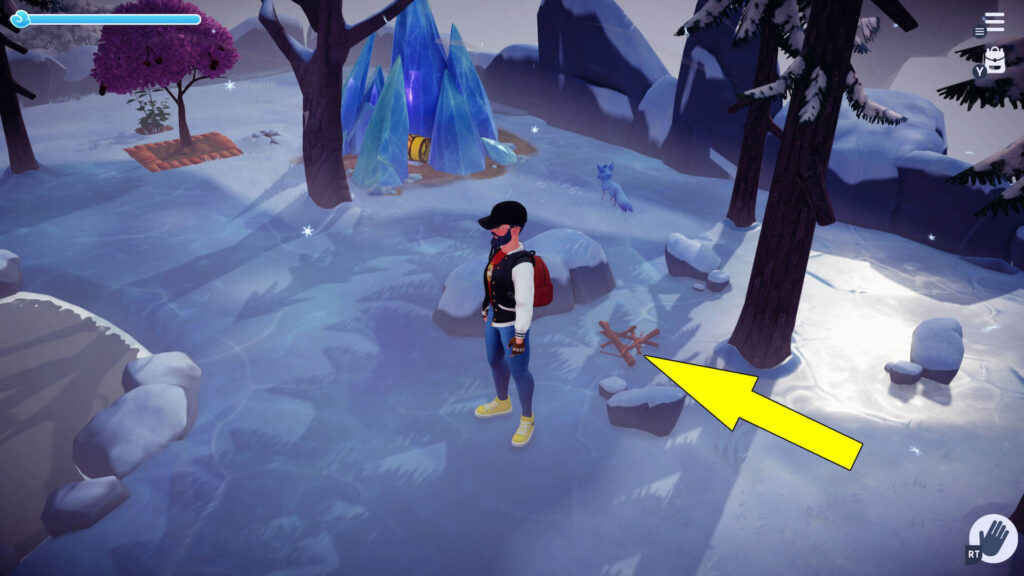 Note that new twigs spawn over time, so you should revisit the areas from time to time.
Be careful not to mistake the Hardwood for Softwood, which is similar but lighter in color.
The other method of obtaining the brown-reddish twigs is to remove the Tree Stumps scattered through the Valley.
You should check our guide on how to remove Tree Stumps for more details about this.
How To Use The Hardwood
Before everything else, you'll need Hardwood to complete a large number of quests, most characters being interested in this particular type of wood. Here are the quests that require the brown-reddish twigs:
Crafting Recipes Based On Hardwood
Now, let's see how you can spruce up the Village or your house using this Crafting Material.
Here is a list of Crafting Recipes that use Hardwood:
| | |
| --- | --- |
| Crafting Recipe Name | Required Hardwood |
| Leaf-Strewn Path | 1 |
| Muddy Path | 1 |
| Iron Crafting Station | 10 |
| Gray Mailbox | 10 |
| Red Mailbox | 10 |
| Wooden Crafting Station | 10 |
| Crate | 10 |
| Elegant Town Square Clock | 100 |
| Festive Pennants | 5 |
| Left Signpost | 5 |
| Mailbox | 4 |
| Outhouse | 20 |
| Right Signpost | 5 |
| Rustic Clock Tower | 100 |
| Stall | 20 |
The Crafting Material also sells for 10 Star Coins a piece at any of Goofy's Stalls, but I suggest you keep as much as you can in your storage because, as you can see, you'll need an impressive amount to complete the game's quests.
And that's about it! Now you know how to get Hardwood in Disney Dreamlight Valley, so go out there and stock up on it, and if you have questions, let us know in the comments section below.