Alongside the Collection Points covered here and the Mining Points revealed in this guide, there is also one Tales of Arise Treasure Chest you'll have to find if you wish to fully explore the second area in Calaglia.
The Tales of Arise Treasure location is relatively easy to find, but in case you need help, below I'll tell you where to find the hidden chest in Sandinus Ravine.
Sandinus Ravine Treasure Chest Map
As you can see on my map below, the Sandinus Ravine Treasure Chest is found in the southern part of this region.
It is basically located east of your Camping Point.
Since it doesn't have a specific requirement and you don't need key items to open it, you'll be able to loot the item inside the moment you cross Sandinus Ravine on your way to Ulzebek early in the game.
You can also return to the ravine later, or you can loot it when you play the Supply Procurement Sub Quest which also brings you here.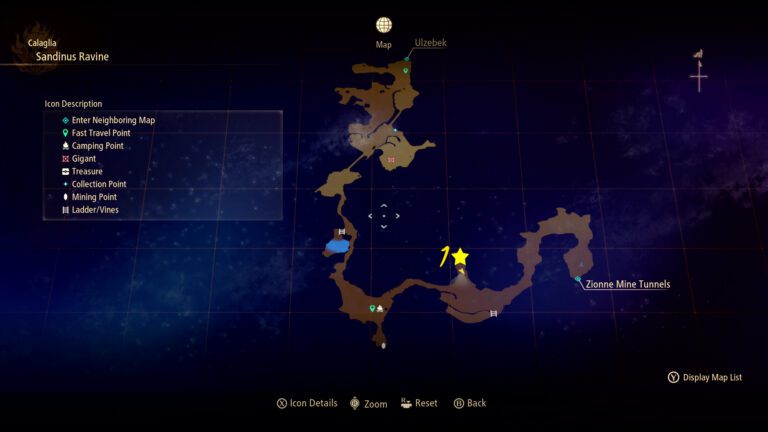 Treasure Location In Sandinus Ravine
The Sandinus Ravine Treasure is found at the end of a side tunnel and is relatively easy to spot.
Once you loot it, you'll get the following item(s):
Life Bottle (x3) – A miraculous that heals KO for one ally during battle as well as restores 800 HP.
This is the only Treasure Chest in the Tales of Arise Sandinus Ravine area of Calaglia, but get ready because the next treasures are not as easy as this one, and Bandai Namco Entertainment did a good job at hiding them. 
Also, make sure you do not leave the area (especially during the first visit, without finding all Collection Points and all Mining Points.
You have maps for all of them, so it takes only a couple of minutes to get them.