Along with the Collection Points we already covered here, there are also 2 Tales of Arise Zionne Mine Tunnels Mining Points you should find the moment you begin your adventure in the video game developed by Bandai Namco Entertainment.
Similar to the Collection Points, these do not count as collectibles, but they provide crafting materials and sometimes even quest items you'll be asked to fetch for some NPCs.
Because of this, they are quite important and below I'll show you where to find both of them.
Zionne Mine Tunnels Mining Points Map
As you can see, the Tales of Arise Zionne Mine Tunnels Mining Points map below reveals the locations you'll have to visit.
Obviously, you can do this when Alphen enters this area during the Prologue, or you can return here later by crossing the Sandinus Ravine south of Ulzebek.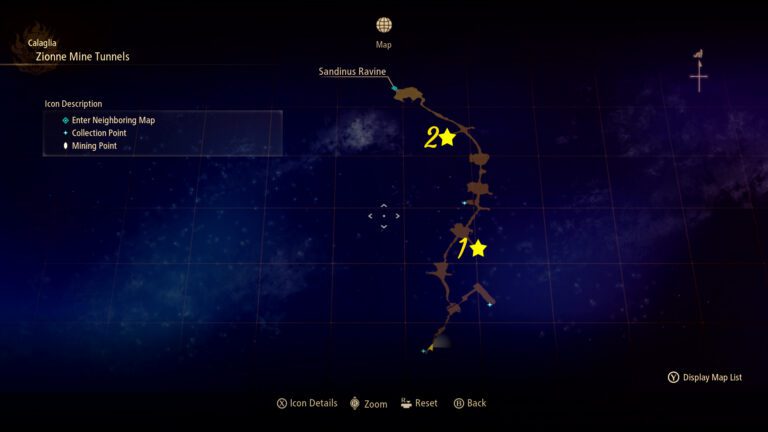 Mining Points Locations In Zionne Mine Tunnels
Following the order on the map above, you can retrieve the following items from the Zionne Mine Tunnels Mining Points:
Paralaxstone (x2) – A stone that can relieve numbness when rubbed, making it prized by those who have to maintain the same posture for extended periods during work. Found at the end of a narrow tunnel.
Antidote Rock (x2) – A stone that keeps microbes at bay as it breaks down toxins. Storing it together with food will make the food last longer. Found in a side tunnel by a large rock with a green bush on it.
Once you are done mining these 2 locations, make sure you locate the Zionne Mine Tunnels Collection Points outlined in this guide, then feel free to leave this area and explore Sandinus Ravine, where 4 additional Mining Points await.