Tales of Arise Supply Procurement is one of the 70 sub-quests you'll need to complete while playing the video game developed by Bandai Namco Entertainment.
Supply Procurement is a very short fetch quest, and the following guide explains how to complete all associated objectives.
Supply Procurement Side Quest Details
Tales of Arise Supply Procurement is the first side-quest you can trigger in the game.
It starts while playing the Battle Preparations main quest, and you can't miss it simply because in order to progress through the story, you'll have to finish it.
Here is everything you need to know about it:
Region: Calaglia
Area: Ulzebek
Quest Giver: Dyron
Rewards: 800 Gald, 200 SP
Requirement(s): Start Battle Preparations main-quest
Supply Procurement Objectives
This quest has two objectives:
Meet with the Crimson Crows at Sandinus Ravine
Give Dyron the remaining supplies
Supply Procurement Walkthrough
The first thing you'll have to do for this fetch quest is to find Dyron, and you'll do this while playing the Battle Preparations main quest.
He is standing in the center of Ulzebek, close to the Inn. You can see him below.
Once you talk to him, he'll tell you that you need to reach Sandinus Ravine and find the Crimson Crows.
Tales of Arise – How To Get To Sandinus Ravine
Sandinus Ravine is a small area in the Calaglia region, and it is found south of Ulzebek.
To get to Sandinus Ravinem from your current location, head south to reach the transition point marked on my map.
In Sandinus Ravine, there are only several mobs you'll need to dispatch, and they are quite accessible (especially if you claimed the Talesk of Arise Packs we discussed here).
After you deal with them, head south following the train tracks, and you'll find the Crimson Crows (or what's left of them) near a campfire.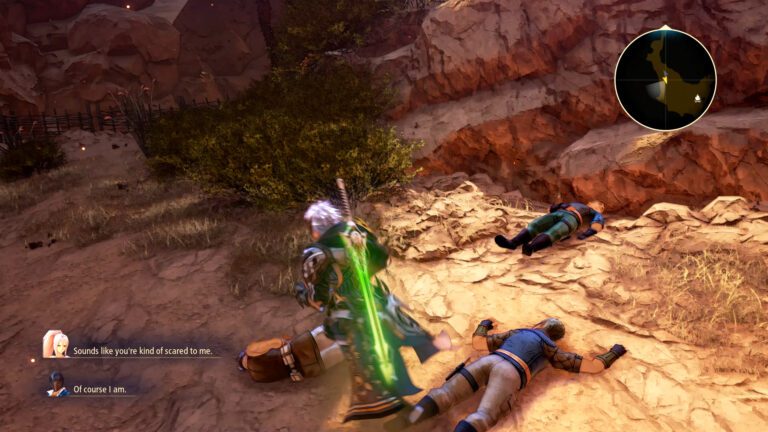 Talk to them, then your objective is to head back to Dyron and give him the supplies.
This means that you'll need to retrace your steps back to Ulzebek and find Dyron near the Inn.
After you tell Dyron what happened to the Crimson Crows, the Supply Procurement sub-quest ends.