Who Is Arkvoodle is the shortest main mission in the Bay City area of Destroy All Humans 2 Reprobed.
The mission has only one optional objective: Use PK Slam to kill cops.
And a smaller reward, of course, of only 7 Furotech Cells.
However, the mission is mandatory to continue the story, and you might need assistance, especially with the optional objective, so don't hesitate to check our walkthrough below.
Where To Find Who Is Arkvoodle
The mission becomes available after completing the previous one, named The Alien Who Probed Me (covered in this guide).
The mission giver is Pox, and he is waiting for you in a small park on the west side of Bay City.
You have the exact location on the following map, so make haste.
Where To Find The Landing Zone
The mission's main objective is to found the Cult of Arkvoodle.
To do so, you must unlock a specific landing zone, but first, you have to locate it.
So after you talk to Pox, make your way to the landing zone, which can be found in a courtyard between some houses a little to the northwest of your current location, the small park.
You'll know you are in the right place when you find the Arkvoodle idol, as shown in the next screenshot.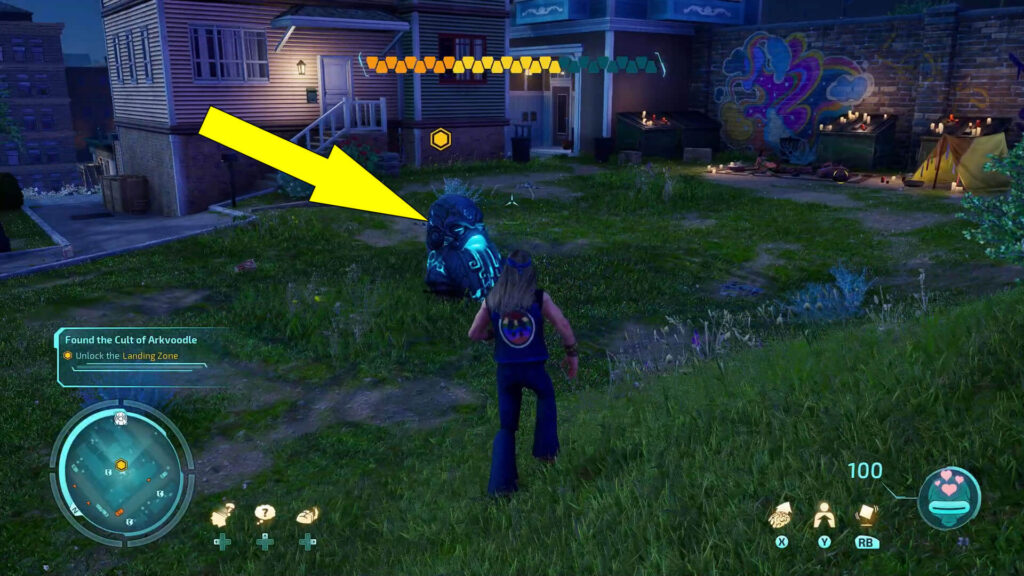 How To Use PK Slam To Kill Cops And Unlock The Landing Zone
You need to raise the alert level to orange to unlock the landing zone and found the Cult of Arkvoodle.
Not that hard; you just have to kill everyone you come across until you turn three of the lines around your radar orange.
But you also want to complete the optional objective, so you have to use PK Slam to kill three cops.
To activate PK Slam, you must first press RB on Xbox to lift something off the ground with your psychokinesis and then press LS + RS (at the same time). That turns whatever you lifted into a weapon.
Then press RT to swing the weapon into a target or press LT to slam it into the ground for a bigger area of effect.
So use PK Slam to kill three cops and continue the massacre until you raise the alert level to orange.
Nicely done, Furon! You founded the Cult of Arkvoodle and fully completed the Who Is Arkvoodle mission in the video game developed by Black Forest Games. It's time to land the final blow on the KGB in Bay City, so start the Guns Of Alcatraz mission and complete all the objectives with the help of this guide.