Kena Bridge Of Spirits Fields Cursed Chests are mandatory since both of them contain other collectibles that will get you one step closer to unlocking the Platinum Trophy on PlayStation.
Simply put, the Kena Bridge Of Spirits Cursed Chests in the Fields area hold one hidden Rot and one Rot Hat, thus without finding these chests, you won't be able to get all Rot and all Hats in the Fields.
As such, below, we'll talk about their locations or where to find them in the video game developed by Ember Labs.
Along with these two Chests, in the Fields area, you'll also have to find the following:
Kena Fields Cursed Chest Location #1
The first Kena Fields Cursed Chest is very easy to spot inside the house I have marked on the map below.
As you can see, it's on the eastern side of the Fields area. To get this chest, while facing the house, head right, and you'll spot a pile of stones.
Place a bomb on them, then when they are in the air, head inside.
After you open the Cursed Chest, you'll have to defeat 10 enemies within the allotted time, a task that is very easy to accomplish using the Rot Hammer.
Once you do that, inside this specific chest, you'll find one of the 25 hidden Rots in the Fields. You can find the rest of them using this guide.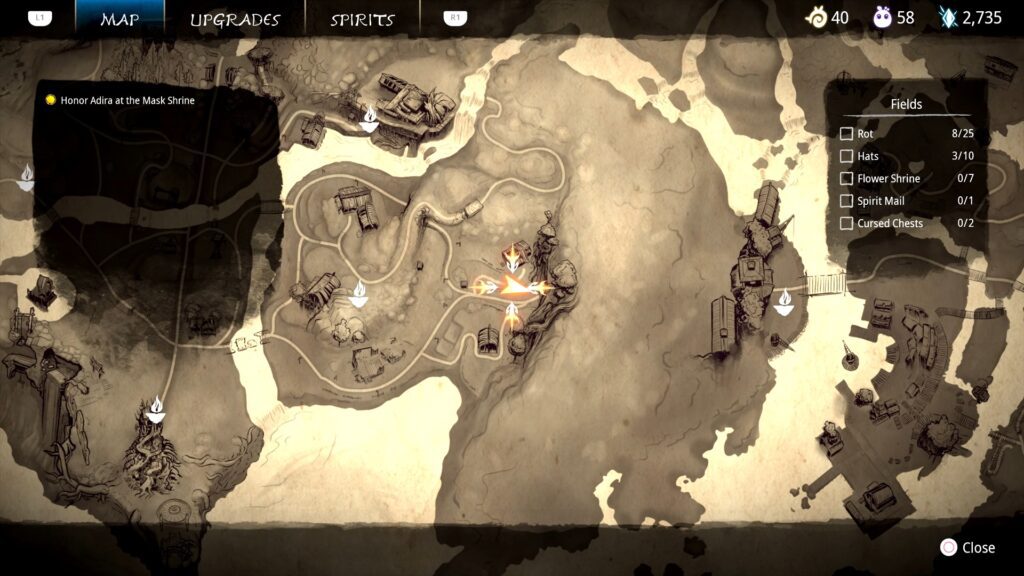 Kena Fields Cursed Chest Location #2
The second Kena Bridge Of Spirits Fields Cursed Chest is also quite easy to find and comes with a very accessible challenge.
This one, as you can see, is found northeast of the Hat Cart.
It's out in the opening, on top of a hill.
For this Chest, you'll have to kill all enemies, and there is no time limit; however, be advised that most of them will spawn at the base of the hill where you find the chest.
So basically, in the area below your current position.
Once you deal with them, open the chest to claim the Cowboy Hat.
It's one of the 10 Rot Hats in the Fields, and obviously, if you need help getting the rest of them, you can follow this guide.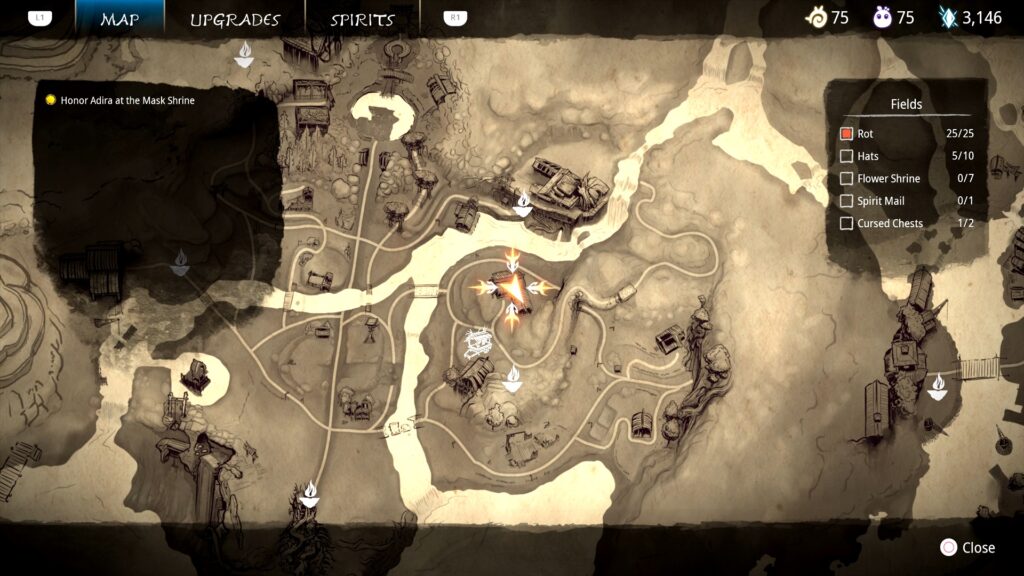 These are the two Kena Bridge of Spirits Fields Chests collectibles you'll need to find if you aim for the Platinum Trophy on PlayStation.