There is only one Storehouse Hat you'll need to collect when you reach the fourth area in Kena Bridge Of Spirits, but this collectible can be missed if you rush through the game without exploring every section.
The good thing, though, is that if you miss it, you can get it later, but it requires some platforming.
Since the Storehouse Hat is needed to unlock the Platinum trophy, below we'll discuss its location or how to find it.
Obviously, along with the cute Rot Hat, you'll also have to find the following collectibles in the Storehouse area:
Storehouse Hat #1 – Beetle
The only Kena Bridge Of Spirits Rot Hat in the Storehouse area is the Beetle Hat.
If you miss it while playing the story, you can return here to collect it, simply by using the Storehouse Fast-Travel Point.
Once inside the Storehouse, head to the large stone gate leading to the Fields area, but keep an eye on the left side of the tunnel for a pile of stones you can place a bomb on.
One of these stones has a crystal on it, and if you shoot it while in the air, you'll be able to turn it into some stairs.
Hop on it, then head left, and you'll reach a ramp.
Slide down, and in the next area, you'll see more platforms you can use to reach the upper section of this level.
Here is the actual location of the Storehouse Hat collectible on the map.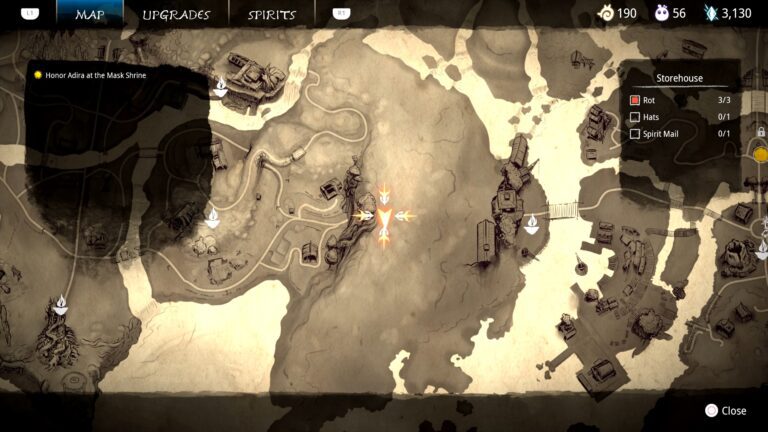 So, after you enter the area opposed to the round gate, on the left side, you'll see the following platforms.
Use a bomb on them.
Start climbing these platforms, then when you reach the top, turn around to spot a small cave.
At the end of this cave is a chest (pictured), and inside is the hidden Storehouse Hat.
This is the Kena Bridge of Spirits Storehouse Rot Hat you'll need to get if you want to clear this specific area in the video game developed by Ember Lab, then focus on getting the next 10 in the Fields.