The Dragon Ball Z Kakarot Alien Whitefish Fin Muscle is a cooking ingredient and a quest item you'll first need in order to complete the Selfish Bulma sub-story.
This specific side-quest is triggered during the second saga in the video game developed by CyberConnect2 for PC, PS 4, Xbox One, and Switch, and honestly, until you reach it, you will not even know that this ingredient exists.
However, one of the subscribers who follow my YouTube Channel asked me to cover this cooking ingredient as well; therefore, below, I'm going to explain how to get it.
Before we begin, let me tell you that if you wish to see how to complete Selfish Bulma in DBZ Kakarot, you can check my full video walkthrough here.
Great then! So, the Alien Whitefish Fin Muscle and where to find it?
The Alien Whitefish Fin Muscle is an ingredient that can be obtained only by completing fishing activities.
This means that you won't be able to get it, like other "fish-related" ingredients such as the Fish Eggs we discussed here.
Ok, but what type of fish do you need to catch? Well, as the name implies, an Alien fish!
How To Get Alien Whitefish Fin Muscle In Dragon Ball Z Kakarot
When you first receive the request to bring an Alien Whitefish Fin Muscle, you will be on Planet Namek with Bulma.
Most likely close to the fishing spot I have marked for you on the following map.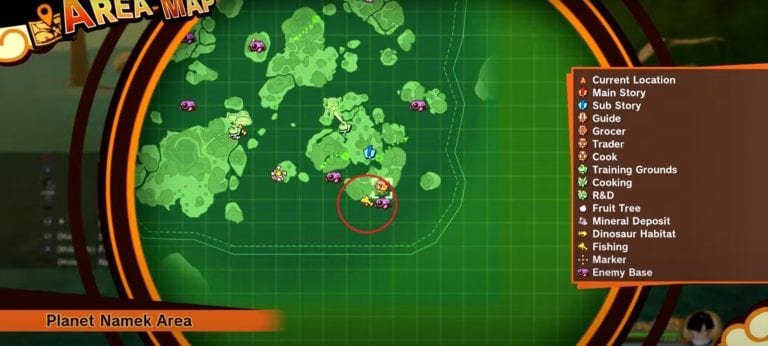 Basically, all you have to do; is to get to the closest fishing spot (the one marked on my map) and start fishing.
Your goal is to catch a Namekian Whitefish, which is actually a brown fish.
It looks just like the one below.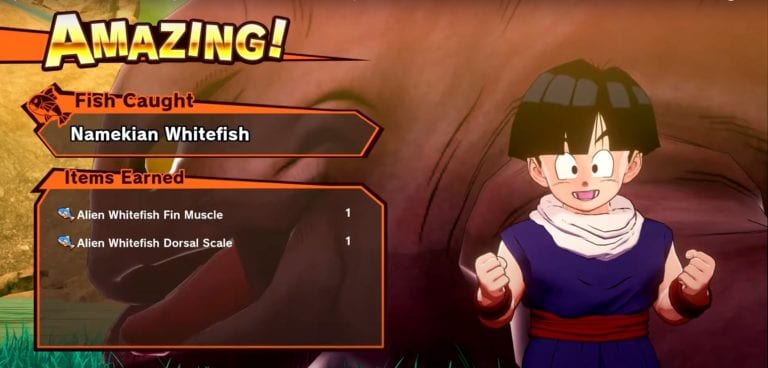 Alien Whitefish Fin Muscle Fishing
You don't have to use any bait to catch one, and honestly, it is really easy to fish as long as you target the largest fish in the spot.
To do so, make sure you wiggle your character's tail only when the largest fish is facing it while the rest are facing away.
This technique is often used in the game to catch even the rarest fish species, such as the Huge Trout, Turquoise Trout, Golden Trout, Scarlet Catfish, and even Goliath Catfish.
This means that it's a good idea to learn how to master the technique as it will help you a lot.
One thing worth mentioning is that the drop rate is different, meaning that you will most likely need to catch more than one Namekian Whitefish to get the ingredients for Bulma.
Let me know if you need additional help with this ingredient in the comments section below, and obviously, if you know better Alien Whitefish Fin Muscle farming locations.