Also required for the Yajirobe and Korin side quest or sub-story, the Dragon Ball Z Kakarot Scarlet Catfish is a type of catfish that's trickier to get compared to the Goliath Catfish.
The good thing, though, is that once you catch a Goliath Catfish, or while fishing for one, there is a chance to catch a Scarlet Catfish as well, simply because you'll be fishing in the same spot.
Additionally, once you start the sub-story mentioned above by talking to Yajirobe, all you need to do is head to the fishing spot nearby.
So, there is no need to fast-travel to a different area to catch a Scarlet Catfish.
Last but not least, if you already master the fishing technique we discussed by catching Turquoise Trouts, Golden Trouts, or Huge Trouts; catching a Scarlet Catfish is like a walk in the park.
If not, here is what you have to do.
Where Can You Find Scarlet Catfish In DBZ Kakarot
Because as I said, the fishing spot is the same as the one we used to catch a Goliath Catfish, the map you see below is also the same.
The fishing spot is near Yajirobe since the quest you receive from him is actually the first one when you'll be asked for a Scarlet Catfish.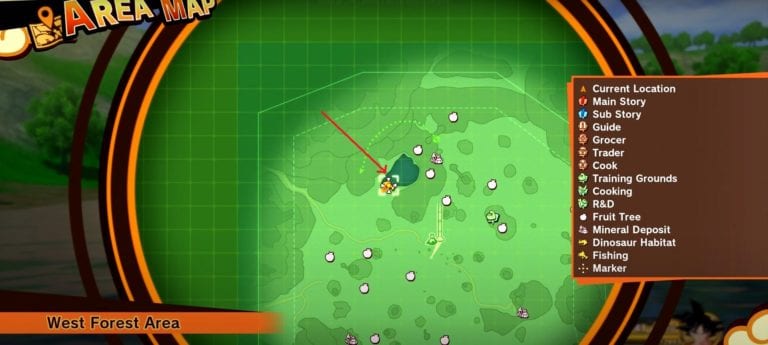 How To Catch A Scarlet Catfish
Now that we know where to find it let's see how to catch one.
The first thing you should know about the Scarlet Catfish is that it is a rare type of fish. This means two things: a low drop rate and a lot of patience.
To catch one, you should also use bait. Any bait should help you, but I suggest Holy Crabs.
The fishing method is the same as the one we have used before.
You'll want to wiggle the tail when a medium or large-size fish is facing your character, and the rest of them are facing away.
The Scarlet Catfish is a medium-sized fish, although larger exemplars exist.
Do not aim for smaller fish because you'll notice that they are different species.
Finally, you need to be patient and keep fishing, although your luck should also be considered. As in real-life fishing.
This fish looks just like the Goliath Catfish, but it is brown.
You can easily identify it by the two whiskers, which kinda define this fish species.
Pulling out this type of fish requires patience and a bit of luck.
Let me know if you managed to catch one and the bait you have used in the comments section below or if you need help getting one.
Furthermore, check our DBZ Kakarot Wiki Hub here for guides on other fish species and materials you may need while playing the game developed by CyberConnect2 for PC, PlayStation 4, Xbox One, and Nintendo Switch.