The Dragon Ball Z Kakarot Huge Trout is by far one of the rarest types of fish you'll need to catch in DBZ Kakarot, and since Martin Glee asked me on my YouTube Channel to create a location guide for it, below I'll explain where to find this type of trout.
Before we begin, let me tell you that this type of trout is not a quest item, which means that nobody is going to ask you for it; however, if you intend to fill all your Z Encyclopedia entries, then you'll have to catch one Huge Trout.
Furthermore, it is also worth mentioning that the Huge Trout should not be confused with the Turquoise Trout or the Golden Trout.
Those are different types of trout, and for them, we have other fishing spots. As well as guides.
Where Can You Find Huge Trout In DBZ Kakarot
As you can see, the answer to this question is the Southeast Mountains Area.
On the map below, I have marked the fishing spot you will need to visit.
What makes this spot quite different than the rest is the fact that on your map, its icon is partially hidden by the one from a nearby Mineral Deposit.
So pay close attention to your map.
Additionally, to reach this fishing spot, you'll want to fly above a waterfall. Otherwise, you won't be able to see it.
That's why I have marked it on the map. But why this specific fishing spot?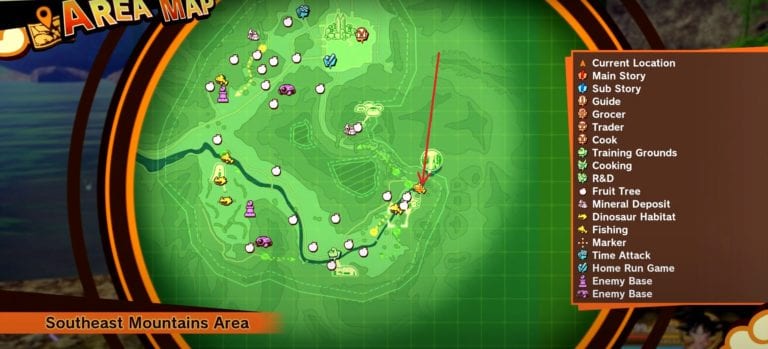 How To Catch A Huge Trout
Because as I have mentioned in my guide for the Wolf Meat, some animals and fish species in the video game developed by CyberConnect2 for PC, PlayStation 4, Xbox One, and Nintendo Switch; have the same habitats as in real-life.
This means that the Huge Trout in DBZ Kakarot lives in rivers with clean water and a lot of oxygen received from waterfalls.
Just like the one on the map above.
Good, so how do you catch one? Do you need to use bait?
Believe it or not, no. You don't need bait, but instead, you need a lot of patience. A LOT!
Luck is also important, obviously. Let me explain why.
On my first attempt, I spent 30 minutes fishing in the spot on the map above.
Yes, 30 minutes, then I gave up.
I returned there several hours later, and I got a Huge Trout in less than 5 minutes.
So, patience is the key here, and a little bit of luck.
Since the Huge Trout is a big type of fish, when fishing, try to wiggle your character's tail only when the largest fish in the spot is facing you and the rest are facing away.
If all of them have the same size, you'll have to rely on luck.
Finally, what you are looking for is a large brown type of fish with visible teeth. Just like the one in the following picture.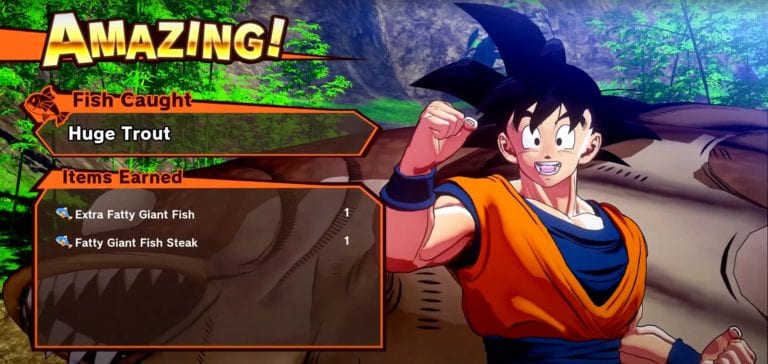 If by any chance you encounter difficulties in finding the fishing spot on my map, drop a comment below, and I'll guide you to it.
Finally, if you need help with other materials and ingredients in the game, simply check our Dragon Ball Z Kakarot Wiki Hub here.