Not as rare as the Huge Trout or even the Golden Trout; the Dragon Ball Z Kakarot Turquoise Trout is also required to fill all Z Encyclopedia entries in the latest DBZ video game; and for this reason, in the following guide, I'll tell you where to find it.
As always, before we begin, it's worth mentioning that the Turquoise Trout is not a quest item, which means that no NPC or quest-giver will ever ask you for one.
However, as I have mentioned in the video guide on my YouTube Channel, this type of trout is only used if you want to fully complete the Z Encyclopedia and for, let's say…bragging.
Additionally, you'll notice that it's way easier to catch than the Huge Trout as long as you know where to look for it.
This brings us to the next section in this guide and to Darlinge Polynya.
Where Can You Find Turquoise Trout In DBZ Kakarot
In Dragon Ball Z Kakarot, Darlinge Polynya is the first place to check when you're looking for rare animals and fish species.
It is the same area where you'll find Premium Reindeer Meat, Frozen Rabbit Meat, Golden Trouts, and even Azure Catfish.
Since there are only a few fishing spots here, finding the Turquoise Trout is very easy.
On the map below, you can see my favorite fishing spot, which is marked by a red arrow.
This is where you'll find the Turquoise Trout and also the Azure Catfish and Golden Trout, in case you need them.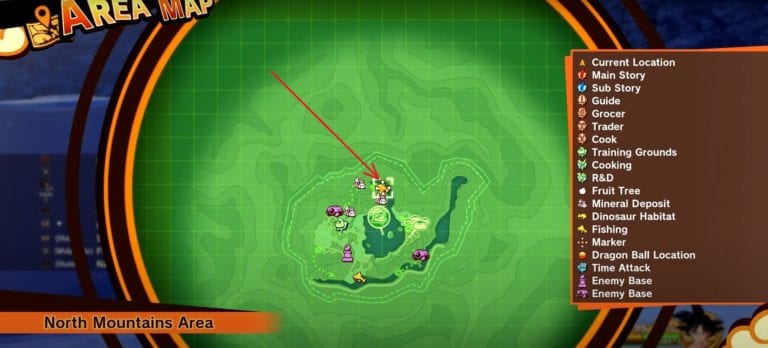 How To Catch A Turquoise Trout
When you get to this location, all you have to do is start fishing using the same strategy I have explained for other fish types and fish-related cooking ingredients (Alien Whitefish Fin Muscle and Fatty Giant Fish, for example).
There is no need to use any bait or lure; however, you need to be patient, and you also need to aim for the medium or largest fish in the water.
You can do this by wiggling your character's tail when the largest fish is facing it.
The rest of them must look away.
Your goal is to catch a blue trout like the one in the following image.
Most likely, you'll be able to do this in less than 5 minutes because of the high drop rate at this fishing spot.
Obviously, there are other fishing spots in Darlinge Polynya you can try and share in the comments section below; but this one, in my opinion, has the best drop rate.
Make sure you check it out first, and don't forget to visit our DBZ Kakarot Wiki Hub here for other materials and fishing locations.