Another common cooking ingredient featured in Dragon Ball Z Kakarot is the Great Energetic Fish; however, unlike other ingredients we have covered so far, the DBZ Kakarot Great Energetic Fish is also a trading quest item you'll need early in the game; assuming you wish to complete the Tough Break for Turtle sub-story.
Before we begin our guide on where to find the Great Energetic Fish in Dragon Ball Z Kakarot, let's take a closer look at the side-mission mentioned above.
Tough Break for Turtle is an accessible side-quest (Lvl. 18) that becomes available early in the game.
You can start it in South-Eastern Islands simply by talking to Turtle as Gohan.
At this point, you will be asked to find several ingredients for your turtle friend; and these ingredients are 6 Chicken Eggs, 7 Rice, and 1 Royal Tomato.
The first two are really easy to get.
You can follow my guide on how to get Chicken Eggs, or you can buy them from a vendor.
Rice can also be purchased from all vendors, and it is quite cheap.
But the Royal Tomato is a one-of-a-kind item.
To get it, you'll have to talk to a farmer in Yamcha's Hideout. And this guy will not give you his Royal Tomato unless you bring him 10 Great Energetic Fish.
Therefore in this guide, I'll show you a great spot for farming Great Energetic Fish in the video game developed by CyberConnect2 for PC, PlayStation 4, Xbox One, and Nintendo Switch.
Additionally, feel free to check the Tough Break for Turtle video walkthrough I have uploaded on my YouTube Channel if you need help completing the said sub-story.
Now, let's deal with the Great Energetic Fish.
How Do You Get Great Energetic Fish In Dragon Ball Z Kakarot
After you talk to that stubborn farmer, the area you want to visit is Lacco Village.
Fast travel to that location, then look for the same spot as the one I have marked on the map below.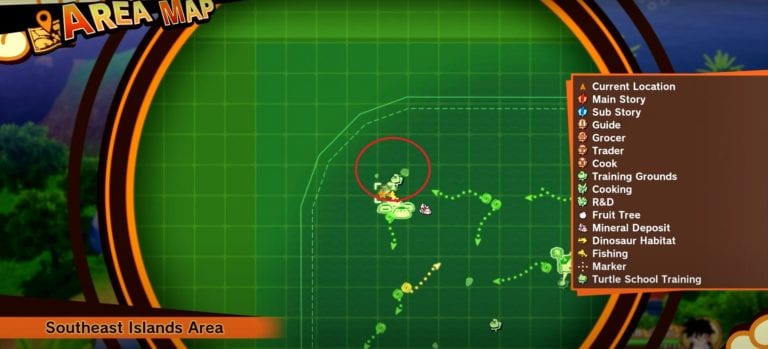 As you can see, the area I have marked is just north of the said village.
When you get there, fly up and look for small packs of birds.
Yes, birds, because the birds gather above schools of Great Energetic Fish. Cool right?
So, what you want to do is to use the birds as indicators for Great Energetic Fish schools, which obviously can be found underwater.
You can see some of these birds in the following picture.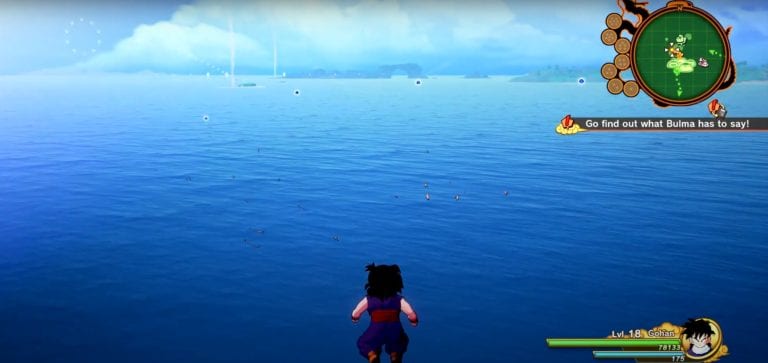 The moment you see a pack of birds, dive straight below them, and you'll find a school of fish.
Get them, then fly back up and look for more birds.
Farming Great Energetic Fish Schools
Once you exhaust all birds at this location, travel to another area, then return to Lacco Village to see that the birds respawn.
It's also worth mentioning that the Dragon Ball Z Kakarot Great Energetic Fish has a high respawn rate, meaning that by the time you finish farming the last spot, you'll see that the first one already respawned.
Here is a picture showing what schools of Great Energetic Fish look like in DBZ Kakarot.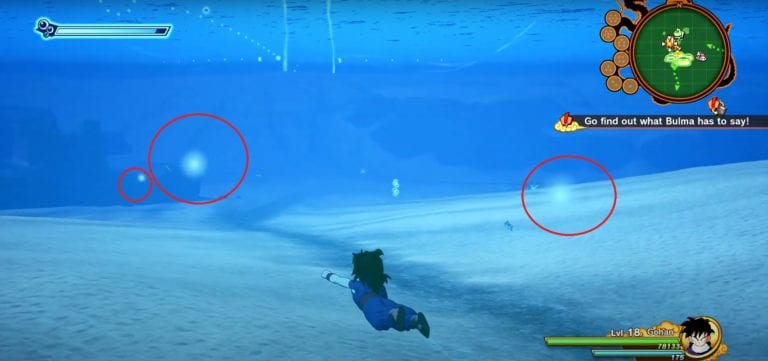 Once you get the required amount of fish, give it to the farmer and claim the Royal Tomato.
As you can imagine, there are other spots to get this type of fish in DBZ Kakarot, so feel free to let me know what is your favorite location.