The Dragon Ball Z Kakarot Premium Reindeer Meat is (as I already mentioned in my Frozen Rabbit Meat location guide) one of the rarest types of meat you'll need to find in DBZ Kakarot.
The Premium Reindeer Meat is, in fact, so rare that I was able to find it in a single spot which I'm going to share with you guys in this article.
So here is how to get the Premium Reindeer Meat in Dragon Ball Z Kakarot, the video game developed by CyberConnect2 for PC, PlayStation 4, Xbox One, and Nintendo Switch.
Where Is Premium Reindeer Meat in DBZ Kakarot
Since a Reindeer is, in fact, a type of Caribou that lives in snowy areas, the location you'll want to visit is Darlinge Polynya.
This is where you'll find the only pack of Reindeer or Caribous in DBZ Kakarot.
Some players reported that they are also available in the Desert Area close to Nam's Village, but I wasn't able to find any.
And I've put a lot of hours into this game, scouting every inch.
That's why the location you see on the map below is the only one I recommend checking.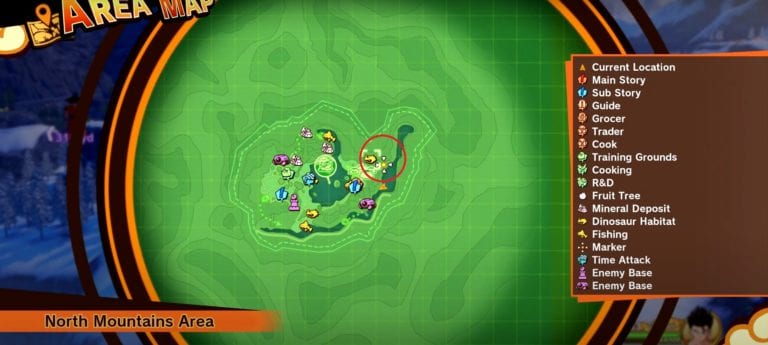 The moment you reach the North Mountains Area (immediately after the loading screen), turn right, and in the distance, you should see a large boulder.
Or a large rock, like the one in the following picture.
Travel close to it, and look behind to spot a pack of Reindeer.
Chasing (hunting) them is quite easy, and you should be able to clear the pack in no time.
These are the Caribous you'll want to find and hunt in order to get the rare Dragon Ball Z Kakarot Premium Reindeer Meat.
How To Farm Premium Reindeer Meat
Obviously, for farming Premium Reindeer Meat in Dragon Ball Z Kakarot, all you have to do is to travel outside this area (to another location) and then return to the same rock.
You'll notice that the Reindeer pack respawned, and more Reindeer Meat is waiting for you.
If by any chance you encounter difficulties in finding Caribous in Dragon Ball Z Kakarot, feel free to ask your questions in the comments section below.