Bamboo is a Ghost of Tsushima resource and crafting material.
It can be harvested while exploring the world, usually from random locations.
The Ghost of Tsushima Bamboo, just like other resources, plays an important role when it comes to upgrading Jin's equipment.
Especially his bow.
As such, you need to collect a decent amount in order to upgrade Jin's bows.
Throughout the following Ghost of Tsushima Bamboo location guide, we will discuss this crafting material; and how to use it in the video game developed by Sucker Punch.
Let's start with some general details.
Usage
This material is used in crafting and for bow upgrades.
Capacity
Jin can carry a total of 500 units in Ghost of Tsushima.
Item Type
Bamboo is considered a Ghost of Tsushima resource.
Description
"A common wood used by Bowyers to upgrade ranged weapons. It grows throughout the wilderness of Tsushima."
Similar Materials
Yew Wood and Wax Wood are two materials quite similar to this type of wood.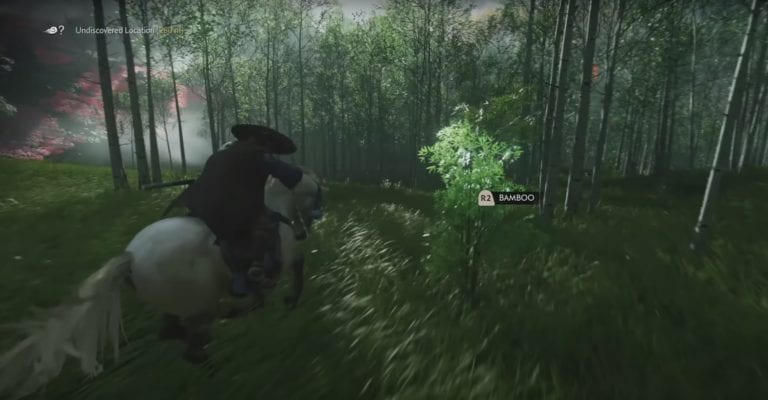 What Is Bamboo Used For In Ghost Of Tsushima
As a crafting material along with other types of wood, it is used to upgrade Jin's bows.
This is done at any Bowyer in friendly or liberated villages.
When a new upgrade is available, you will see the icons of those villages glowing yellow on your map.
How Do You Get Bamboo
This resource is so common that you will find it basically everywhere.
Just look for the glowing green bushes while exploring the world.
You can also find reeds on the ground while liberating the occupied Mongol Territories.
Equipping the Charm of Inari increases the amount you will receive when collecting this material.
By the time you finish the story, you'll have enough to upgrade your Bows without having to farm for it, but if you insist, you can do that using this cool Bamboo farming method I have found.