Ratchet & Clank Rift Apart Ardolis Gold Bolts also count as collectibles you have to find on the eighth planet of the video game developed by Insomniac Games for PlayStation 5.
There is a total of 2 Ratchet & Clank Rift Apart Gold Bolts that must be acquired while exploring Ardolis.
As such, below I'll tell you everything you need to know about the Gold Bolts collectibles locations on Planet Ardolis and how to get them because even if these appear on your map, some can be problematic.
Ratchet & Clank Rift Apart Ardolis Gold Bolts Locations
Before we move forward, the usual reminder that the guide covers only the Gold Bolts on Planet 8: Ardolis, but if you need additional help with the rest of the collectibles, you can find them here:
How To Get The First Gold Bolt On Ardolis
The first Ratchet & Clank Rift Apart Ardolis Gold Bolt is on the northwestern side of the planet, as pictured on my map below.
This area is reached while following the main quest, and it involves some Pirate Trials that are mandatory for story progression.
One of these trials comes with a karaoke contest. Make sure you complete it, then enter the next room where you should see the skeleton of a Grunthor.
While facing the skeleton, turn left, and you'll notice the Gold Bolt, which is locked behind some bars.
On the right side is a computer that triggers a Glitch Challenge (pictured).
Finish the Glitch Challenge, and the Gold Bolt is yours.
How To Get The Second Ardolis Golden Bolt
The second Ardolis Golden Bolt requires your presence on Undertow Beach.
This is the trickiest Gold Bolt because to get it; you'll have to find the Speetle Nest on my map below.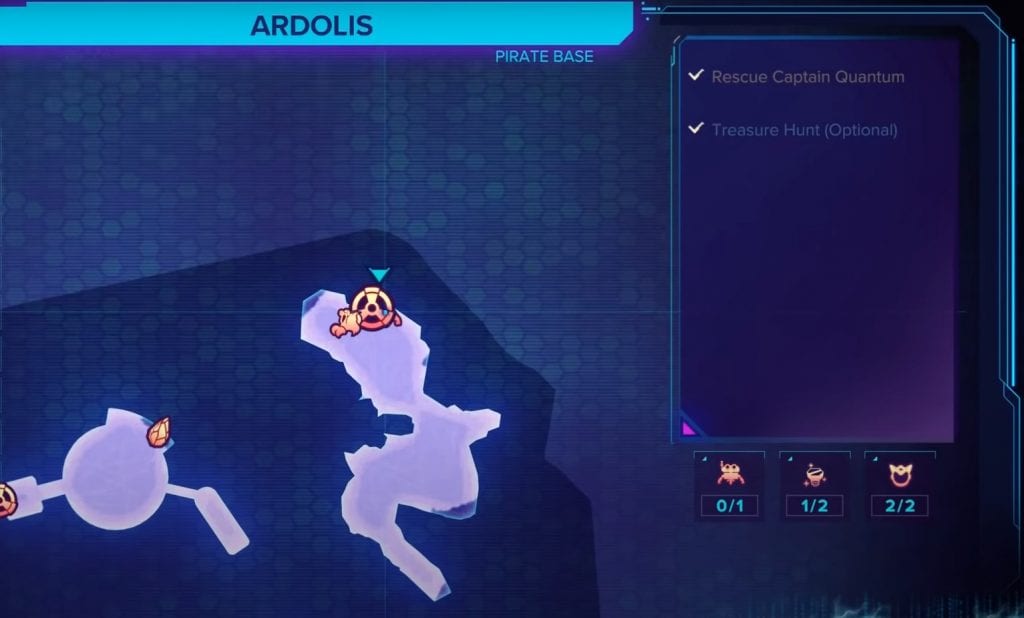 As such, approach this collectible after you get the Spybot (use this guide to get to the beach).
After you collect the Ryno Spybot, disturb the nest and hop on the Speetle.
Head straight ahead and get on the small ramp, then hit the crates on the small island.
Now, slightly turn right and get to the next ramp.
Hold R1 while going towards the ramp, and while in the air, you'll collect the second bolt.
Great job! You just found all Ratchet and Clank Rift Apart Gold Bolts on Planet Ardolis, which means you have only 3 left waiting for you on Viceron.