Ratchet & Clank Rift Apart Blizar Prime Gold Bolts count as collectibles you have to find in the video game developed by Insomniac Games for PlayStation 5 when you reach the fifth planet.
There is a total of 2 Ratchet & Clank Rift Apart Planet Blizar Prime Gold Bolts that must be acquired.
As such, below, I'll tell you everything you need to know about the Gold Bolts collectibles locations on Blizar Prime and how to get them.
Even though these appear on your map, some can be quite challenging to collect.
Ratchet & Clank Rift Apart Blizar Prime Gold Bolts Locations
Before we move forward, a small reminder that the guide covers only the Gold Bolts on Blizar Prime, but if you need additional help with the rest of the collectibles, you can find them here:
How To Get The First Gold Bolt On Blizar Prime
The first Ratchet & Clank Rift Apart Gold Bolt on Blizar Prime; is a bit tricky to get.
To make the whole search easier, start from the Blizon Crystal on the map below.
After you hit the Crystal, if you look up in front of you, you should be able to spot the Gold Bolt.
To get it, while facing the floating platform with the Gold Bolt, head left, jumping on the platforms under the Gold Bolt.
Your goal is to reach the round structure on the left side of the collectible but behind it.
Here you'll be able to spot several floating platforms you can jump on. They look like the one in my screenshot.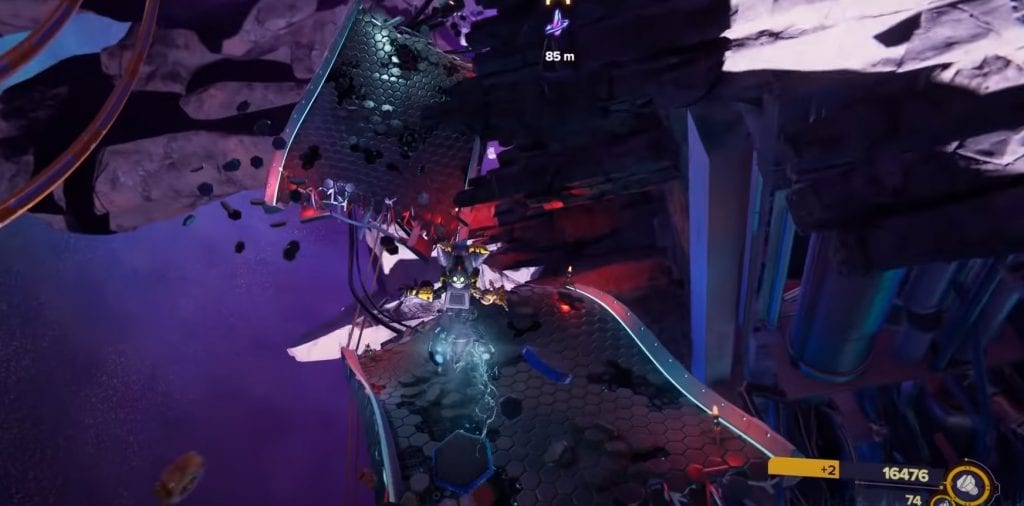 Using the magnetic boots, you'll be able to step on the floating bridges. Simply jump from one bridge to another, and they'll lead you to the collectible.
How To Get The Second Blizar Prime Golden Bolt
The second Blizar Prime Gold Bolt is a bit easier to find and follows the same logic.
You can see it on the following map.
To get to this one, you'll need to hit another Blizon Crystal, which is found in the northeastern area leading to Chef Tulio.
Since you'll use these Blizon Crystals a lot, it's quite impossible to miss the Gold Bolt in my screenshot.
And that's about it. You just found all Ratchet and Clank Rift Apart Gold Bolts on Planet Blizar Prime. Ready to get those on Torren IV next?