After defeating the Nightingale in Cauldron Lake during Return 2: The Heart chapter of Alan Wake 2, you'll have an optional objective to explore the previously flooded area. As you cross the Streamside bridge in the northwest part of the Cauldron Lake, you will encounter an intriguing puzzle known as Nursery Rhyme.
When you come across the puzzle, you'll notice five distinct symbols and a sheet of paper containing a poem. This poem serves as a clue to help you solve the puzzle.
Where To Find the Picnic Area Nursery Rhyme in Cauldron Lake
You can find this Nursery Rhyme on the western edge of the Cauldron Lake. It's nestled just north of the Crow's Foot Hills, west of the Private Cabin break room, and south of the Witchfinder's Station. To discover this puzzle, simply cross the Streamside bridge, and you'll spot it on the ground near a picnic table.
How To Solve the Picnic Area Nursery Rhyme Puzzle in Alan Wake 2
As you approach the Nursery Rhyme on the ground, you'll see five different symbols drawn with chalk. Additionally, there is a sheet of paper that holds a clue for you to decipher. Here's what it says:
"One for light
Two for darkness
Three for a Fight
Four for a struggle
Five birds for injury
Six for Misery
Seven for the ending
whatever that maybe."
This poem hints that birds might have the answer. On the nearby picnic table, you'll find a tiny Crow Doll. After you pick it up, return to the puzzle and place it on the sun symbol, as pictured in the image below. Saga will let you know that something's different after a quick flash of darkness. Take a look at the picnic table, and you'll spot the Hammer Charm that's magically appeared.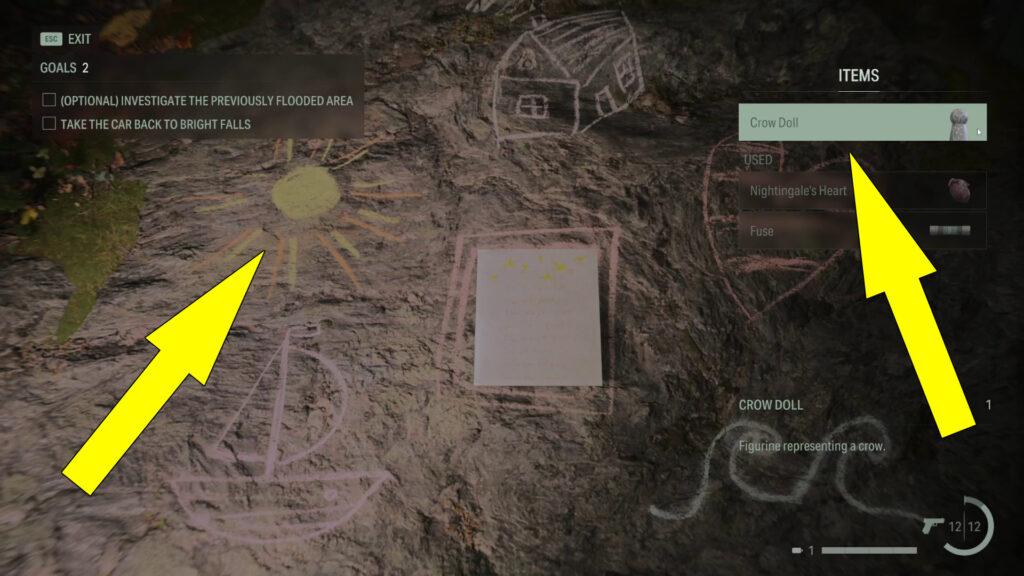 This charm has a unique effect that allows your attacks to stagger enemies more often. Oh, and don't forget to grab the Crown Doll, too! You'll need it for more puzzles, such as the Private Cabin Nursery Rhyme or the Rental Cabins Nursery Rhyme.