Once you've completed the Overlap Ritual at the Kavala Knights Workshop and defeated Thornton and Mulligan during the Return 3: Local Girl chapter in Alan Wake 2, you will find that the previously flooded areas are now open for exploration.
Among these areas lies the southern part of the Lighthouse Trailer Park, where you will stumble upon an intricate Nursery Rhyme puzzle. This rhyme can be found at the very end of the pier, as shown on the map below. Allow me to provide you with the necessary steps to successfully unravel the puzzle.
How To Solve the Lighthouse Trailer Park Nursery Rhyme Puzzle
At the end of the pier in Lighthouse Trailer Park, there is a Nursery Rhyme scene with the following riddle to solve:
"The Old Fisherman had
great luck
His catch at Sea was
beyond belief
But the Hungry Guest found
relief
In the Fisherman's bountiful
truck."
In order to solve this cryptic riddle, we need to collect a few dolls that are conveniently located nearby. You can find the Wise Elder Doll and the Bear Doll sitting by the sink at the Fish Clean workshed. Even though you won't need the Mother Doll and Child Doll for this rhyme, you can find them on the green bench just before stepping on the pier. These will come in handy for other rhymes you'll find while exploring.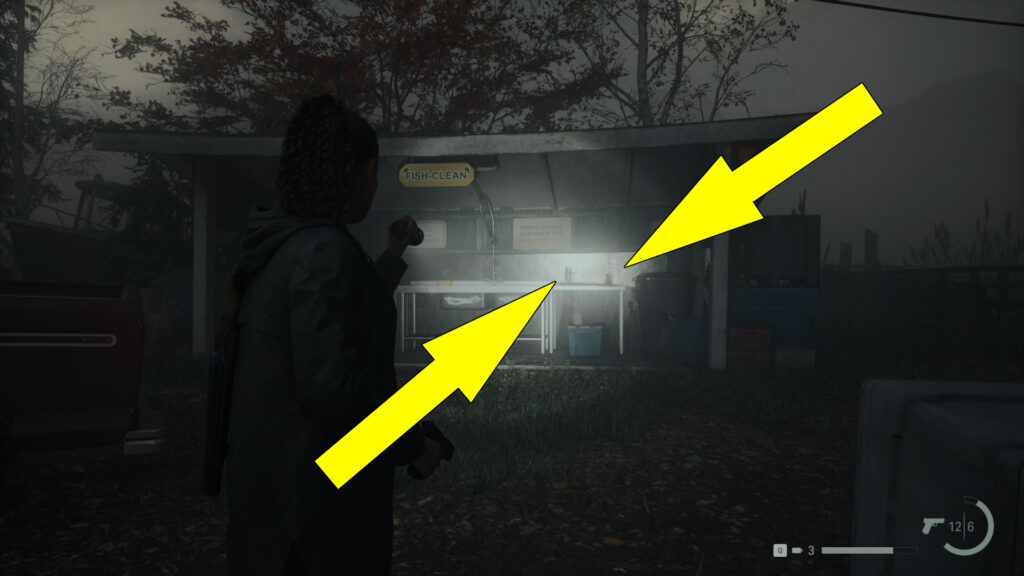 To solve the Lighthouse Trailer Park Nursery Rhyme puzzle in Watery, start by placing the Wise Elder doll on the waves, representing the "Old Fisherman at Sea". However, the "Hungry Guest" is actually the Bear Doll. Place it on the candy icon to complete the rhyme puzzle.
Now that you've solved the puzzle, you'll notice a trail of dead fish along the pier behind you. Follow the trail, and it will lead you back to the Fish Clean workshed. Inside, you'll discover the Coffee World Token Charm by the sink.
However, be aware that there is also a massive Taken with a hammer in there and two normal ones lurking around the area. You must defeat them before you can collect the Coffee World Token Charm. When equipped, it improves the quality and quantity of found resources.
Don't forget to collect the Trailer Park Cult Stash nearby for supplies that will aid your journey to solve the mysteries of the Cauldron Lake murders in Alan Wake 2.