Once you've defeated the Nightingale in Cauldron Lake during Alan Wake 2's Return 2: The Heart chapter, you'll be given the choice to explore the once-flooded area. In this part of the map, across the river, you'll encounter the Private Cabin, one of the two break rooms in the area.
Just a stone's throw away from the cabin, you'll come across a Cult Stash. It has a note on top that says "Rock Rock Tree." Now, this note is like a little puzzle, and if you manage to crack it, you'll gain access to the Private Cabin Cult Stash.
Where To Find the Private Cabin Cult Stash in Cauldron Lake
This Cult Stash is located on a slightly steep path near the river, just a short distance south of the Private Cabin at Cauldron Lake. Feel free to use the map provided below to find your way to the stash easily.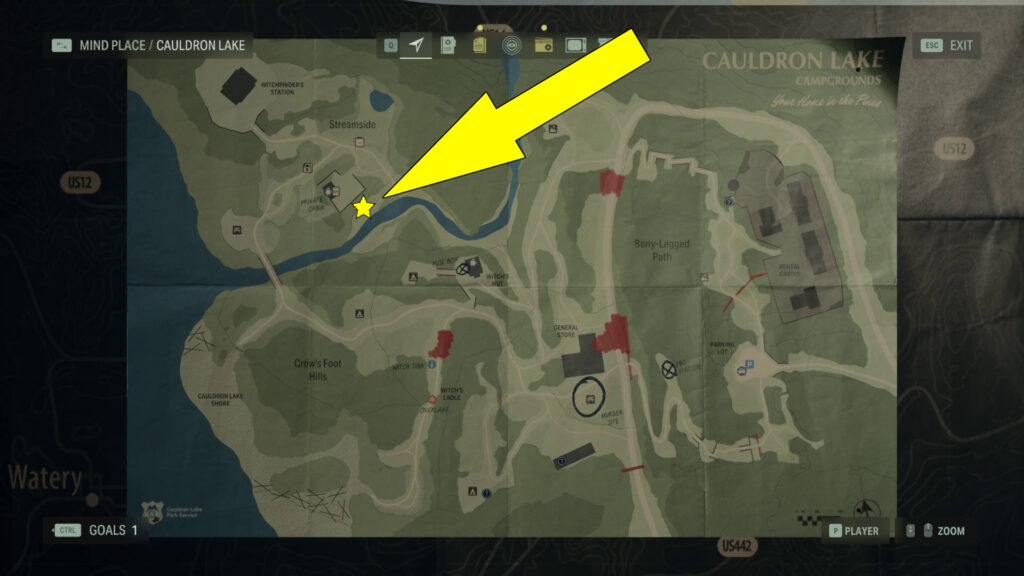 How To Solve the Private Cabin Cult Stash Puzzle in Alan Wake 2
The first thing you'll need to do is find three simple equations, and lucky for you, they're all pretty close to the Cult Stash. One equation is actually scribbled on the rocks behind the stash, another is on a big rock past the stream to the south, and the last one can be found on a tree to the west.
Now, here's the important part: you'll need to use your flashlight to reveal the entire equations on those objects. Let me break it down for you:
The equation on the rock behind the stash is 3 + 3.
The equation on the rock past the stream is 7 – 2.
And the equation on the tree to the west is 6 + 2.
Once you've solved these three equations, you'll end up with the numbers 6, 5, and 8. And guess what? Those numbers are the code to open the Private Cabin Cult Stash! So, make sure to turn the top number disc to 6, the middle number disc to 5, and the bottom number disc to 8. Once you've done that, you'll be able to collect the contents of the stash right away.
Inside the Cult Stash, you'll find a Hand Flare, Propane Tank, and First Aid Kit. Once you've solved the puzzle and collected the items from the stash, it might be a good idea to make a quick stop at the Private Cabin mentioned earlier.
Here, you can save your progress in Alan Wake 2, which means you won't have to go through the Cult Stash puzzle again if you happen to meet an unfortunate death. Additionally, there's a Nursery Rhyme in front of the Private Cabin, and it's definitely worth checking out.