Sniper Elite 5 Friedrich Kummler is a kill challenge you need to complete during the Occupied Residence mission in the latest video game published by Rebellion.
It's easy to kill Friedrich Kummler using a gun, but crushing him with the chandelier that's when things get tricky.
Also, if you crush him with the chandelier, you will unlock the K98k bonus weapon.
Therefore, in the following guide, we will show you where to find Friedrich Kummler in Chateau Estate and how to crush him using the chandelier.
Where To Find Occupied Residence Friedrich Kummler In Sniper Elite 5
According to the intel, Friedrich Kummler can be found in the Ballroom in the Chateau Estate in the northern part of the map.
You will start the Occupied Residence mission in the southernmost part of the map, in a Resistance Camp.
Make your way on the eastern road through the small river and forest until you reach the Chateau Stables. Here you can also find two Classified Documents and a Workbench – Pistol.
Head northwest to reach the Chateau Courtyard and make your way without alerting the enemies.
You can use your binoculars and Focus Skill to know where the soldiers are, which ones you can take out without alerting the others, and which ones to avoid. Also, don't forget to use a silenced weapon.
Get inside the Chateau Estate through the door on the northeastern part (we marked it in the image above).
That's the entrance to the Ballroom where you will find the kill target, Friedrich Kummler.
How To Crush Friedrich Kummler With The Chandelier In Mission 2
Once inside, get cover on the wooden fencing to avoid being spotted, and use your binoculars to identify the Sniper Elite 5 Mission 2 kill target amongst nazi officers.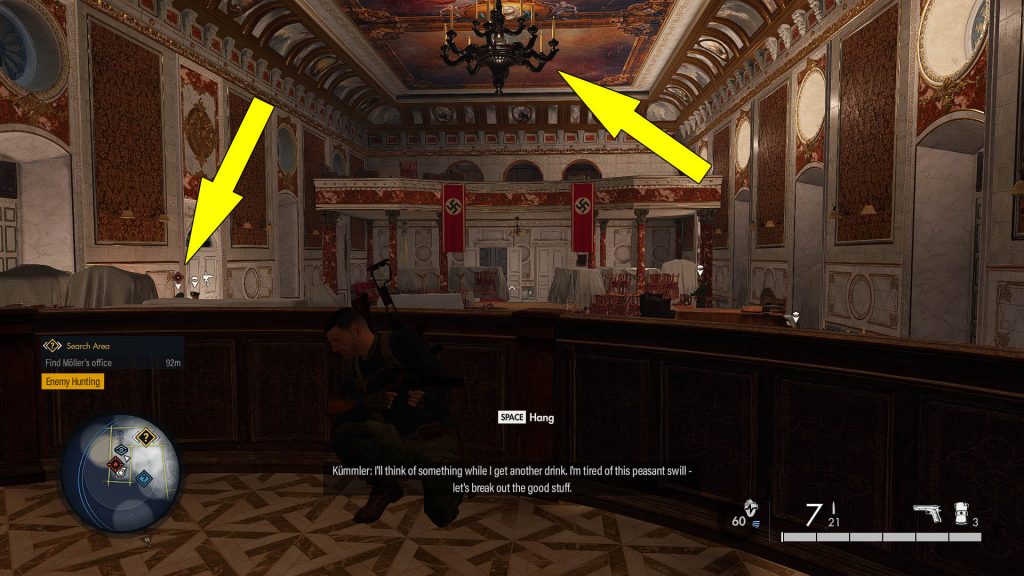 Wait for the target to finish the conversation with the other nazi officer.
He then will move to the center of the room, right under the chandelier hanging at the top of the ceiling.
When the target gets close to the table in the middle of the room, take out your sniper and scope at the chain holding the chandelier, hold your breath, and shoot.
Holding your breath will help you aim correctly at the chandelier's chain.
The Chateau's chandelier will drop exactly on our kill target, completing our optional task and challenge.
And that's how you crush Friedrich Kummler using a chandelier in Sniper Elite 5. If you have any questions or suggestions, drop them in the comments section below.