Horizon Forbidden West  Red Crystal Anomalous Growth Blocked Paths are the first obstacles you'll encounter when reaching The Daunt or the first area Aloy gets to explore in the west.
The HZFW Anomalous Growth Blocked Paths can prove quite annoying at first because, in the latest video game developed by Guerrilla Games, they'll somehow force you to revisit the areas you already explored unless you know how to remove them and focus on getting the required tool.
As such, without spoiling the game, throughout the guide below, I'll tell you everything you need to know about the Horizon 2 Forbidden West Anomalous Growth Blocked Paths or the paths blocked by the Red Crystal Flowers you'll most likely encounter.
Before we start, though, make sure you don't confuse these with the Metal Flowers covered here.
Horizon Forbidden West Anomalous Growth Blocked Paths – What Are They
The Horizon II Forbidden West Anomalous Growth Blocked Paths are secret areas that can't be accessed when entering The Daunt.
They are scattered around the map, and the most important thing you should know is that they are not collectibles, but they can hide collectibles.
Therefore as you can guess, they are pretty important and quite bugged for now.
So, when you enter The Daunt area on your map, you'll see a lot of icons that look like the one in my image below.
When you approach one of these locations, you'll see a Red Crystal Flower, which Aloy can scan using her Focus.
At first, these Horizon Forbidden West Red Crystal Flowers are known as Anomalous Growths, based on the information Aloy has early in the game.
Here is what an HZFW Anomalous Growth looks like.
Now, the question here is how do you remove the Red Anomalous Growth because if you scan them, you'll get the following description:
Anomalous Growth

Hybridized crystalline and fungal growth of unknown origin. Invulnerable to impact. Special gear required to clear.
So, to get rid of these, you'll need the special Horizon Forbidden West Anomalous Growth Tool.
Anomalous Growth Blocked Path Missing Tool – Where To Find
The tool in question is known as the Igniter, and it can be unlocked via story progression.
Precisely, you have to play the Death's Door main quest or the fifth main mission in the video game.
One of your objectives during the said quest is to craft the Igniter once you gather a Leapleasher Coil.
This Coil is dropped frequently by Leapleashers found close to the quest's location.
Once you craft the Igniter, you'll be able to remove all HZFW Anomalous Growth Red Crystal Flowers on your map simply by interacting with them.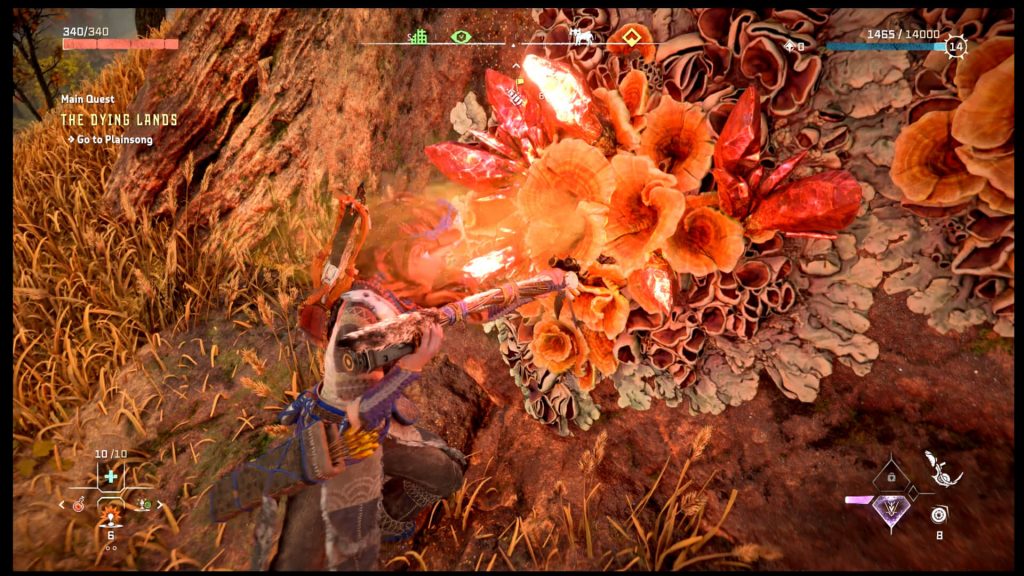 Last but not least, you'll find that these Red Crystal Flowers are named Firegleams.
Firegleams Locations Map Bug – How To Fix
Along with their real names, after Aloy gets the Igniter Tool that allows her to remove the Anomalous Growth, you'll also unlock all their locations on your map.
But the problem here is that these icons are bugged for some players.
Simply put, if you start removing all Horizon Forbidden West Firegleams on your map, if you die, there is a chance for these icons to re-appear on your map.
Typically, once you remove a Firegleam, the associated icon disappears; however, due to this bug, all Firegleams locations you already explored re-appear, but the Firegleams remain removed in the game.
This can lead to a lot of confusion because you'll eventually have to recheck all locations. As you can see on my map below, this HZFW Firegleam was removed, but the icon is still there.
If this happens to you, your best bet is to create a manual save and then reload the game; however, they will re-appear if you die, so you'll have to repeat this step constantly.
Furthermore, this Firegleams Map Bug fix is not 100% bulletproof, meaning that it can work or not; however, this is the only one we have so far until the game gets patched.