Horizon Forbidden West Charger Horns are quest items you'll have to find if you wish to complete the side-quest named A Bigger Boom in the latest video game developed by  Guerrilla Games.
The HZFW Charger Horns are relatively easy to find, and alongside the Fanghorn Rib, they are pretty important for two NPCs you'll meet in Chainscrape.
So, if you're wondering how to get the Horizon 2 Forbidden West  Charger Horns for A Bigger Boom side-quest, throughout the following guide, I'll tell you everything you need to know.
HZFW A Bigger Boom Side Quest – How To Start
Horizon Forbidden West A Bigger Boom quest is available in Chainscrape, and you can play it after you finish the third main quest named To The Brink.
You can see the quest giver's location on my map below.
Approach the exclamation mark, and you'll meet two female NPCs: Boomer and Delah.
You should be able to spot them behind a workbench.
Once you talk to them, they'll tell Aloy that they are working on a new weapon that will improve the Javelin Thrower.
To complete their experiment, however, they need some unique parts that obviously come from the machines:
3 Charger Horns (covered below)
Let's see how you can get the 3 Charger Horns for Boomer and Delah.
Charger Horns – How To Get
Upon receiving this quest, make sure you activate it, then open your map.
As you can see, the area where you'll find the Charger Horns is just south of your current location.
Head to the location I have marked on the map above, and when you get close, you'll see a pack of Chargers.
They look like bulls, but they can become problematic if you alert them.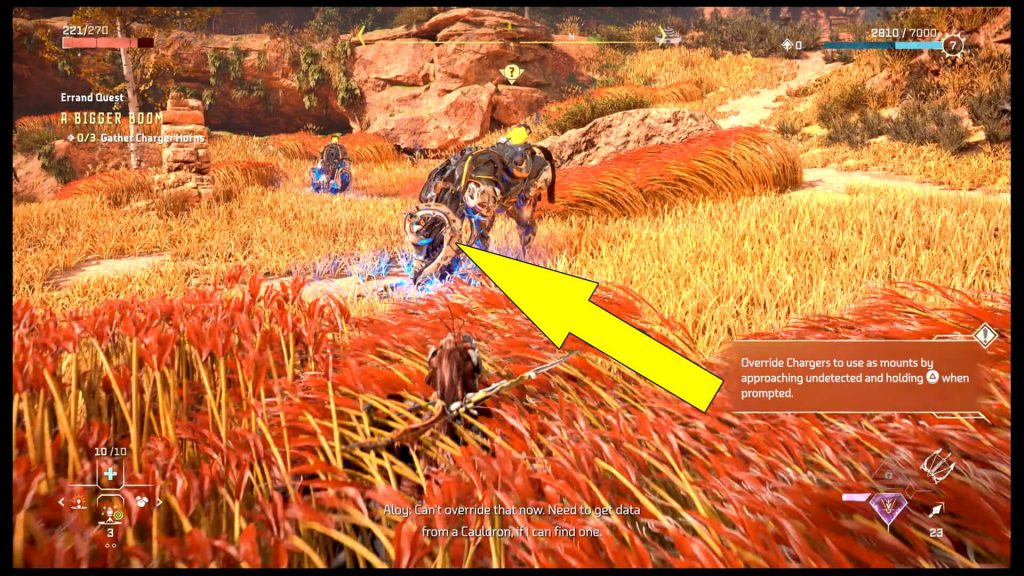 Depending on how you wish to approach this situation, you can get the Charger Horns in various ways.
For example, you can remain hidden and snipe the horns with a Hunter Bow or Precision Arrows.
However, it is not mandatory to use this strategy because you can also obtain the Charger Horns if you alert the Chargers and use melee attacks.
These components have a very high drop rate, meaning that you'll only need to kill two or three Chargers to obtain them.
Here is what a Horizon Forbidden West Charger Horn looks like.
As you can see, some Chargers even drop two Horns, so obtaining the required amount is very easy.
Once you get the 3 Horns, focus on obtaining the Fanghorn Rib, then return with the materials to Boomer and Delah to complete the A Bigger Boom quest.
In exchange, you'll receive a Prototype Spike Thrower and 5 Explosive Spikes, as well as 1170 XP and 1 Skill Point.