Horizon Forbidden West Rayad's Corpse must be found and investigated as part of the Shadow From The Past side-quest you can play early in the game developed by Guerrilla Games.
HZFW Rayad's Corpse can help Aloy prove that the Carja Guard accused of murdering a fellow soldier is innocent, so it plays an essential role in finishing the associated side-quest.
However, the Horizon 2 Forbidden West Rayad's Corpse can prove a bit difficult to find; therefore, below, we'll discuss the corpse's location and how to investigate it while keeping the spoilers to a minimum.
HZFW Shadow From The Past Side Quest – How To Start
Horizon Forbidden West Shadow From The Past is quite a long side-quest that focuses on Aloy's skills as a detective, helped by her Focus.
This side-quest starts in Barren Light, where you'll have to meet Conover.
You can see his location marked on the map below.
Upon reaching Barren Light, you have to find the quest-giver or Conover, who is, in fact, a prisoner.
Look for him inside a cell in the upper section of the small fort.
Make sure you talk to Coover to find out why he is in a cell and how you can help him.
Now, the actual quest starts, and as you follow your objectives, you'll have to make quite a long trip while investigating various clues.
Most objectives here rely on Aloy's Focus, which you must frequently use to follow tracks.
Eventually, you'll end up inside Straggler's Shade Cave, located southeast of Barrern Light.
Now, your objective is to get rid of several Eclipse soldiers. This can be quickly done without alerting them because they are far away from each other.
As you follow the tunnel, you'll end up outside, in a clearing, where the Eclipse has set a small camp.
Here you'll want to deal with the remaining Eclipse; then, you'll be asked to search the Hideout for Rayad's Corpse.
Rayad's Corpse – Where To Find
As you can notice on my map below, Rayad's Corpse is outside the Straggler's Shade Cave, at the location I have marked for you.
Once you deal with the last Eclipse mobs, look around, and you'll see a rather large electricity tower.
Using the radar on top of the screen, head northeast and scan the body on the ground in the small camp (pictured).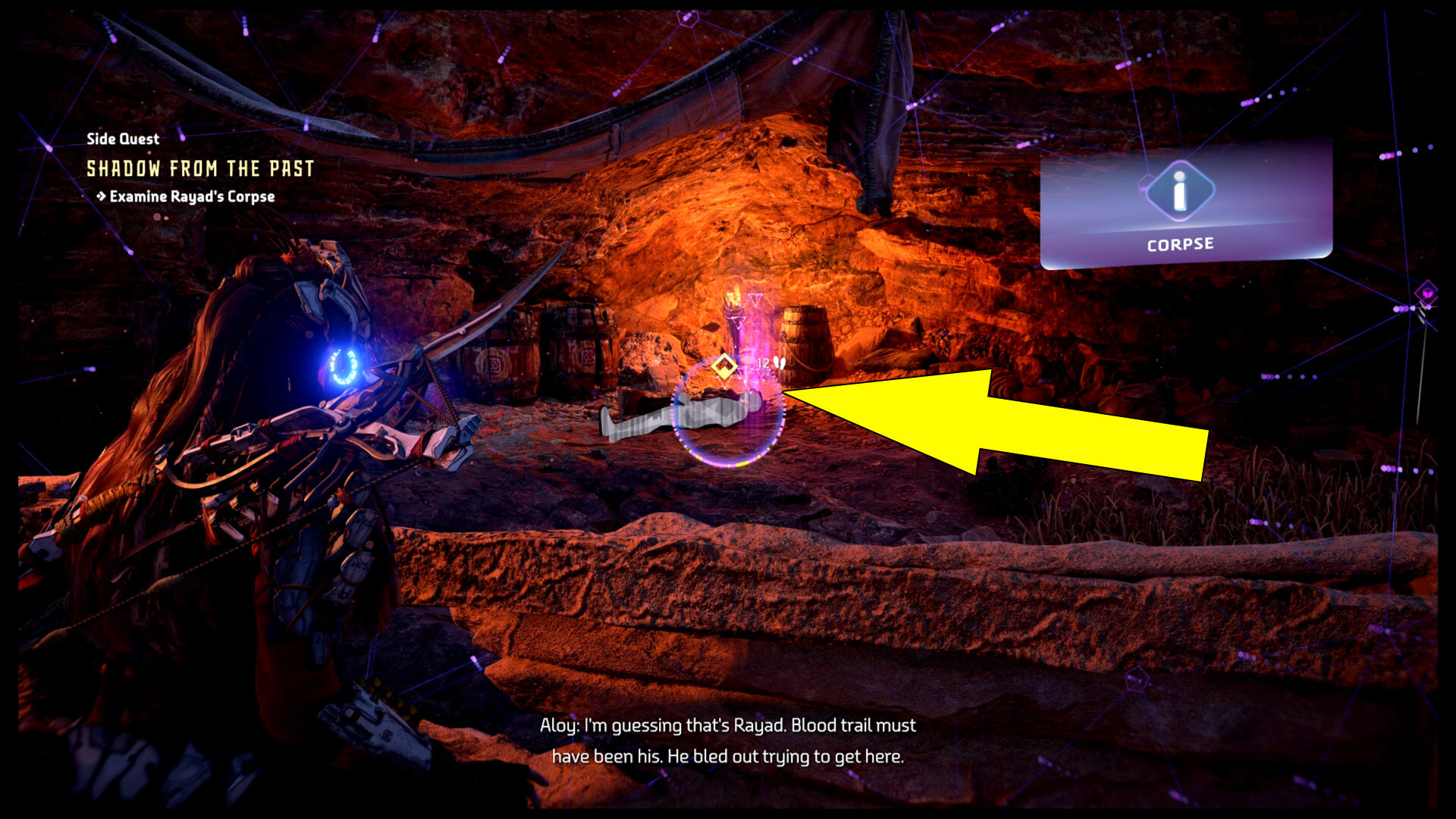 This is Rayad's corpse, and once you scan it, you'll have to get close and interact with it.
At this point, Aloy will remove Rayad's mask to serve as proof in Conover's case, and after a small cutscene, you'll have to return to Barren Light and finish the side quest.
After one last discussion with Conover, Horizon Forbidden West Shadow From The Past side-quest ends, and you'll receive 1750 XP and 2 Skill Points.