Horizon Forbidden West Corrugated Metal Panel is a quest item required by the cook in Chainscrape as part of the errand quest named A Dash Of Courage.
The HZFW Corrugated Metal Panel is not the only item Milduf needs, but the trickiest since the other two (Wild Meat & Bitter Leaf) are pretty common.
Nevertheless, all three are mandatory for finishing the A Dash Of Courage quest. Throughout the guide below, I'll tell you where to find all three, including the Horizon 2 Forbidden West Corrugated Metal Panel, which, again, is a bit different.
HZFW A Dash Of Courage Errand Quest – How To Start
In Horizon Forbidden West, Guerrilla Games' latest video game, A Dash Of Courage, is a fetch quest available in Chainscrape.
Specifically, as you can see on my map below, it is triggered in the Tavern.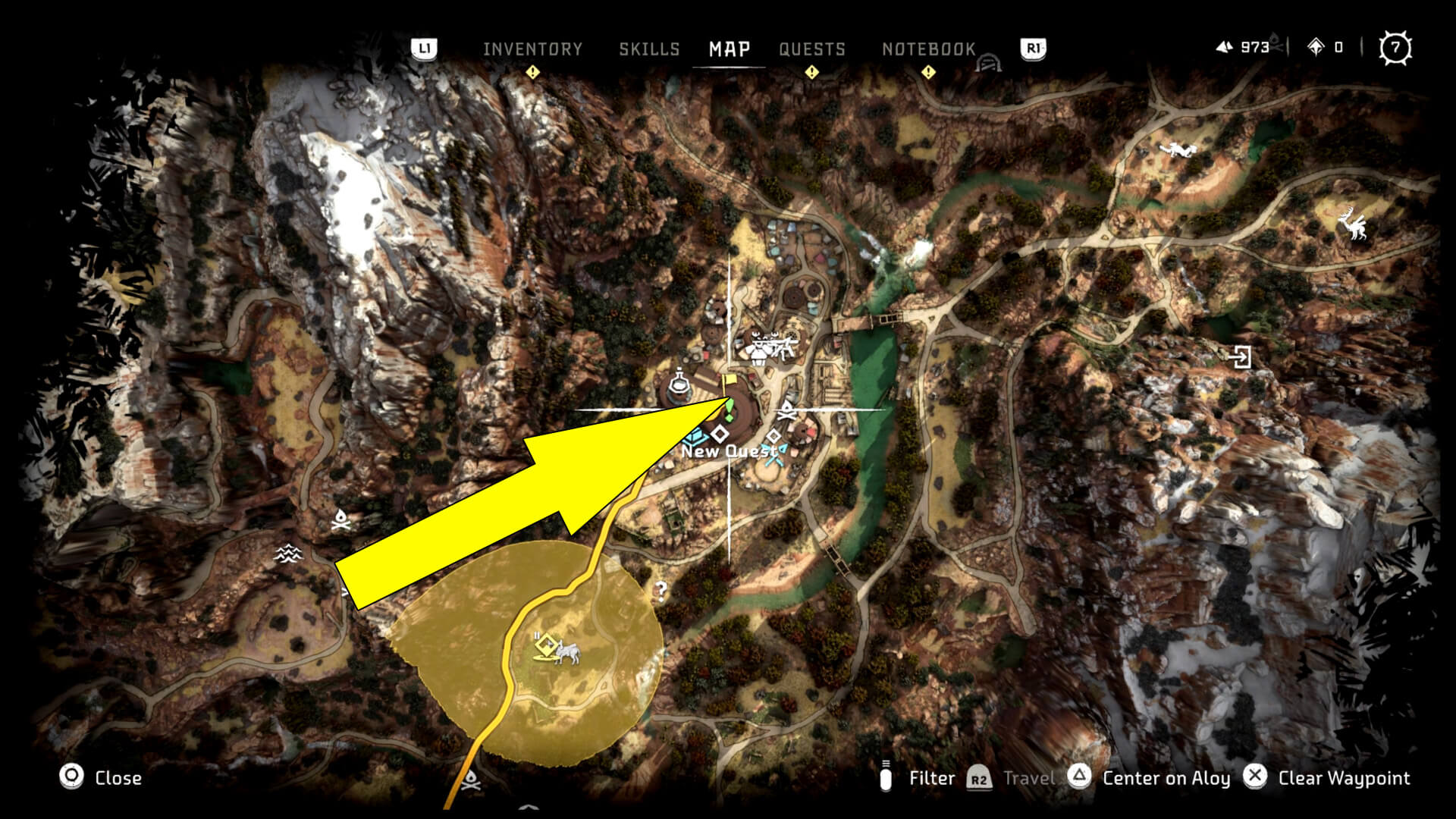 It becomes available after you finish To The Brink main quest, and the NPC you'll want to find is the cook.
His name is Milduf, and without going into details, he needs you to find:
5 Wild Meat
5 Bitter Leaf
1 Corrugated Metal Panel
Here is the cook in question.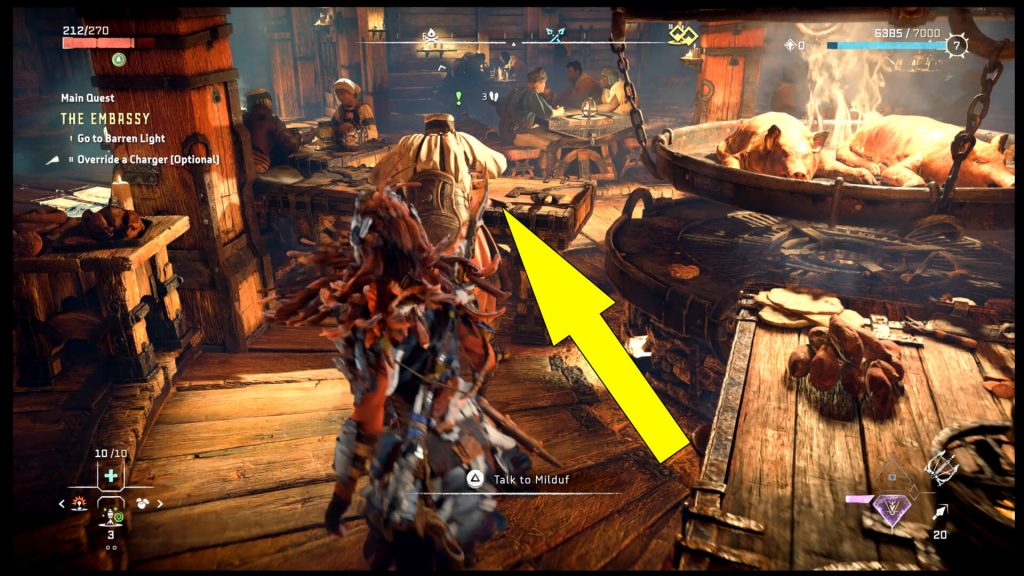 After talking to Milduf, your objectives are pretty straightforward, and if you did some exploration, you probably have the first items he needs: Wild Meat and Bitter Leaf.
If not, it is worth mentioning that you can get Wild Meat simply by hunting wild animals such as foxes, raccoons, and boars. Just make sure you constantly scan the environment (press R3) and shoot them down.
The Bitter Leaf is also a common green plant you can find through exploration, especially close to the river outside Chainscrape.
However, once you get these items, you'll be asked to find a third one, which is the Corrugated Metal Panel.
Corrugated Metal Panel – How To Get
The Horizon Forbidden West Corrugated Metal Panel can't be found by killing machines.
That's because this item has a fixed location, which, as you'll find out, is the Scrounger Site or the area that is marked on my map.
As you can see, this area is northeast of the town where Milduf is found, so travel to that location.
Once you enter the search area, you'll notice a lot of machines, so try to remain unseen.
Although you can take all of them down, the Corrugated Metal Panel can also be obtained without alerting them.
All you have to do is get close to the Scavenger Scrap Pile below.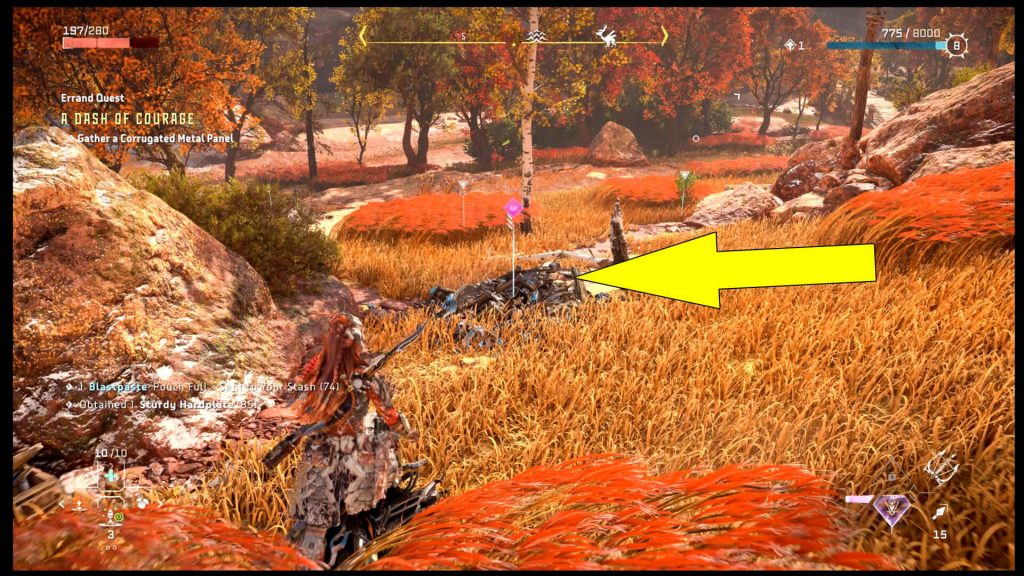 As you can notice in my screenshot, you can't miss it because it's close to a rather large boulder and marked by a purple icon.
Remaining hidden is not mandatory, though, so it's up to you to decide how to approach the machines nearby.
After you get the material, head back to the cook in Chainscrape and hand over the Corrugated Metal Panel to finish the A Dash Of Courage quest and receive your rewards (830 XP & 1 Skill Point).